Hello from a first time poster, long time lurker.
I would usually troll through 00's of threads and generally find the cure to my issue on this forum but alas I cannot get this one fixed.
I use to be a huge gamer, very involved in the Counter-Strike scene and WoW(
) but stopped all that about 2 years ago and built myself a wee computer for media use instead (Phenom II 550 Black Edition 'B50 x4 unlocked', 6gb 800mhz DDR2, 8800GTX 1GB). All was well and good until I got the gaming urge again so I decided to reconfigure my old system.
My system at the minute is:
GIGABYTE GA-870A-UD3
AMD Phenom II 550 Black Edition (Unlocked B50 x4 @3.7ghz)
Corsair H70 Watercooling
G. Skill RIPJAWS 1600MHZ DDR3
Corsair 64GB RealSSD (For OS and Warcraft only)
150GB WD Raptor (For program files)
1.5TB WD CaviarBlack (For storage)
I have the SSD set to ACHI and all the setting optimized through the BIOS etc to ensure its lifespan.
Here's two pics of my current OC Voltages and RAM timings etc (Sticks are rated 7-8-7-24 T1 1600mhz)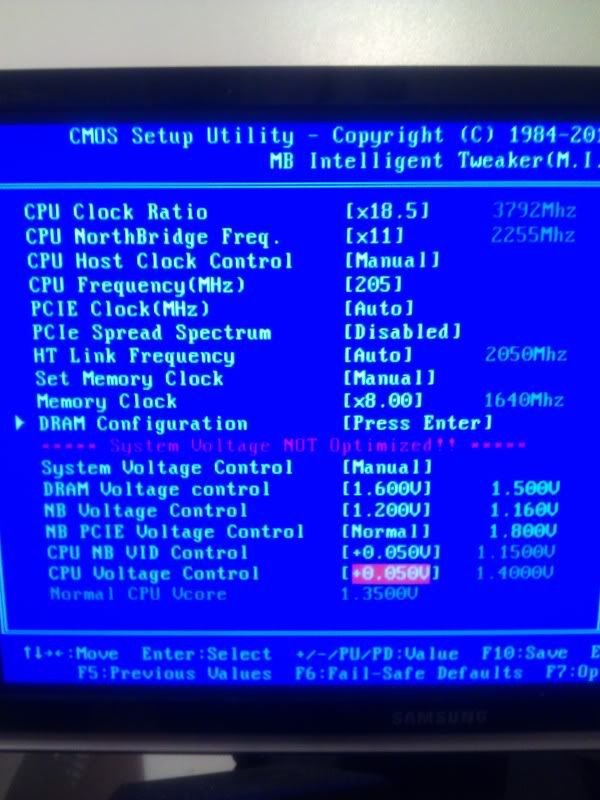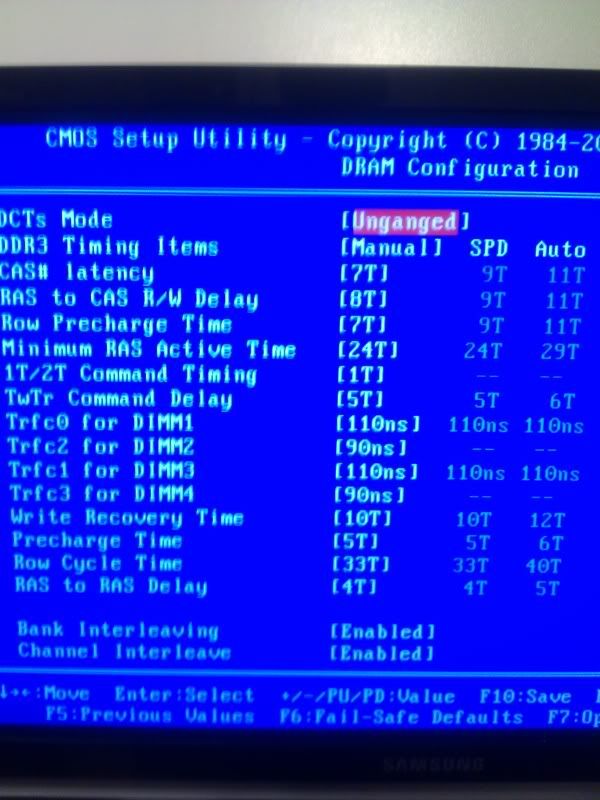 Can anyone see anything wrong?
I'm getting random bluescreens (Paged_file_in_nonpaged_area is the only one I remember) and it stutters (Like the guy a few posts below). Even if I restore my BIOS settings to optimized defaults it still stutters and bluescreens. I've ran numerous RAM tests and HDD Checks (Ultimate boot CD) and everythings alright there - I'm completely baffled.
CPU
Motherboard
Graphics
RAM
AMD Phenom II x4 B50 Black Edition
Gigabyte GA-870-UD3
Gigabyte 460GTX XtremeOC
4GB G.Skill RIPJAWS
Hard Drive
Optical Drive
OS
Monitor
CrucialC300 SSD 64GB 6GB/S + 1/5TB Storage.
Samsung 48x
Windows 7 Ultimate 64x
Samsung Syncmaster 226bw
Keyboard
Power
Mouse
Razor Reclusa
OCZ StealthXtreme 2 650w
Logitech G5
View all
hide details
CPU
Motherboard
Graphics
RAM
AMD Phenom II x4 B50 Black Edition
Gigabyte GA-870-UD3
Gigabyte 460GTX XtremeOC
4GB G.Skill RIPJAWS
Hard Drive
Optical Drive
OS
Monitor
CrucialC300 SSD 64GB 6GB/S + 1/5TB Storage.
Samsung 48x
Windows 7 Ultimate 64x
Samsung Syncmaster 226bw
Keyboard
Power
Mouse
Razor Reclusa
OCZ StealthXtreme 2 650w
Logitech G5
View all
hide details