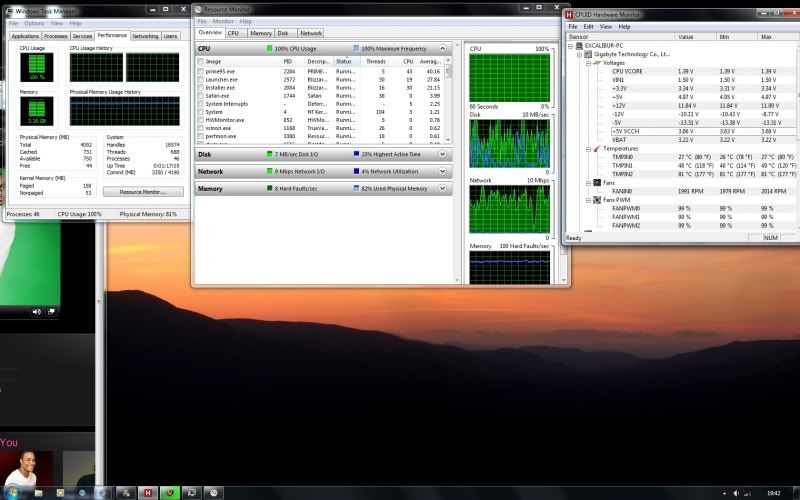 Its abit hard to see but hold CTRL and scroll your mouse wheel forward and it should be readable. Pesky Photobucket.
Thats the temps and whatnot after 3 hours 47 minutes of Prime95 Stress test (Batch)
Thats;
CPU@ Phenom II x2 550 - 1.392v, 3.624MHZ, Bus Speed 201.3 MHZ
RAM@ 1336MHZ 7-8-7-24 33 T2
Runs stable it seems, no glitching or whatnot and I'm not noticing any difference running programs/games between x4 and x2...
CPU
Motherboard
Graphics
RAM
AMD Phenom II x4 B50 Black Edition
Gigabyte GA-870-UD3
Gigabyte 460GTX XtremeOC
4GB G.Skill RIPJAWS
Hard Drive
Optical Drive
OS
Monitor
CrucialC300 SSD 64GB 6GB/S + 1/5TB Storage.
Samsung 48x
Windows 7 Ultimate 64x
Samsung Syncmaster 226bw
Keyboard
Power
Mouse
Razor Reclusa
OCZ StealthXtreme 2 650w
Logitech G5
View all
hide details
CPU
Motherboard
Graphics
RAM
AMD Phenom II x4 B50 Black Edition
Gigabyte GA-870-UD3
Gigabyte 460GTX XtremeOC
4GB G.Skill RIPJAWS
Hard Drive
Optical Drive
OS
Monitor
CrucialC300 SSD 64GB 6GB/S + 1/5TB Storage.
Samsung 48x
Windows 7 Ultimate 64x
Samsung Syncmaster 226bw
Keyboard
Power
Mouse
Razor Reclusa
OCZ StealthXtreme 2 650w
Logitech G5
View all
hide details