Alright, he didn't give me a budget. Just a more of "what I will do with it". Just basic web browsing with the usual application running. He wants it to be FAST. Didn't give me a budget ,but as always, cheaper is better and it's pointless to overspend when it's not needed now as parts always get cheaper. SO...what I've come up with.
MB:
Gigabyte GA-880GM-D2H
CPU:
AMD Athlon II x4 640
PSU:
Antec NEO Eco 400w
GPU:Integrated 4250
DVD:
Lite On 24x DVD Burner
HDD:
Seagate Barracuda 7200.12 500gb
CASE:
Fractal Design Define R3
RAM:
G. Skill DDR3 1600 2x2(4gb Total)
ADD-On:
Sabrent CRW-UINB
Total was $479.89 AFTER Shipping.
I'd like to order this by today before 2pm Eastern so it will ship out today. Only thing I'm doubting is the Corsair PSU(maybe something less? Not sure how the build quality is on the Builder Series)

I selected the CPU because at the price, I don't see why NOT to get a Quad core @ 3Ghz for $99. I didn't think he'd notice a difference between it and Phenom II(since the only difference is the L3 cache, right?), and he WON'T be overclocking. So it seemed like the best choice for the price.

I elected the motherboard because I've always had good luck with Gigabyte, and it has built in Video+HDMI out. (Not a necessity, but good to have.) And it supports AM3+DDR3. I selected the RAM because it's cheaper than it's counterparts, and as Gigabyte, I've had great luck with G. Skill. I originally chose a WDC Black 500Gb. However, the speed difference won't be noticed by him. DVD drive, because it's cheap, and has free shipping. DVD drives are a dime a dozen, right?

Now...the case was a personal choice. It has great cable management and fan filters. Price wasn't ridiculous, fans can always be added and he is ex-military so I thought that was a nice touch. He said he liked it too.

My doubts...the Power supply. I KNOW 500w will be too much. Also as I said, am not sure of the build quality on the Builder series, so if you have any recommendations, please make them.
Please offer reasoning behind it though.
Updating OP with Ordered Parts.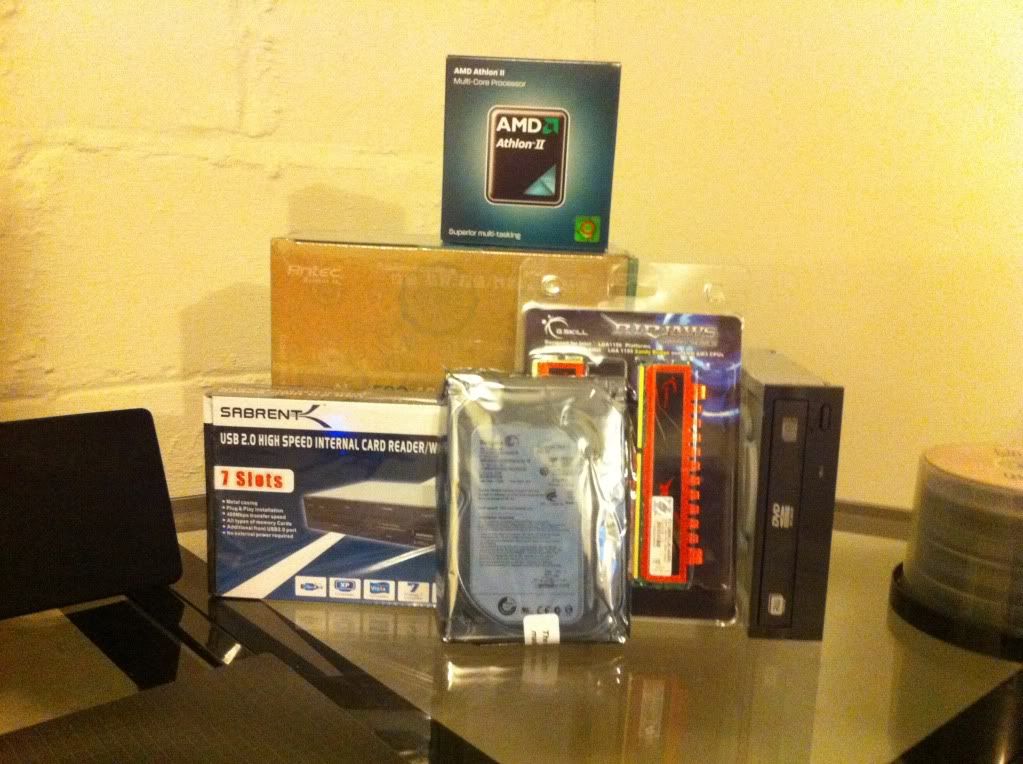 Edited by AIpha - 3/12/11 at 3:34pm
CPU
Motherboard
Graphics
RAM
Phenom 920@3.8GHz
GIGABYTE GA-MA790X-UD4
SAPPHIRE 6950 2GB [UPS]
G Skill 2x2(4gb) DDR2-800
Hard Drive
Optical Drive
OS
Monitor
500gb+640gb - Raid 0- 750gb and 1tb for Storage
LG 22x DVD Burner
Windows 7 Professional 64x
Samsung 2333HD
Keyboard
Power
Case
Mouse
XArmor
Corsair 650TX
CoolerMaster Storm Sniper BE
Logitech G9x
Mouse Pad
Steelseries
View all
hide details
CPU
Motherboard
Graphics
RAM
Phenom 920@3.8GHz
GIGABYTE GA-MA790X-UD4
SAPPHIRE 6950 2GB [UPS]
G Skill 2x2(4gb) DDR2-800
Hard Drive
Optical Drive
OS
Monitor
500gb+640gb - Raid 0- 750gb and 1tb for Storage
LG 22x DVD Burner
Windows 7 Professional 64x
Samsung 2333HD
Keyboard
Power
Case
Mouse
XArmor
Corsair 650TX
CoolerMaster Storm Sniper BE
Logitech G9x
Mouse Pad
Steelseries
View all
hide details