I have 2 5770s for sale. Both are Asus V2 revisions with the V2 heat sinks. Both have memory heat sinks and VRM heat sinks (zalman and musashi heat shinks).
I will get pics up as soon as I can.
There is no warranty on the cards sadly as I forgot to register them.
What do you think they are worth? I can do 1000/1400 all day on these things and managed 1200/1400 bench on a cold day during the winter.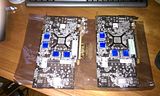 Edited by Lord Xeb - 3/9/11 at 6:28pm
CPU
Motherboard
Graphics
RAM
Core i5 750 3.99 (190x21) 1.376v Load
ASUS P7P55d-E Pro
GTX 670 FTW <- Poor overclocker :(
8GB (4x2GB) G.Skill DDR3 1600
Hard Drive
Hard Drive
Optical Drive
OS
Samsung 830 Evo 128GB
2x 2TB
Some DVD drive
OSX 10.10.4
Monitor
Power
Case
Mouse
Asus 1080P Crap
TX 750
HAF 922
G400s
Mouse Pad
Other
Apple Keyboard
Xbox One controler
View all
CPU
RAM
Hard Drive
Hard Drive
C2D 2,26GHz under volted @ .978v
8GB
Crucial M4 64GB SSD
500GB Scorpio Black
OS
Monitor
Keyboard
Mouse
OS X 10.0
1280x800
Built-in
Trackpad
Audio
Built-in
View all
hide details
CPU
Motherboard
Graphics
RAM
Core i5 750 3.99 (190x21) 1.376v Load
ASUS P7P55d-E Pro
GTX 670 FTW <- Poor overclocker :(
8GB (4x2GB) G.Skill DDR3 1600
Hard Drive
Hard Drive
Optical Drive
OS
Samsung 830 Evo 128GB
2x 2TB
Some DVD drive
OSX 10.10.4
Monitor
Power
Case
Mouse
Asus 1080P Crap
TX 750
HAF 922
G400s
Mouse Pad
Other
Apple Keyboard
Xbox One controler
View all
CPU
RAM
Hard Drive
Hard Drive
C2D 2,26GHz under volted @ .978v
8GB
Crucial M4 64GB SSD
500GB Scorpio Black
OS
Monitor
Keyboard
Mouse
OS X 10.0
1280x800
Built-in
Trackpad
Audio
Built-in
View all
hide details