Found this while grocery shopping with the wife.
Medion (use to be Tevion I believe, used their Dvd-Rs before)
Super-flat Wireless Keyboard/mouse set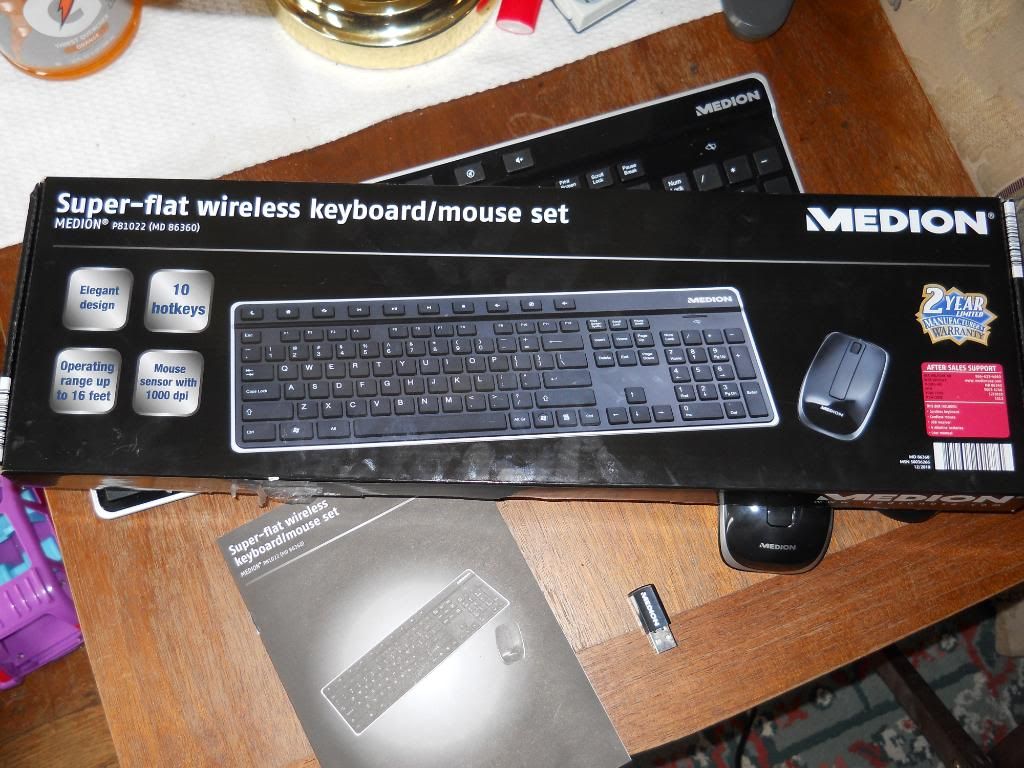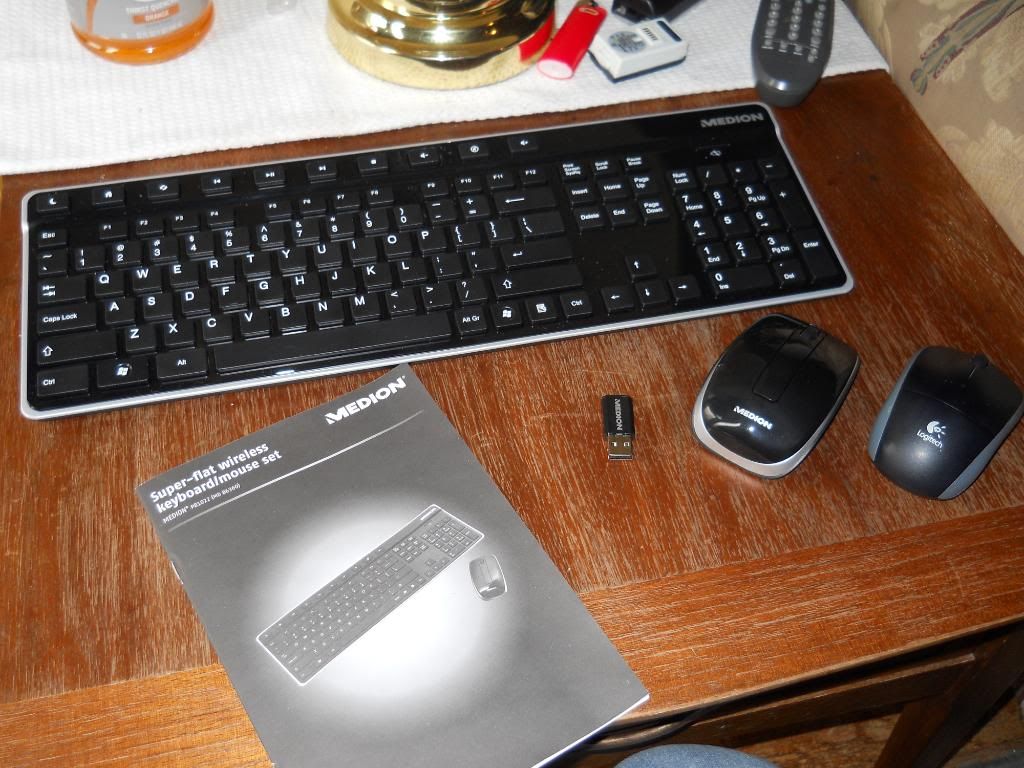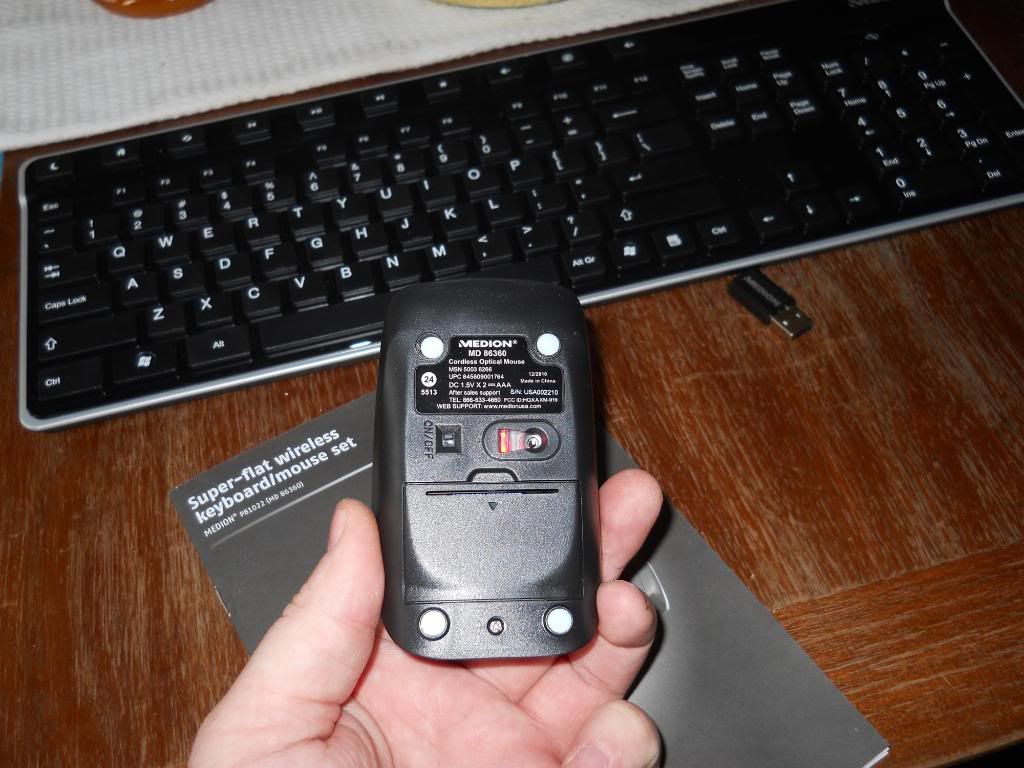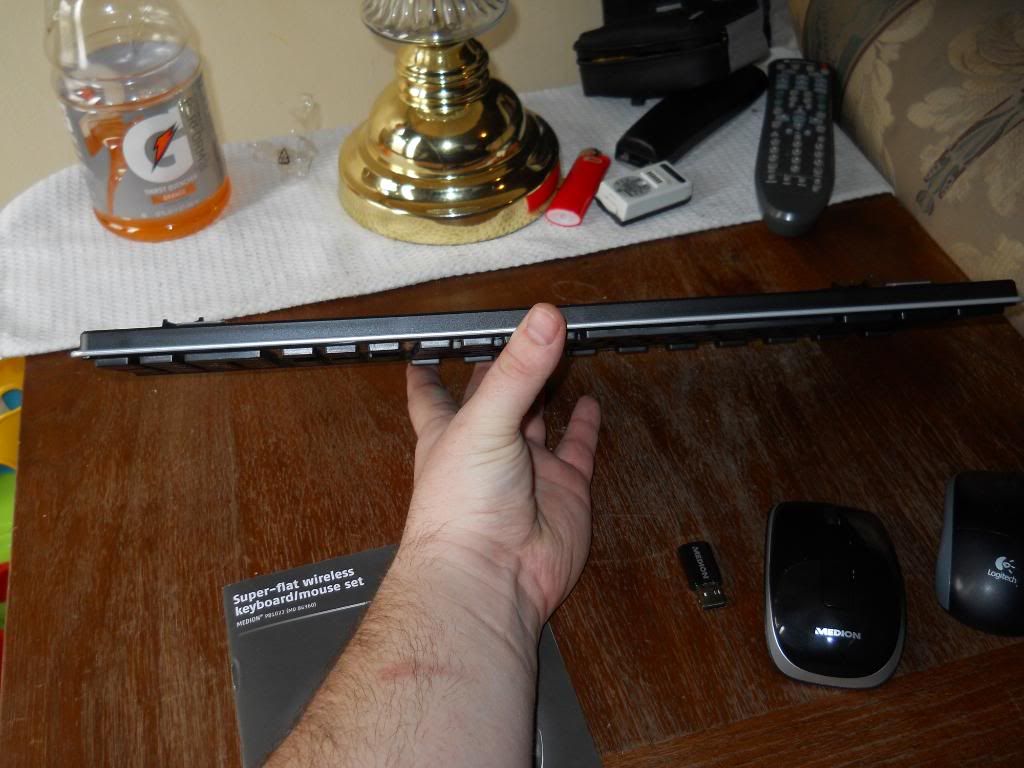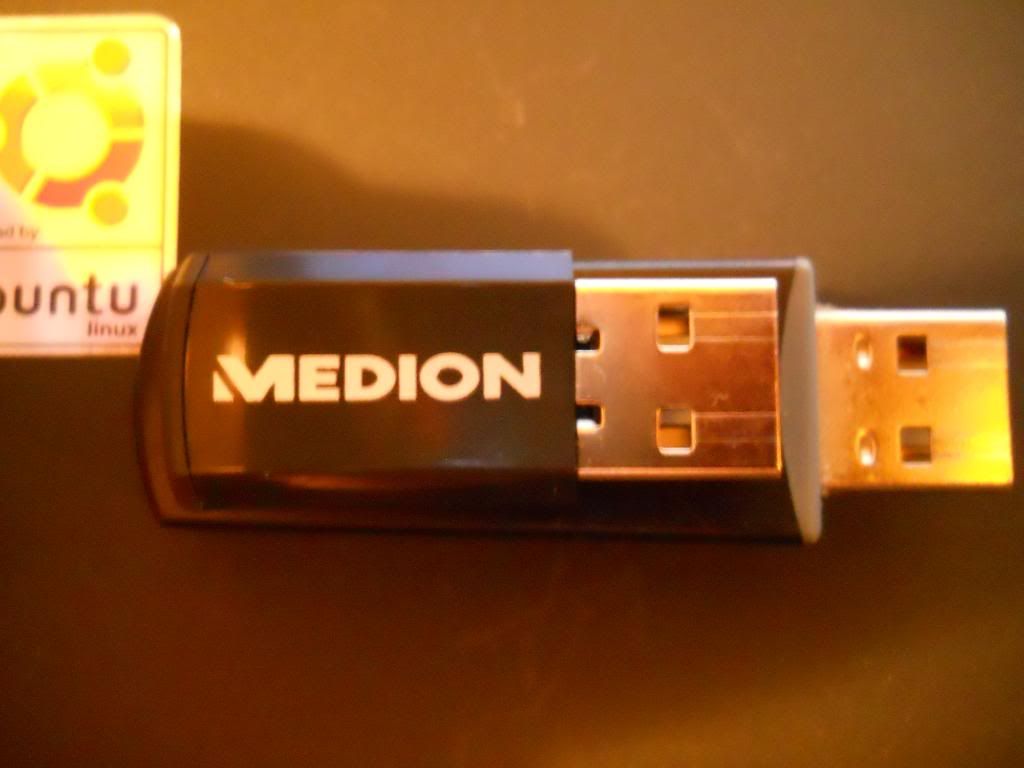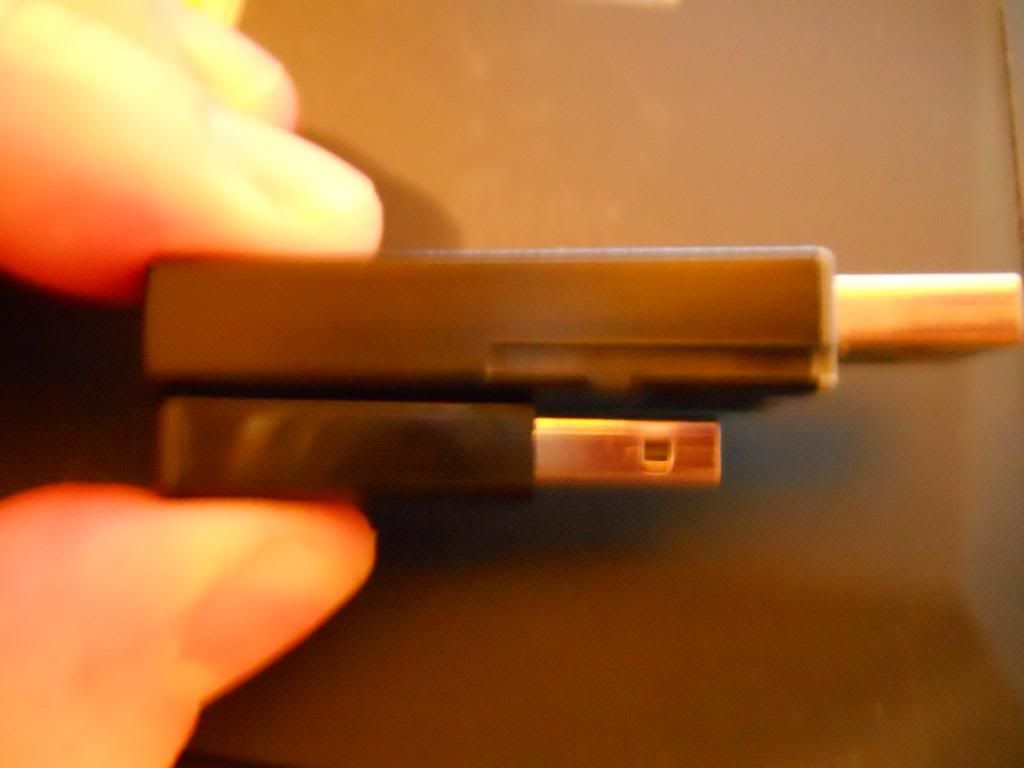 That's my 20 dollar logitech mouse and dongle next to it for a lil comparison. These mice are smaller than the large mouse that comes with the Logitech wireless mouse/key set for 44.95 from walmart.
Anyways I already own the logitech set from walmart for my desktop and needed something for the laptop and couch. I'd rather have a keyboard on my lap than leaning forward to type.(laptops on a wooden scissor stand tv type tray.
Another note is that i have "flat-keys" on my laptop and they don't make that "click" i like to hear when i type. Well have no fear these make a decent click for being flat-keys.
Pros:
-Flat keys!
-Light yet feels very well made. Almost as if it should have the Logitech name on it.
-Sleak glossy black finish around keys. (i call it the Dell glossy black)
-Thin! (demensions below)
-Comes w/ batteries although cheap. 2xAAA for mouse 2xAAA for keyboard
Cons:
-Mouse felt a bit cheap out of the box. Felt a little better after i put the batteries in it.
-Mouse has a kind of out cropped edge where the silver meets the black under bottom. It's kinda sharp and could be a problem if you try to use for long hours of gaming. It extends from front to back on both sides of the mouse.
-Mouse tracks as well as my logitech on my end table w/ out a pad, but failed to track well on my leg. Although i have never used my leg as a mouse pad, but i'm sure some do.
-1000 dpi? not sure if this is good or not, but i don't even know what the dpis of my other two logitech mice are..
Website: medionusa.com
Make: Medion
Model: P81022 (MD 86360)
Demensions:
-Keyboard: ca. 17.3 x 5.8 x 1.1 inch (LxWxH)
-Mouse: ca. 4.0 x 2.4 x 1.3 inch (LxWxH)
-Approx. 17.8 oz for the reciever, mouse and keyboard (without batteries)
Sys reqs: Win 7/Vista/XP
Anyways was a steal for 20 bucks at the local Aldi's Chain. I did a google search for the Make/model and found a couple german sites for Medion and a forum of people trying to find an Aldis near them to pick it up at.
Was much better than purchasing another 45 dollar logitech set with the giant keyboard/mouse for the laptop. We all know how big that set is and especially the wireless receiver that plugs into pc. Most likely it's just for use with a desktop set up.
I may end up leaving my smaller logitech mouse plugged into my laptop for the gaming sessions and just use the medion keyboard.
If anyone needs more info/pics just ask.
hope this helps someone looking for the same thing on the cheap.
Edited by Keith1212 - 3/10/11 at 11:09am
CPU
Motherboard
Graphics
RAM
Intel Core i7 740QM @ 1.73GHz
ASUSTeK Computer Inc. G73Jh (Socket 989)
ATI Mobility Radeon HD 5870 1Gb GDDR5
6.0GB Dual-Channel DDR3 @ 662MHz (9-9-9-24)
Hard Drive
Optical Drive
OS
Monitor
500GB Mobile/WD Scorpio 7200 RPM SATA-II 3.0Gb/s
HL-DT-ST DVDRAM GT32N
MS Windows 7 Home Premium 64-bit
1600x900 pixels
Power
Case
Factory
Factory
View all
hide details
CPU
Motherboard
Graphics
RAM
Intel Core i7 740QM @ 1.73GHz
ASUSTeK Computer Inc. G73Jh (Socket 989)
ATI Mobility Radeon HD 5870 1Gb GDDR5
6.0GB Dual-Channel DDR3 @ 662MHz (9-9-9-24)
Hard Drive
Optical Drive
OS
Monitor
500GB Mobile/WD Scorpio 7200 RPM SATA-II 3.0Gb/s
HL-DT-ST DVDRAM GT32N
MS Windows 7 Home Premium 64-bit
1600x900 pixels
Power
Case
Factory
Factory
View all
hide details