So, I thought it was time to remove the stock thermal paste and install Arctic Cooling MX-2 for my XFX 5770 running at 970/1300/1.1V.
Below are some pictures along with the results.
V2 heatsink with the heatpipes showing
Stock thermal paste- TOO MUCH
GPU cleaned using alcohol and q-tips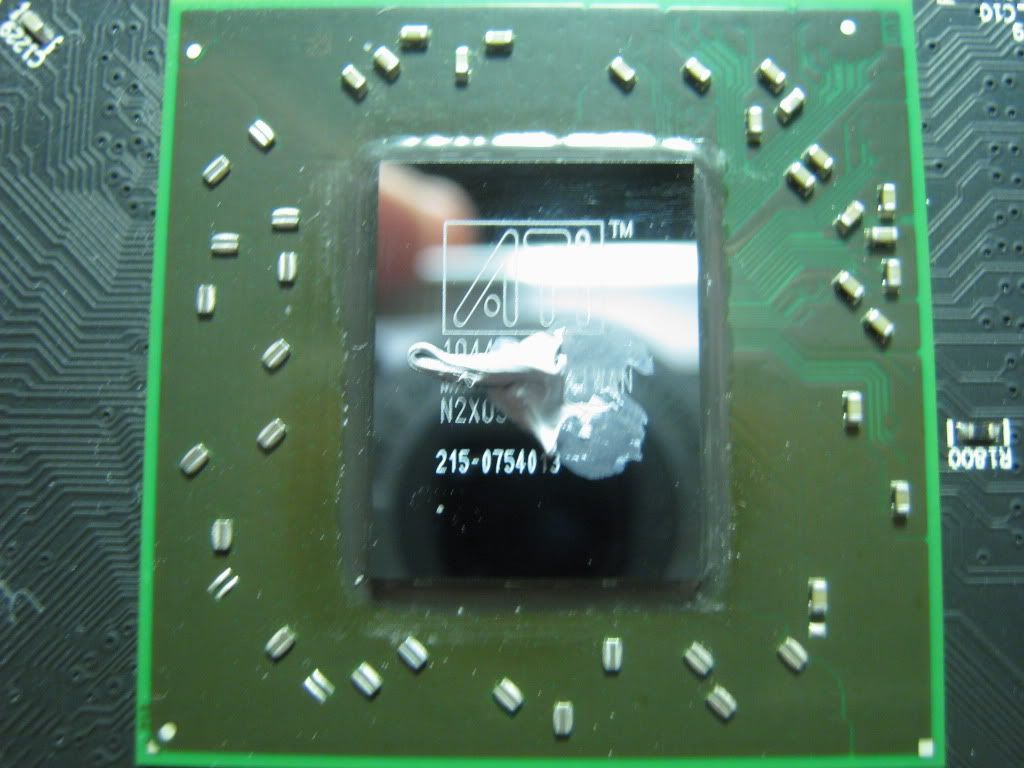 GPU with MX-2 Applied
Back of the heatsink
All the idle temperatures are the average from a couple of samples. The Furmark temperatures, which are 100% load temperatures, are the
MAX
temperatures ever recorded. Overall and on average, the temperature drop was always consistent.
Results
Summary:
Idle average drop for min. temperature = 2.18c
Full load average drop for max. temperature = 3c
I hope this is helpful for those contemplating the idea.
Edited by xsever - 3/11/11 at 4:48pm
CPU
Motherboard
Graphics
RAM
Phenom II X4 955 @4.1GHz/1.456V
Gigabyte 880GA-UD3H
Sapphire 6870 950/1100
G.Skill 8GB @ 1640
Hard Drive
Optical Drive
OS
Monitor
WD 1TB Black + 2TB Green
Samsung DVD Burner
Windows 7 64-Bit
2X 20" Acer P206HL
Power
Case
Antec Earthwatts 650
Ultra Wizard Black
View all
hide details
CPU
Motherboard
Graphics
RAM
Phenom II X4 955 @4.1GHz/1.456V
Gigabyte 880GA-UD3H
Sapphire 6870 950/1100
G.Skill 8GB @ 1640
Hard Drive
Optical Drive
OS
Monitor
WD 1TB Black + 2TB Green
Samsung DVD Burner
Windows 7 64-Bit
2X 20" Acer P206HL
Power
Case
Antec Earthwatts 650
Ultra Wizard Black
View all
hide details