We've been moving shops recently when I stumbled upon a tool tray (outreached arm that bolts to a table (VERY heavy duty).
Well I get home and go online to find a monitor mount to find that one with similar features would cost roughly 50+ So me being cheap and poor xD I decided meh I have the tools for it and I have the know how WHY NOT?
This is the result: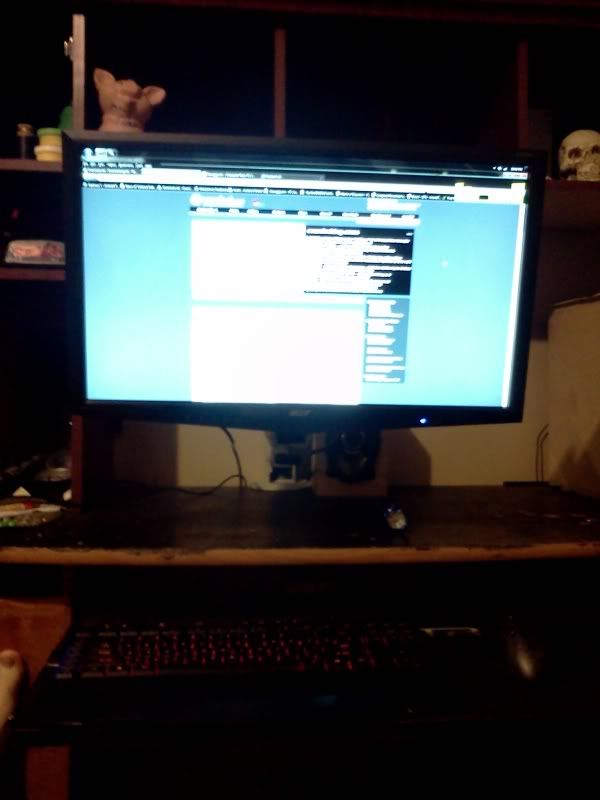 LOTS of saved room.
Like I said heavy duty right?( the black area under the monitor is form the new weld to bend the tray upwards at a 90 degree angle( has a bolt adjust to change the monitor tilt, it also spins for a landscape view if I wanted.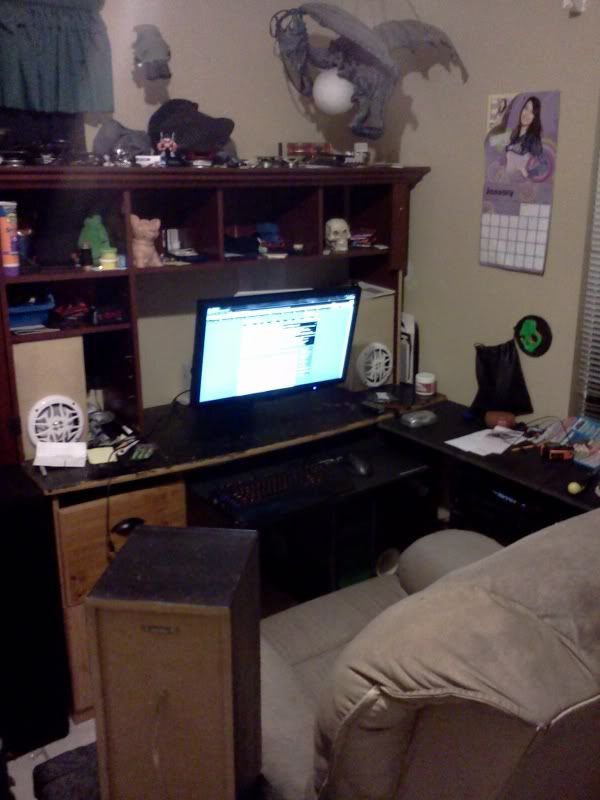 Completely extended ( Raised the height so it will not go past the edge of the desk Now about 1/2 an inch from the shelves as well, it will safely swing all the way around to that speaker for side viewing or w/e I happen to want to do with it)
Comments Ideas criticism?
(First time using a mount for a computer I love it so far.)
CPU
Motherboard
Graphics
RAM
Athlon II x4 620 3.5Ghz L3 1.4 unlocked
Asus M4A77D
Msi Gtx 460 Hawk stock voltage (830/1660, 2130)
Ocz Sli 900 Mhz 5-5-5-15
Hard Drive
OS
Monitor
Keyboard
Western Digital Caviar Green 500/ Spinpoint F1 1T
Windows 7 ultimate x64
Acer 23" 1080p G235H
Microsoft Sidewinder x6
Power
Case
Mouse
Mouse Pad
Corsair 750tx
cm 690II Advanced
Logitech G500
Clipboard
View all
hide details
CPU
Motherboard
Graphics
RAM
Athlon II x4 620 3.5Ghz L3 1.4 unlocked
Asus M4A77D
Msi Gtx 460 Hawk stock voltage (830/1660, 2130)
Ocz Sli 900 Mhz 5-5-5-15
Hard Drive
OS
Monitor
Keyboard
Western Digital Caviar Green 500/ Spinpoint F1 1T
Windows 7 ultimate x64
Acer 23" 1080p G235H
Microsoft Sidewinder x6
Power
Case
Mouse
Mouse Pad
Corsair 750tx
cm 690II Advanced
Logitech G500
Clipboard
View all
hide details