For a while now, I've been looking for a good computer case to begin my PC-building. Though I can't seem to understand why, it's apparently a very difficult concept to both design and engineer a case at an exceptional level.

First and foremost, I would like to describe what I'm looking for in a few words: Power, Unique, Clean, Elegant, and do tend to like the more Futuristic design.

The closest I've come in the Thermaltake Level 10, the best representation of my depiction is pretty well presented in this video:

There are several things I like about the case. For example, I'm usually not a fan of side window panels as it usually comes off as obnoxious to me.. but the one on the Level 10 GT is very tastefully done in my opinion. Other things include amazingly clean cable management, perfect water cooling solution, great cooling solution in general, lots of room, key-locked is a nice added touch, hot swappable HDDs, and a unique design.
So essentially, engineering-wise it is perfect for my needs. Aesthetically-wise I essentially like the Level 10 GT from every angle...
..except the front
Something about the front really bothers me, I can't really understand why, It might be the industrial feel the grill gives.. It could be the grill added to the HDD area (as opposed to the smooth/sleek-ness of the Level 10, which btw I was fond of). It might even be the fact that it looks like a giant & bulky PS2. It might also be that the side bar/handle that runs along the entire case seems slightly out of place, though visualizing it removed also seems to make the case look a bit worse..I think.
I'm essentially unsure of what to do. Should i get the level 10 GT and find some way to mod it to my liking? or are there users out there that know of any other cases with an impressive/unique design.
Some other cases I've considered:
Thermaltake Armor A90
- I don't really like door panels in the front, though the door panel not encompassing the whole front is definitely an improvement.
Lian Li A71F
- I really enjoy the monolith-like style, though it doesn't really represent 'Power' well, and I am again not fond of the door panels, especially those that encompass the entire front area.
NZXT Hush
- Supposed to have mediocre/bad cooling, a bit bland, not fond of door panels, doesn't have that 'Power' look that I'm looking for.
NZXT Whisper
- Supposed to also have mediocre/bad cooling, it's plenty unique & elegant, but not necessarily clean/powerful. I again am not fond of door panels.
NZXT Guardian 921 RB
- I enjoyed the very unique/futuristic LED design, though am not too fond of the door design front panel & that fact that it has a lot of plastic. The window on the side is uniquely done, but still a bit big for my tastes.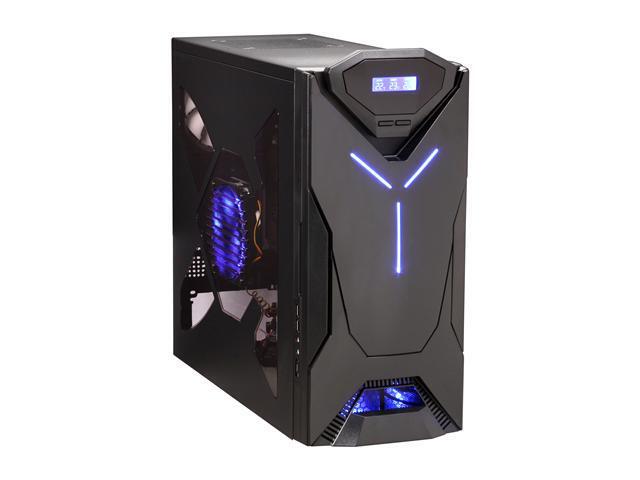 Something to mention though is that I am very aware of the Corsair 800D, and have to say was not fond of its design, it seems a bit bland. The side window had a good effort on design, but was still a bit too much. It also seems like a case that is a lot more bulk, and a lot less design.
I would very much appreciate some guidance & opinions, I feel lost.
CPU
Motherboard
Graphics
RAM
i7-2600K
ASUS Sabertooth P67
EVGA GTX 580 SLI
Corsair 16GB 1600Mhz
Hard Drive
Optical Drive
OS
Monitor
Vertex 3 120GB | WD Caviar Green 2TB (x3)
LG Blu-ray
Windows 7 Ultimate x64
AW2310 120Hz
Keyboard
Power
Case
Mouse
FC200RT/ABN - Cherry MX Brown
AX1200
Silverstone Raven RV01
Mionix Naos 5000
Mouse Pad
Razer Vespula
View all
hide details
CPU
Motherboard
Graphics
RAM
i7-2600K
ASUS Sabertooth P67
EVGA GTX 580 SLI
Corsair 16GB 1600Mhz
Hard Drive
Optical Drive
OS
Monitor
Vertex 3 120GB | WD Caviar Green 2TB (x3)
LG Blu-ray
Windows 7 Ultimate x64
AW2310 120Hz
Keyboard
Power
Case
Mouse
FC200RT/ABN - Cherry MX Brown
AX1200
Silverstone Raven RV01
Mionix Naos 5000
Mouse Pad
Razer Vespula
View all
hide details