Here is a screen shot of the parts I have picked out for my upcoming water build.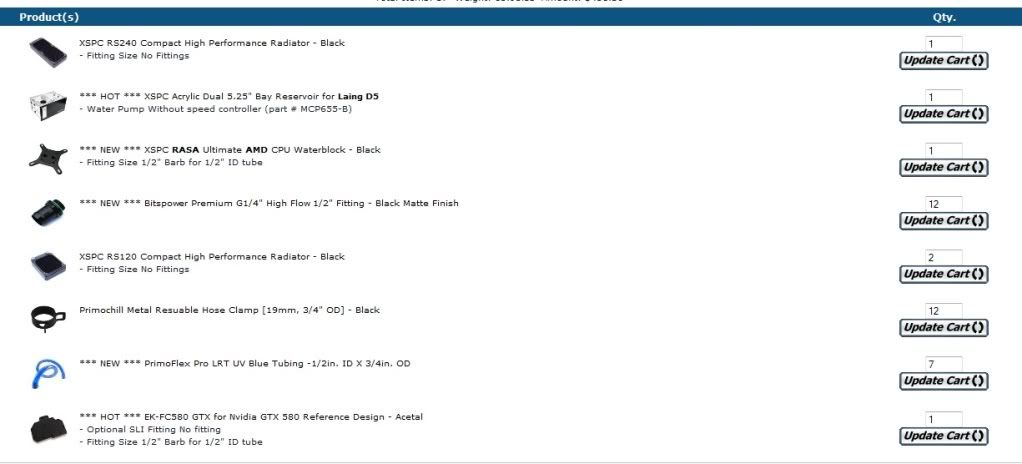 I feel like I have a mix of buget and higher end parts (didnt want to skimp on some but still wanted a buget-ish build). Here is how I came up with it.
CPU block: I picked the RASA becuase i have seen it to have the best price-performance ratio. plain and simple.
GPU block: Didnt really know what I was looking for here, so this one is kinda a stab in the dark. I know EK is good....
Pump/Res: I wanted a combo due to space in my case and this was the best i could come up with: i know the 655 is pretty good and pairing it with a drive bay res seemed like a win to me. This is the only thing i have bought so far.
Tubing/Fittings: I went with 1/2 ID tubing and barbed fittings since i dont want to shell out the extra cash for compression (at this point, i could change my mind). 1/2 ID could be over kill, too.....
Rads: Since i want the loop to be totally internal, i decided to do a 240 res at the top of my case, 1 120 at the rear of the case, and (maybe) a 120 at the bottom of the case (if Temps are high). I really want to avoid any heavy modding to get a 360 rad in my case and i dont really want an external rad.
As soon as i sell my old 5850s i plan on getting the rest of the hardware to build the loop.