I have a 600T with an all internal CPU+GPU+RAM loop using a 120x2 radiator and a Phobya 200 radiator. It is a series redundant loop with two PWM controlled Swiftech MCP35x pumps mounted on a Koolance RP-402x2 reservoir.
I still haven't gotten my order with my PWM fans and splitter cables, so it isn't totally finished yet, but I have it up and running.
This picture is from when I was bleeding and leak testing the loop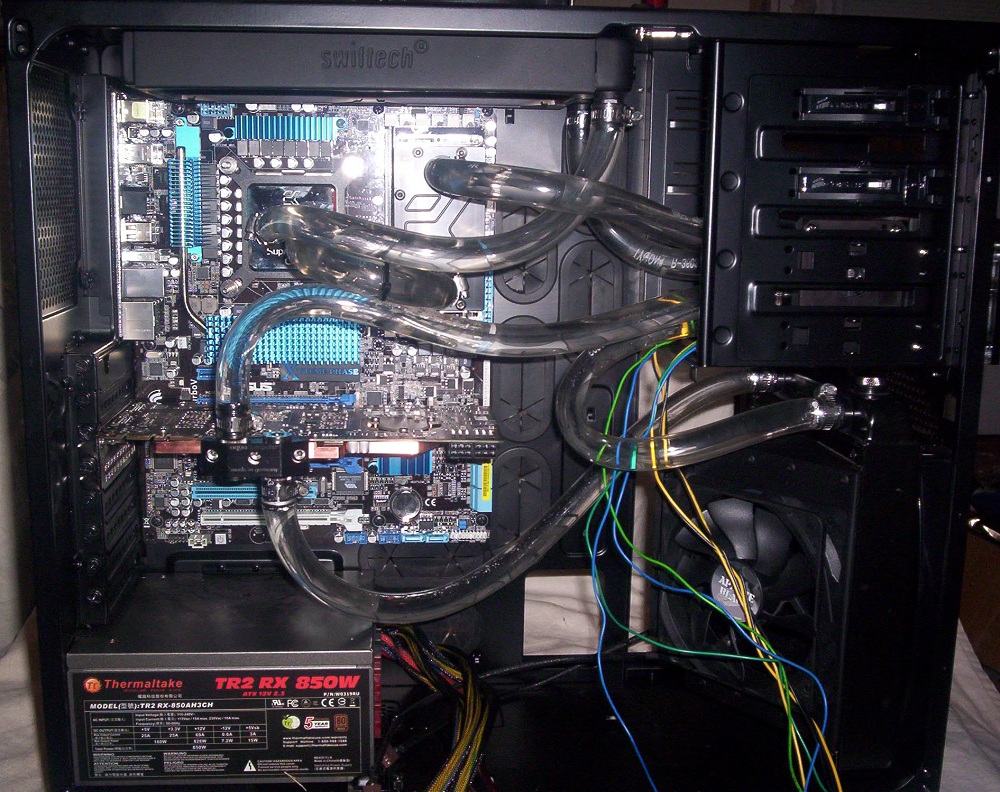 The work log for it:
http://www.overclock.net/case-mod-wo...-my-first.html
IMO, it is a very nice looking case, but not really very WC friendly for an internal loop. If I had known I was going to WC it when I first put the system together a few months ago, I would have gone with a different case.
Edited by Caleal - 3/17/11 at 7:00am
CPU
Motherboard
Graphics
RAM
Phenom x4 9650
Cheap MSI board
EVGA GTX580 SC
Junk PC-800 DDR2
Hard Drive
Optical Drive
Cooling
OS
WD Blue
Generic DVD
Cuplex Kryos HF CPU block, Swiftech MCW82 GPU b...
Windows 7 Home Premium
Power
Case
Antec True Power 650W
>10 year old Antec something or other.
View all
hide details
CPU
Motherboard
Graphics
RAM
Phenom x4 9650
Cheap MSI board
EVGA GTX580 SC
Junk PC-800 DDR2
Hard Drive
Optical Drive
Cooling
OS
WD Blue
Generic DVD
Cuplex Kryos HF CPU block, Swiftech MCW82 GPU b...
Windows 7 Home Premium
Power
Case
Antec True Power 650W
>10 year old Antec something or other.
View all
hide details