New to OCN, but I will add my newly built and OC'ed rig.
It seems that my i5 is a little vcore pig... oh well.
Forgot to put my cooler in the screenie... its a Scythe Mungen 2 Rev B
Now that I have it stable I think I might wanna convert it too a Dynamic Vcore OC so that I'm not channeling 1.425v though my CPU while it idles while downloading large files etc.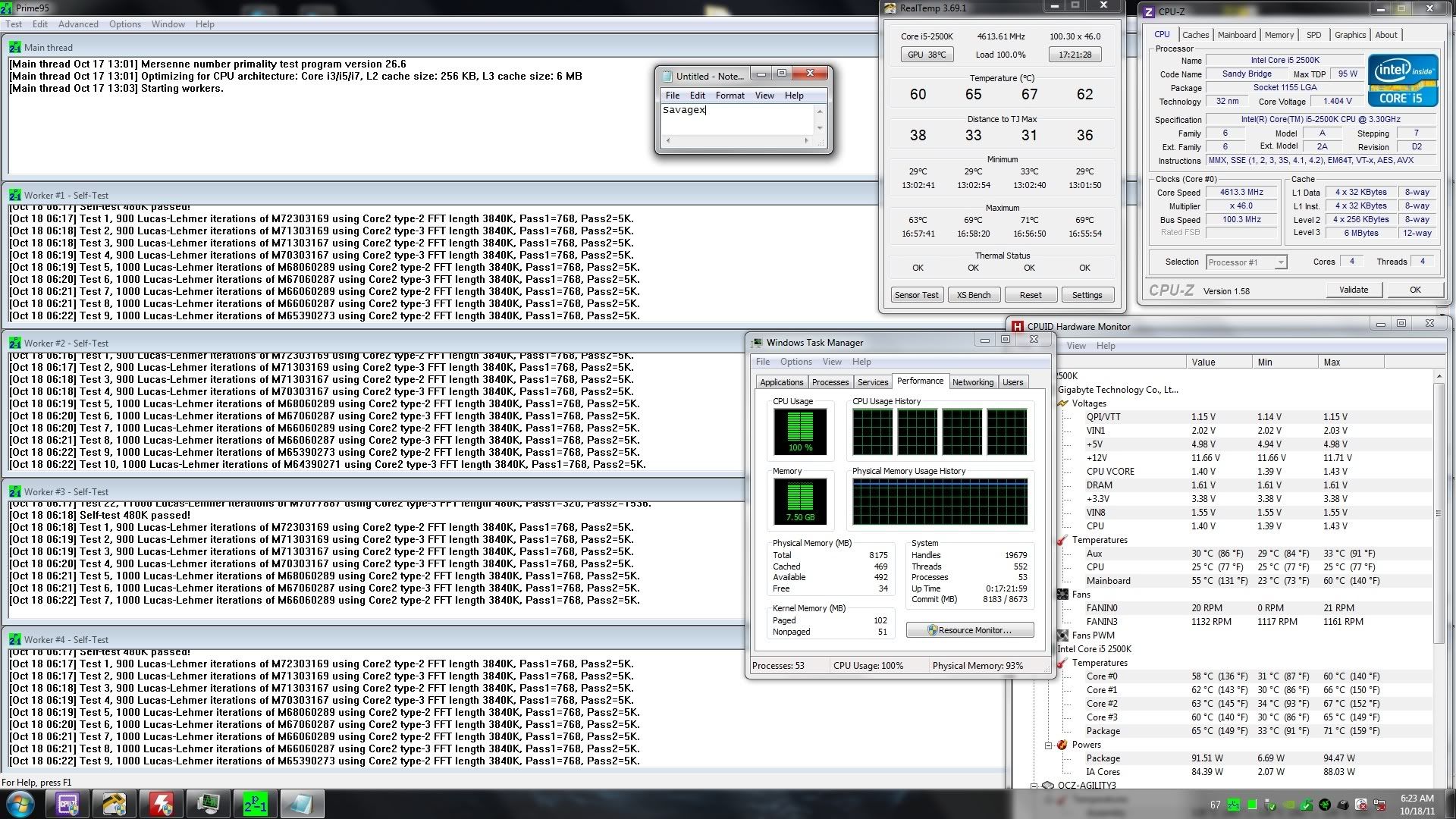 CPU
Motherboard
Graphics
RAM
i5-2500k @ 4.6
Gigabyte P67A-UD4-B3
2-way SLI - EVGA GTX 580 SC's
Corsair Vengence LP - 2x4GB
Hard Drive
Cooling
Keyboard
Power
120GB OCZ Agility 3 & 240GB OCZ Agility 3
Scythe Mugen 2 Rev.B
Logitech G15 (Gen 1)
Corsair AX1200
Case
Mouse
Audio
Coolermaster CM690II
Razer Imperator
Auzentech X-Fi Forte
View all
hide details
CPU
Motherboard
Graphics
RAM
i5-2500k @ 4.6
Gigabyte P67A-UD4-B3
2-way SLI - EVGA GTX 580 SC's
Corsair Vengence LP - 2x4GB
Hard Drive
Cooling
Keyboard
Power
120GB OCZ Agility 3 & 240GB OCZ Agility 3
Scythe Mugen 2 Rev.B
Logitech G15 (Gen 1)
Corsair AX1200
Case
Mouse
Audio
Coolermaster CM690II
Razer Imperator
Auzentech X-Fi Forte
View all
hide details