Generally 4.8GHz stability can be achieved at 1.400 – 1.425 Vcore now with PLL enabled D2 parts exceeding their previous max multiplier the increase in voltage would be 1.425 – 1.450.
That's the only thing I see in there about 1.425v lol.
Quote:
Originally Posted by
LethalRise750
I thought one of the rules for this thread was no more "Max Safe SB Voltage" discussions.
It is
Quote:
Originally Posted by
SonofNoob
This was my first attempt at OCing my i5 2500k
but stable at 4.5ghz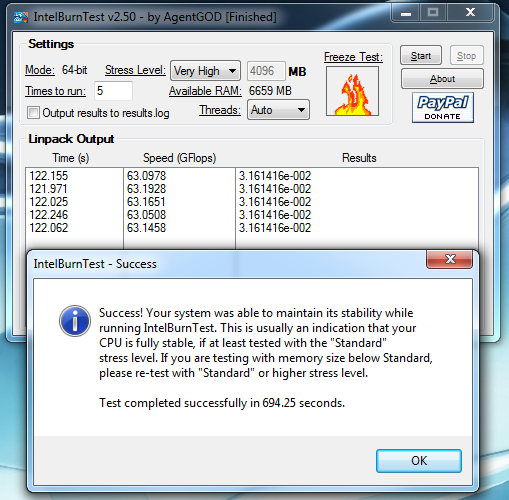 *edit* disregard this i just read the rules for posting a 12hr test lol sorry bout that
Good luck
Edited by phazer11 - 4/23/11 at 5:12pm
CPU
Graphics
RAM
Hard Drive
Intel Core i7-3630QM
NVIDIA GTX 670MX
DDR3 1600 MHz SDRAM
1TB 5400 RPM HGST Travelstar HDD
Hard Drive
Optical Drive
OS
Monitor
Corsair Neutron GTX 240GB
Super-Multi DVD Writer
Microsoft Windows 8 64-bit
17.3" HD LED-Backlit Display
Mouse
Touchpad
View all
hide details
CPU
Graphics
RAM
Hard Drive
Intel Core i7-3630QM
NVIDIA GTX 670MX
DDR3 1600 MHz SDRAM
1TB 5400 RPM HGST Travelstar HDD
Hard Drive
Optical Drive
OS
Monitor
Corsair Neutron GTX 240GB
Super-Multi DVD Writer
Microsoft Windows 8 64-bit
17.3" HD LED-Backlit Display
Mouse
Touchpad
View all
hide details