It's always exciting to see new products come to the market, especially when modding is concerned as it's still extremely niche. Today I am reviewing new cable sleeve from
Venomous
Cable Sleeve, a company based in Australia.
You can visit Venomous HERE on OCN in the Artisan section.
There are a few sleeve companies out there, MDPCX, FurryLetters, Techflex, and ModRight just to name a few; and like with any product, there's very good, there's good, and then there's bad and anything in between. Venomous looks to poise itself in this market and stand out amongst the others by providing a good product at an "affordable" price.
This review will be short and sweet. I won't be making references to ancient Roman cultures, Star Trek, or cars. I'll let the major review sites take that on. Instead, I'll be focusing on the pros and cons of Venomous cable sleeve, the quality, ease of use, and the benefits or downfalls of the product itself.
I want to provide an unbiased, truthful account of my experience with the sleeve, so direct comparisons to any other manufacturer will not be made.
Selection: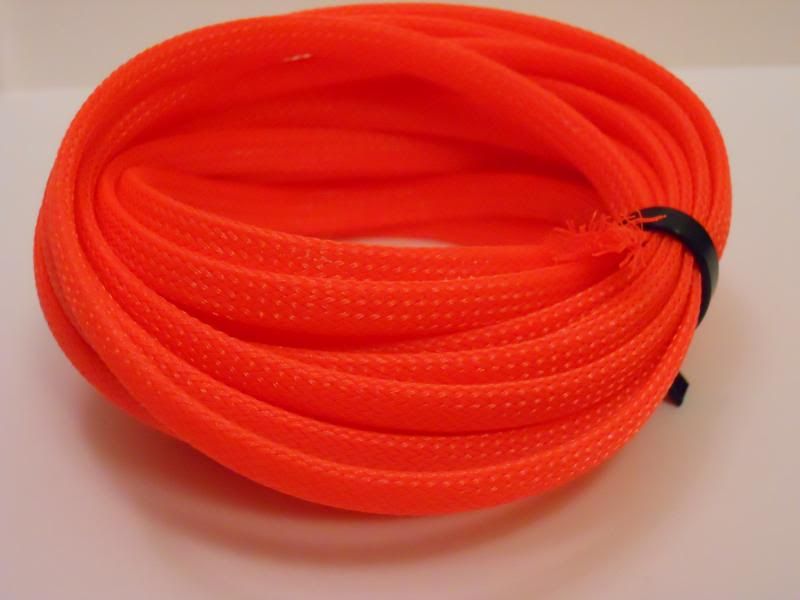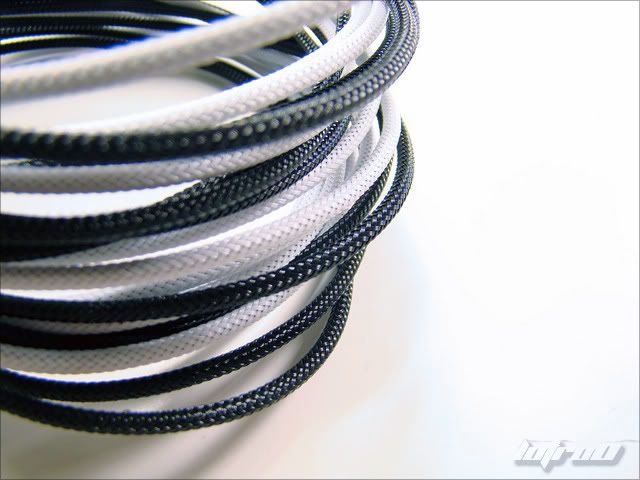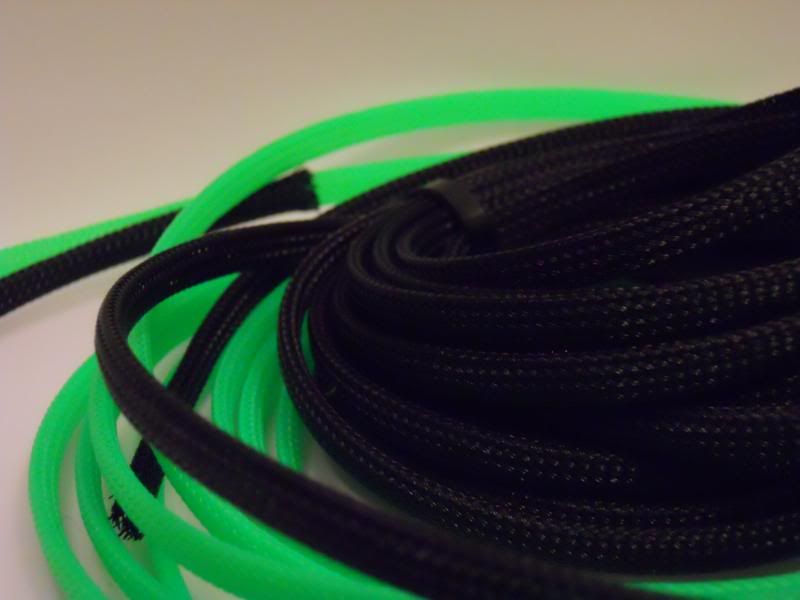 Venomous carries a wide array of colors and sizes to choose from. Color options for sleeve are Black, Red, Blue, White, Green, and Yellow, with sizes of 3.5mm, 5mm, 10mm. 19mm, and 40mm respectively.
Personally, I am not a fan of green as a color. However, I did find myself drawn to the Venomous green sleeve. It's a neon-ish, lime-green that just snaps. When you mix it with yellow cables or apply yellow electrical tape to the cables beneath it, it's even prettier.
The heatshrink is pre-cut to 1.5cm for your typical ATX and fan connector sleeves (3.5mm and 5mm) and come in bags of 50 pieces, while the larger sizes of 10mm, 19mm and 40mm all come in uncut lengths of 1 meter. It is important to note that currently, all heatshrink only comes in BLACK.
Price:
There's a wide array of pricing in the sleeve market, from high-to low, and the price typically speaks of the quality. Prices vary from .80 AUD a meter (3ft) of Extra Small sleeve to 2.20 AUD a meter for Extra Large Sleeve. While some may consider this expensive, there are other offerings out there that cost significantly more.
Venomous finds itself in the mid-range for pricing, but what does this say about the quality?
Quality and Ease of Use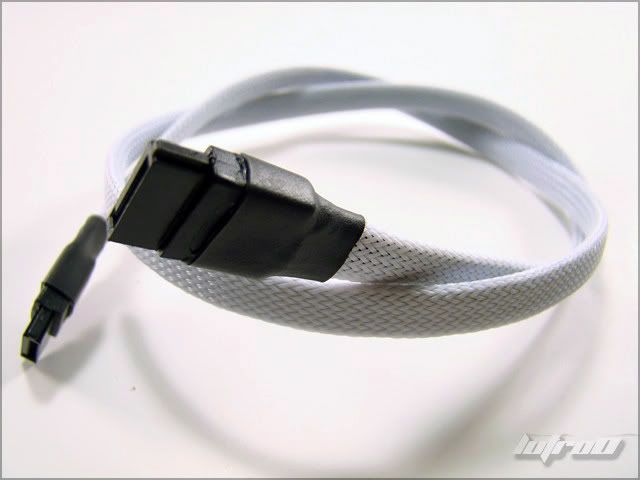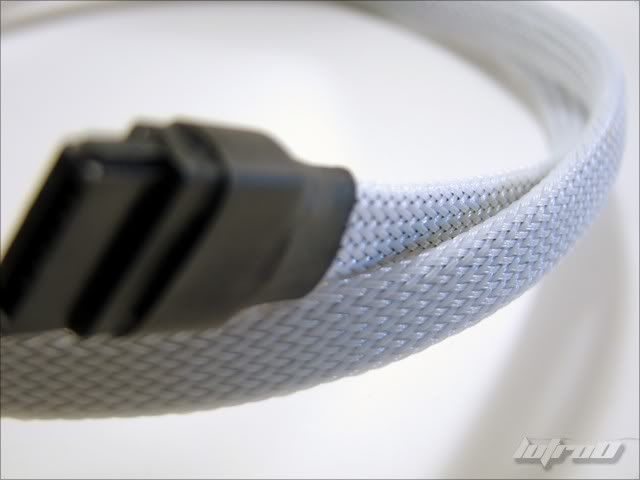 At first glance, Venomous sleeve leaves little to question about the quality. The weave is dense, the material is of good quality and durability. So, let's jump in and see what we find. I would like to provide insight here on the ease of use, but this will become evident through the rest of the review.
Sleeve:
The sleeve provided as samples were abundant and of various colors. Each color comes neatly wrapped in a coil and secured with cable ties to prevent any unwinding during shipment.
3mm? I was provided samples of sleeve that seems a little out of the norm for typical sleeve(picture comparison below). At first I was scratching my head trying to figure out if this sleeve could actually be of any use, as it's diameter was smaller than any sleeve I have ever used (and I've sleeved a LOT of cables). This is the 3mm, or XS (Extra Small) sleeve available.
XS Sleeve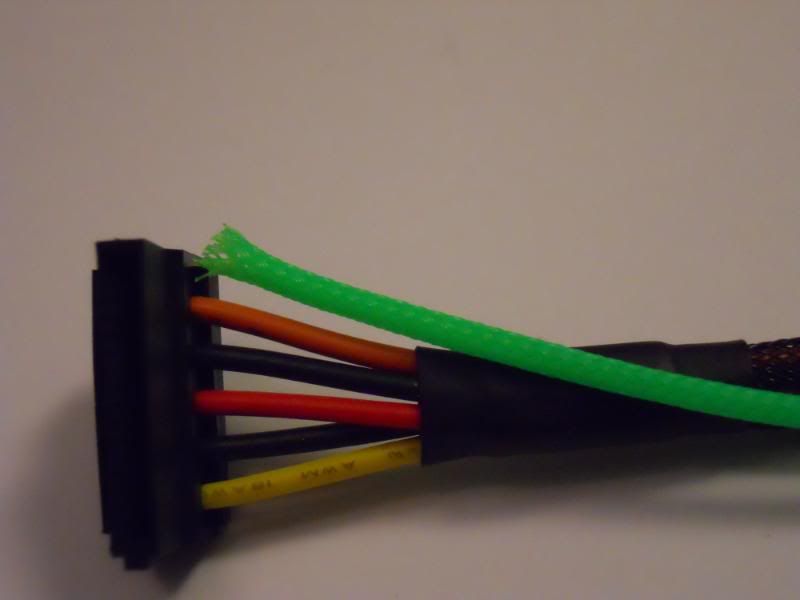 Small Sleeve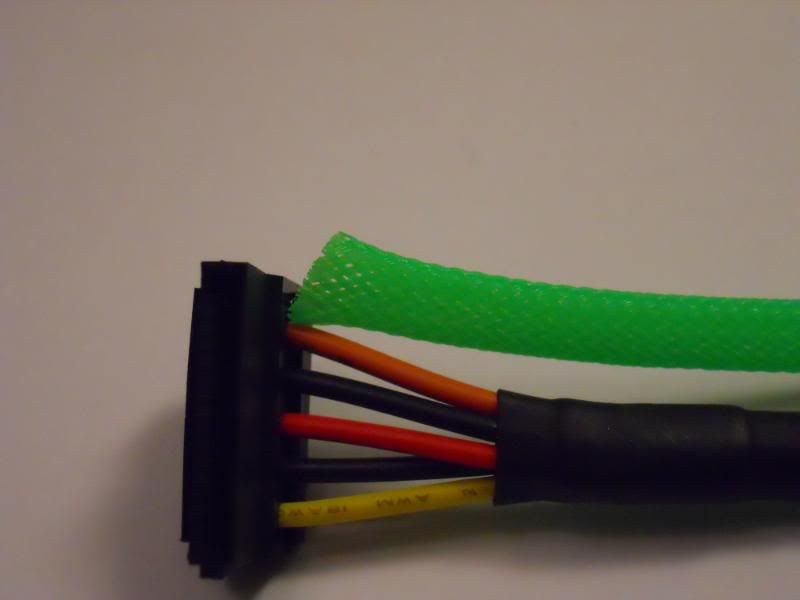 At first, the sleeve appeared to snag on every single connector I tried to put it over, and typically, it was somewhere down the line, half-way into the cable. A simple addition of electrical tape to the connector allowed a much easier, free-flowing experience. However, it does take much longer than typical sized sleeve due to its very tight dimensions. While it was at times painful to sleeve with, the end result was satisfying. This does not happen with the typical sized sleeve, so don't worry yourself over that or feel that this is a deal-breaker. I sleeved with the smallest size sleeve possible.
There are several nuances with the sleeve.
One of the issues I ran into was that the sleeve would fray even after melting the ends. Usually forming the sleeve with my fingers after melting it a bit alleviated the issue to a degree, however did not fully remedy it. After heat shrink was applied, the problem wasn't noticeable. Another small issue was that larger sleeve would scrunch a little too much, meaning that it would become much wider than was actually needed and would break up the density a little. Pulling the sleeve taut would usually correct this.
In the picture below you will notice the larger sleeve being inflated, thus showing the wires through. Pulling the sleeve tighter will alleviate most of this.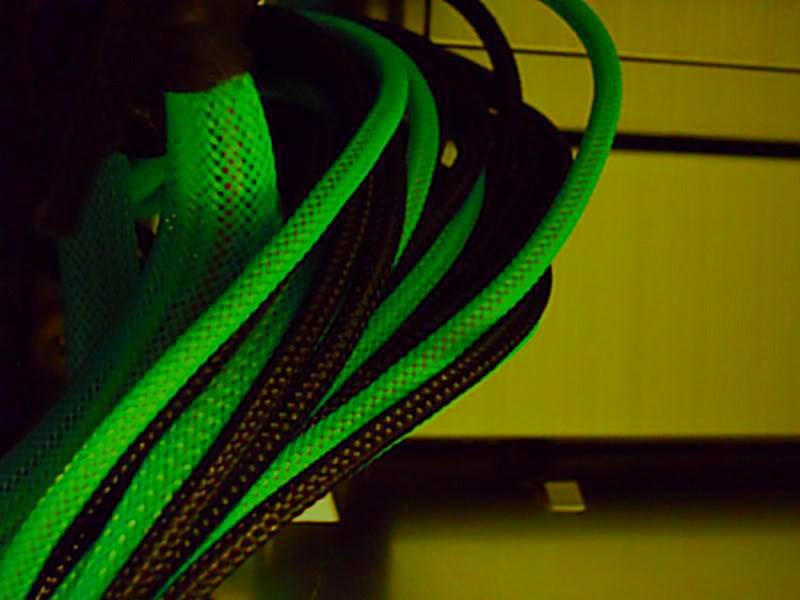 One upside to this, is that you don't even need heatshrink, you can sleeve up to the connector pin and put it back into it's connector block. It makes for a very clean (and much easier to manage) look. This also means you don't have to go through the hassle of applying heat shrink at all, which saves time and lots of pain.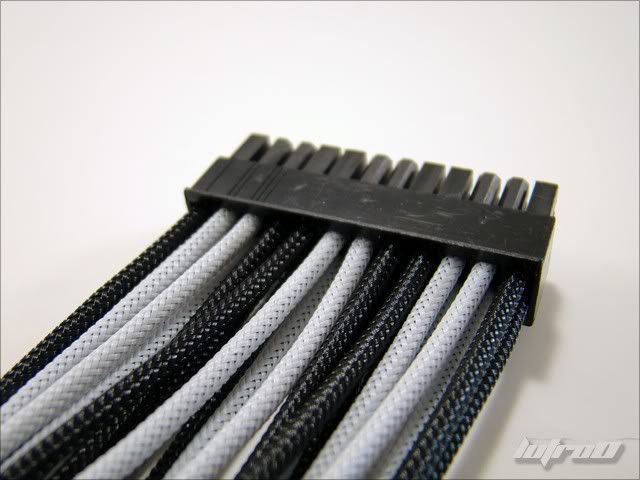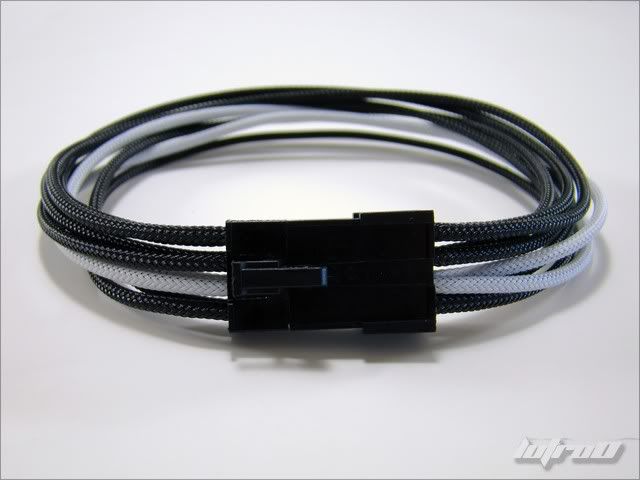 Venomous has stated that the size issue WILL be corrected (and appears to have been by the time this is posted).
With any colored sleeve aside from black, it's wise to use electrical tape on the wires prior to sleeve them for a darker or lighter affect, depending what you're going for. I found that the weave was pretty dense and well done to eliminate most of the see-through issues you get with cheap sleeve.
It's important to note here that I did not experience trouble with any of the other sized sleeve while doing my work. Sleeve is quite possibly the most tedious and time-consuming modification one can do, and the rest of the sleeve sizes were not a hassle when it came to time and effort.
Heatshrink:
The samples I was provided were of various sizes. The Heatshrink Venomous sent me included adhesive in the lining, with a shrink ratio of 3:1 for all sizes. While the ratio of 3:1 shrink is fairly common, I am not a fan of the adhesive lining. It just made the shrink harder to get over connectors, not just because it was a little gummy, but because the shrink doesn't stretch as well. The pros regarding the adhesive is that once the shrink is applied, there will not be any moving of the sleeve up and down the wire, at all. Unfortunately, adhesive can leave residue if you heat it, move it up or down the cable, and heat again.
The other issue with adhesive-lined shrink is that it doesn't always conform the way you need it to, and isn't as flexible, allowing the shrink to bulge when bent like you can see in the
image below.
Venomous has stated that they're working on getting shrink
WITHOUT
the adhesive. It is nice that each piece is cut individually to 1.5cm, which is the perfect length for shrink for ATX/fan/small cables.
The biggest difficulty was getting the shrink over USB and SATA connectors. It was, to say the least, difficult. Actually, difficult doesn't describe my frustration with the heatshrink in this regard. It was daunting, and at times I found myself, who's quite patient, cursing at the heatshrink.
As a small note,
be prepared to burn your fingers. The adhesive inside the heatshrink will definitely resonate lots of heat, more so than shrink without adhesive, so be warned and let my pain be your guide.
Conclusion:
While there were several issues with not just the sleeve, but the heatshrink as well,
I do have to point out that I was provided samples based on first-runs of the product.
My feedback was requested due to myexperience with sleeve. Usually most companies will "listen" to your feedback and go their own way, whether they think you're right or not. Cost-cutting is a staple in manufacturing. Instead, Venomous has listened, and are working on solutions for the problems I found.
What does this mean to you? Two things:
First, Venomous does care about what its customers have to say. Second, when you purchase from Venemous you'll receive product that has been field-tested by modders and not some sweat-shop assembly line, and the benefit of this is that you'll be receiving product that has benefited from field-testing.
I wasn't the only person who tested the product, however, I'm the only one to provide a proper review of it. If others have any insight, their thoughts are welcome.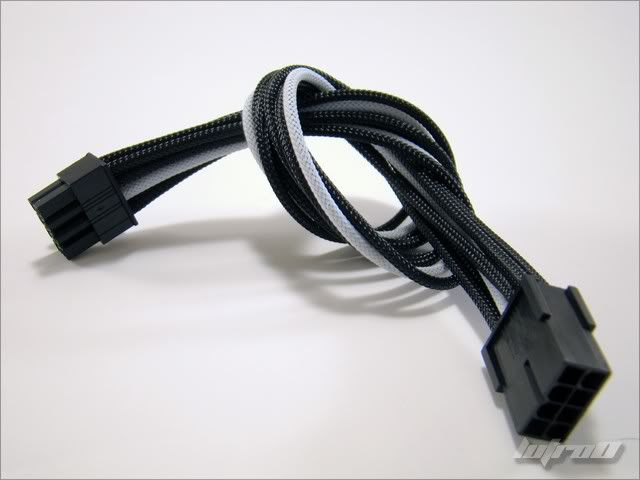 Quality:
8/10
. One of the denser, richer sleeves available on the market. See-through is negligible on most sleeve, scrunches nicely when sleeve a cable, melts well, and has enough spring to it. Downsides include sizing (this of course will be fixed) and fraying. Quality is above a lot of other sleeve out there.
The heat shrink leaves a lot to be desired in certain areas. It's not very malleable, and sometimes doesn't shrink exactly how you expect it to. However, Venomous should be correcting this soon.
Ease of use
:
6/10
. While it's not as painful to use as paracord, in some regards it was quite difficult. A resolution for this has and is being worked on, so expect different and better results than what I had. Typical sized sleeve does not hinder you whatsoever, so this rating is based primarily on the small-size that I was sent and worked with for most of the build. The hassle indicated here does NOT reflect my impressions of normal sized sleeve.
Price:
9/10.
The price lands smack in the middle of cable sleeve, but don't let that fool you. This is some of the better sleeve I've worked with when it comes to color and density. For price versus quality, this is in some of the upper echelon of sleeving.
Selection:
7/10
. While the colors provided are fairly standard, what really stands out is the Green sleeve. Lots of modders favor green/black combinations in their themes and this is without a doubt one of the better greens out there. For a brand new company, having the selection they do is definitely worth mentioning, and Venomous is looking at providing other colors in the future.
Overall Rating:
8/10
Acknowledgements:
I want to thank Venomous for the samples provided and wish them luck in their endeavor. The sleeve market doesn't have as much competition as other categories in the computer modding industry, and competition is a good thing.
Secondly, thank you to fellow OCN forum member Lutro0, who provided feedback, pointers, and pictures of his sleeving work for use in this review.