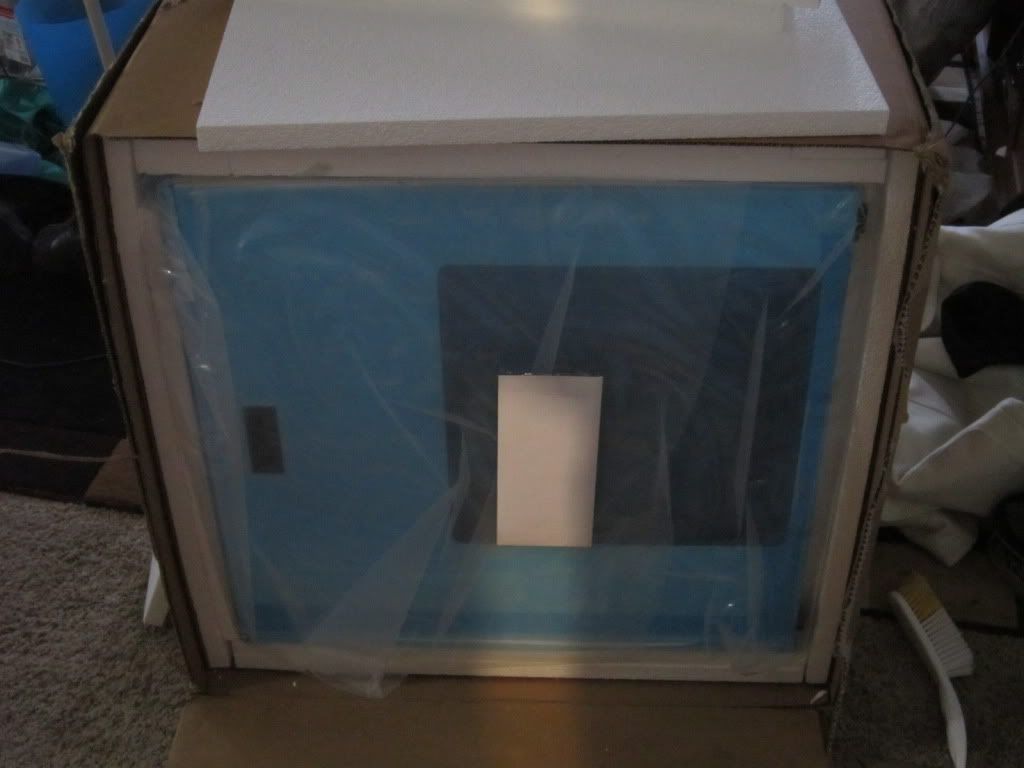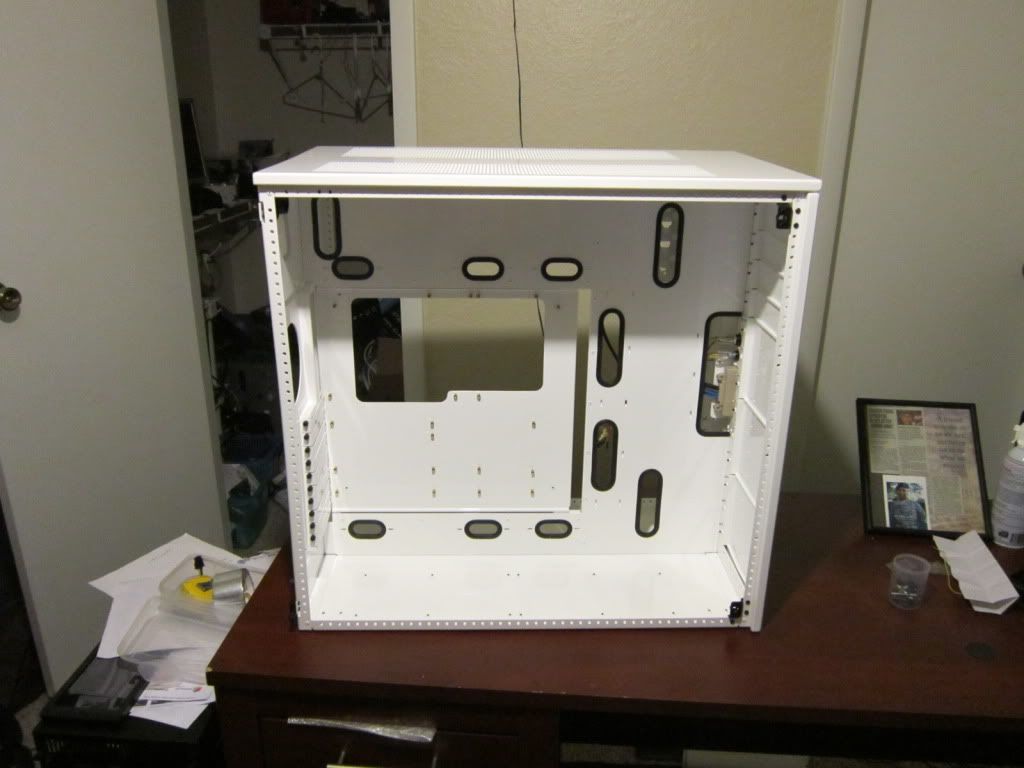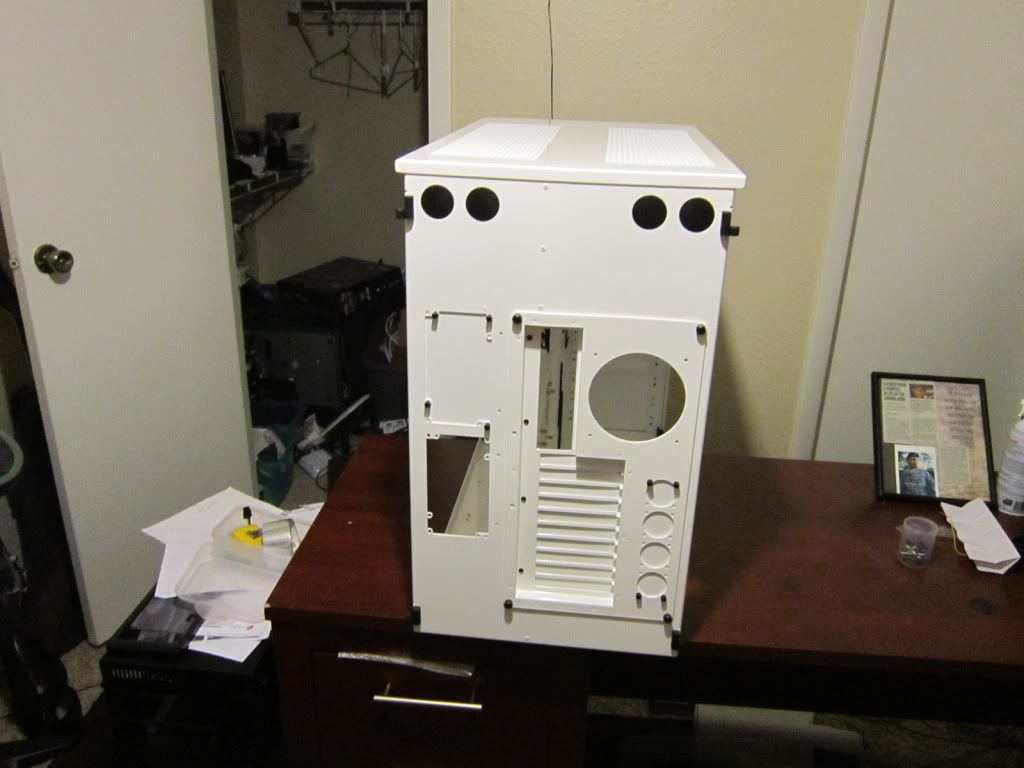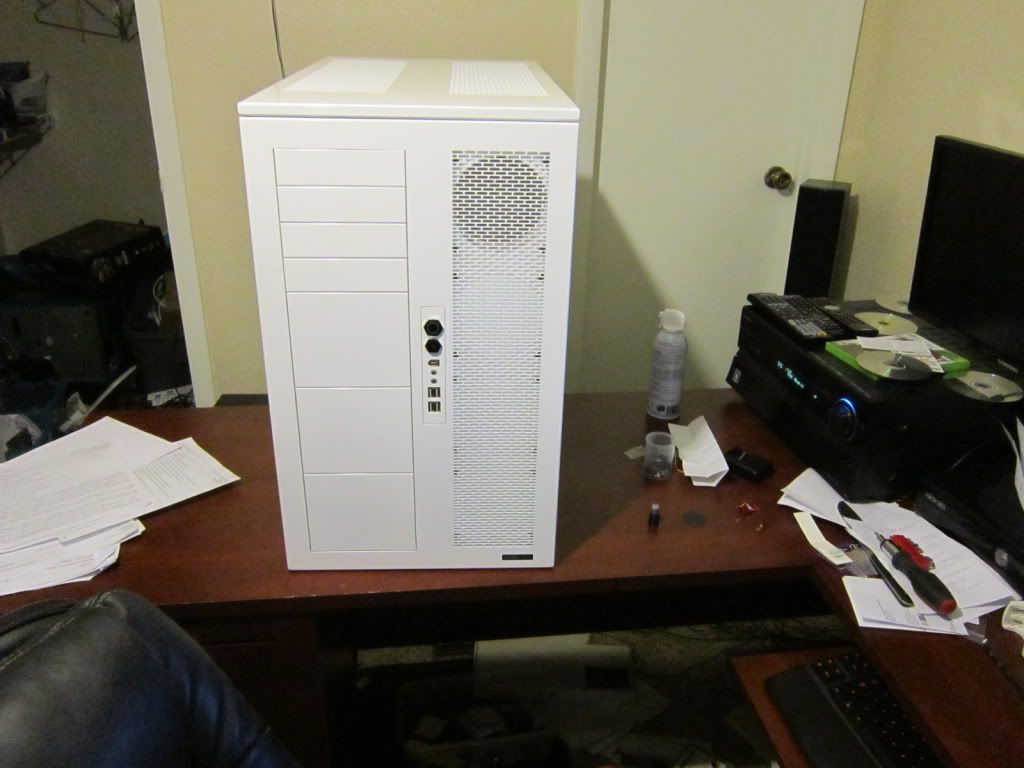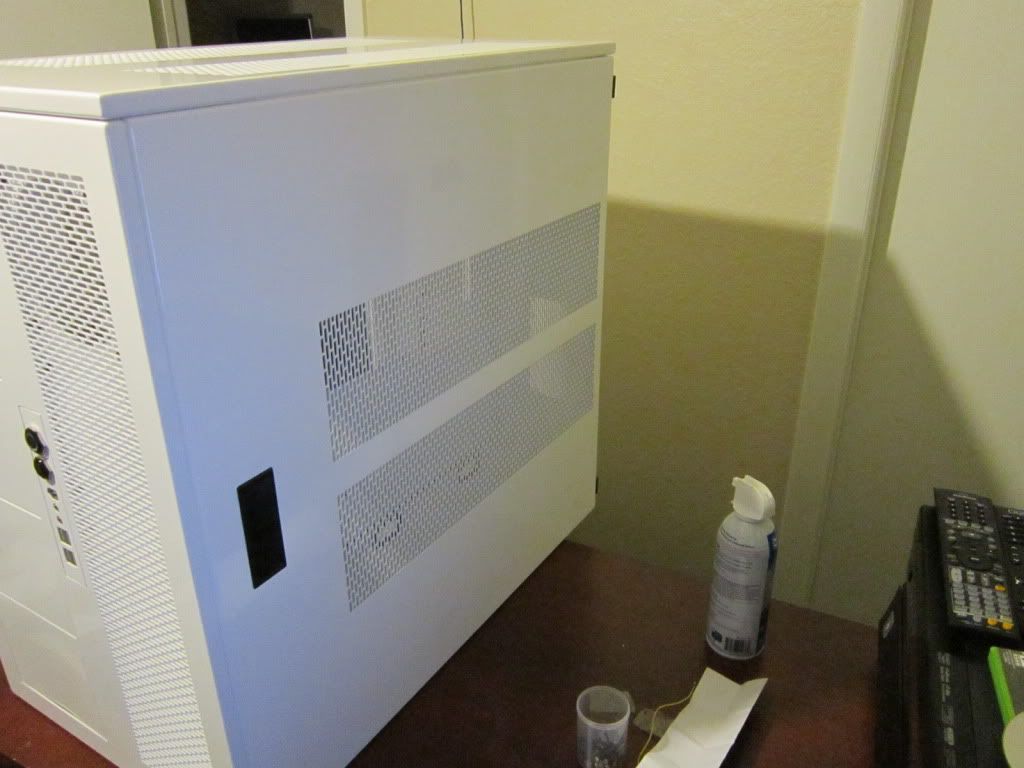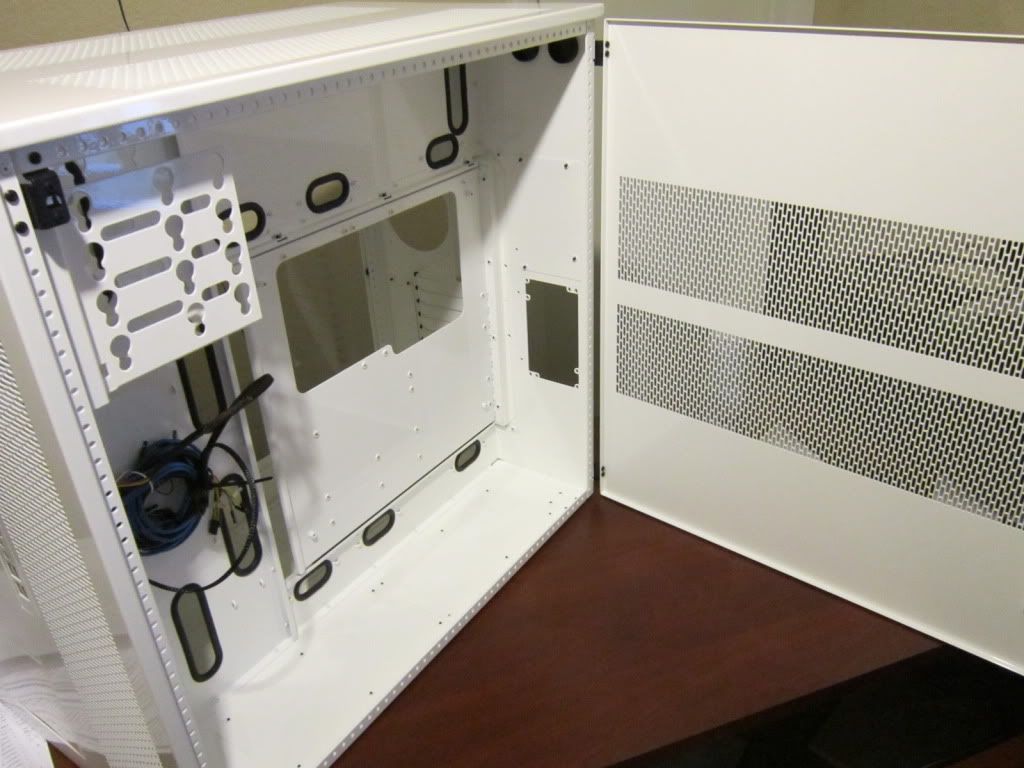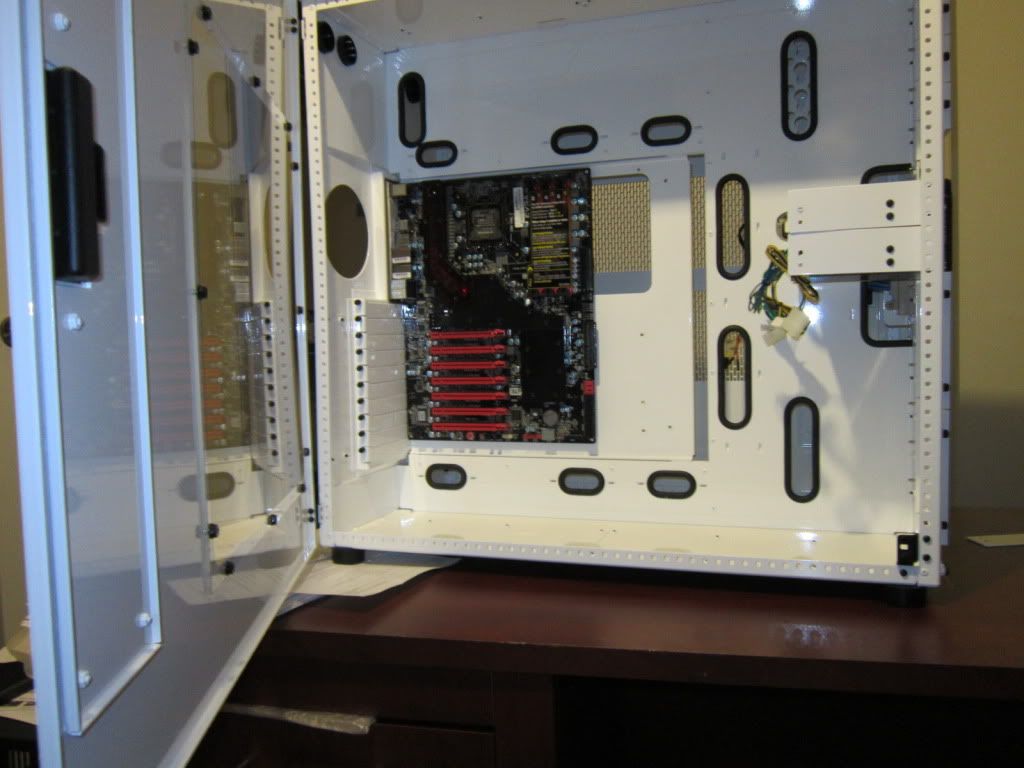 This case is definitely massive can fit 4 480 rads internally. You could fit a 480 rad in the front and a 360 or another 480 in the front. Build quality is exceptional. Packaging for the case was very detailed. It took me about 20 min or so to remove this protective film on the case.
specs
All aluminum construction - .090" (2.3mm) chassis .063"(1.6mm) doors/covers.
* Choice of ventilated or solid doors and covers (on a panel by panel basis). Right and left side windows are available in a variety of colors XL ($20.00).
* Slide out MB tray.
* Choice of one HDD cage assembly (4 drive capacity): either standard or flex-bay mount. Note that the flex-bay mount deletes one of the 3U filler panels.
* 13 Flex-Bays (5.25") + room for up to 16 HDD's
* Four single bay filler plates and three triple plates.
* Four sets of mounting brackets for 5.25" devices.
* I/O panel with firewire, four USB 2.0 ports, HD audio and microphone connection.
* Lamptron anti-vandal style switches and wiring harnesses: blue ring for power and red dot for HDD activity. They are standard switches that can be easily swapped out for custom color combination.
* Filler plates for top and bottom fan openings, 40mm fan openings on MB tray, card slots, and one PSU.
* Four rubber feet with screws (casters are available).
* Misc. hardware: Thumbscrews, MB standoffs, Tie-wraps, etc.
Case Dimensions (TH10) 15"W x 25.06"H x 26.06"D (381mm x 637mm x 662mm)
Rubber feet add .75" (19mm) to height, optional casters add 2.63" (67mm).
The TH10 supports HPTX boards
Supports Video Cards up to 17" (432mm) using Fan Mounts
Cooling tower clearance (measured from the top of the MB): 7.20" (183mm)[/quote]
Edited by Juggalo23451 - 2/12/12 at 7:50am
CPU
Motherboard
Graphics
RAM
970
evga 4way
2 gtx590
6gigs muskin ram
Hard Drive
Optical Drive
Cooling
Cooling
2tb wd,128 ssd/crucial
lg dvd
koolance gtx590 block x 2
white heatkiller
Cooling
Cooling
Cooling
Cooling
RX480 rad x2
MCP35x (X2)
gentle typhoons 1850 rpm (8)
xigamtek fans
OS
Monitor
Keyboard
Power
win pro 64bit
samsung 2343 x3 6144x1152
logitech g19
silverstone 1500watt
Case
Mouse
Mouse Pad
Audio
case labs th10
deathadder 3500dpi
cheap one
Creative Sound Blaster X-Fi Titanium Fatal1ty C...
Other
XSPC dual bay reservoir
View all
hide details
CPU
Motherboard
Graphics
RAM
970
evga 4way
2 gtx590
6gigs muskin ram
Hard Drive
Optical Drive
Cooling
Cooling
2tb wd,128 ssd/crucial
lg dvd
koolance gtx590 block x 2
white heatkiller
Cooling
Cooling
Cooling
Cooling
RX480 rad x2
MCP35x (X2)
gentle typhoons 1850 rpm (8)
xigamtek fans
OS
Monitor
Keyboard
Power
win pro 64bit
samsung 2343 x3 6144x1152
logitech g19
silverstone 1500watt
Case
Mouse
Mouse Pad
Audio
case labs th10
deathadder 3500dpi
cheap one
Creative Sound Blaster X-Fi Titanium Fatal1ty C...
Other
XSPC dual bay reservoir
View all
hide details