Okay, update time.
Fedex came to the house three times, UPS once, and USPS once. This is what I got:
Still waiting on fans, 240mm rad, and another 580 gtx.
I installed the 200mm Phobya Radiator in the front. As you can see from the pic my first mesurement was a little off. Drilled some holes and got her installed and looks good. When I put the front cover back on you wont see the hole or the few scratches so no biggie.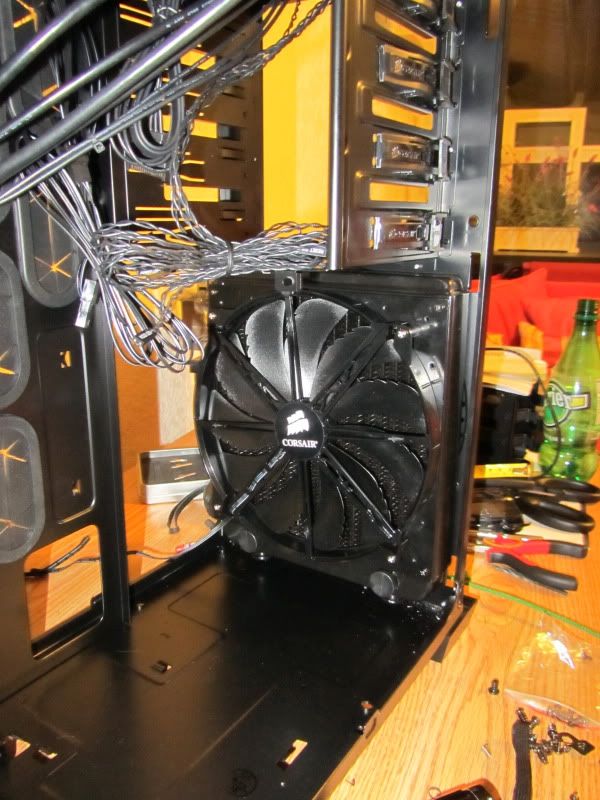 Now I need to find a nice 120mm rad fan. The corsair fan is just a temp. Maybe a yateloon.
I also found these for my 240mm rad and exhaust fan: I plan on painting the outsides black.
Edited by Krymore - 3/31/11 at 5:38pm
CPU
Graphics
RAM
Hard Drive
Intel Core i7-960 Bloomfield 3.2GHz
Asus GeForce GTX570
2 x 4GB G Skill Sniper DDR3
1 TB Seagate 7200
Hard Drive
Optical Drive
OS
Monitor
OCZ 128GB SSD
LG Bluray Drive
Windows 7 64 Bit
Dell UltraSharp U2412M IPS
Keyboard
Power
Case
Mouse
Razor BlackWidow Mechanical
NZXT 850W Halo 90
Corsair 650D
Logitec G500
View all
hide details
CPU
Graphics
RAM
Hard Drive
Intel Core i7-960 Bloomfield 3.2GHz
Asus GeForce GTX570
2 x 4GB G Skill Sniper DDR3
1 TB Seagate 7200
Hard Drive
Optical Drive
OS
Monitor
OCZ 128GB SSD
LG Bluray Drive
Windows 7 64 Bit
Dell UltraSharp U2412M IPS
Keyboard
Power
Case
Mouse
Razor BlackWidow Mechanical
NZXT 850W Halo 90
Corsair 650D
Logitec G500
View all
hide details