Not sure if i worded the title correctly?????
I just bought a 5750 a few days ago , and i notice when playing GTA IV, and if i tab+alt and load up GPU-Z quickly, its in 2d mode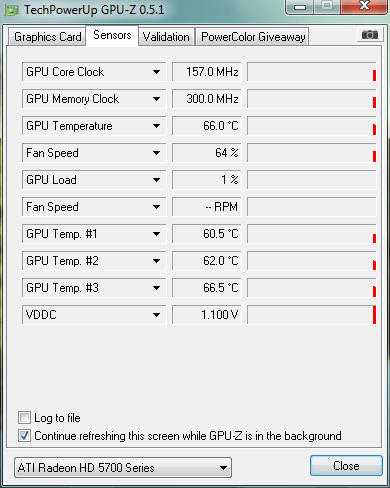 Do the 3d clocks change within a split second or something, i thought if you are playing a game and alt+tab and check your GPU , it should be reading 3d clocks soon after you check?
GTA IV is running smooth as hell tho, no stuttering or pausing.
CPU
Motherboard
Graphics
RAM
Intel Xeon X3220 @ 2.40GHz Kentsfield 65nm Tech...
Dell Inc. 0GX297 (Microprocessor)
PNY GTX 550 TI 1GB GDDR5
4GB DDR2 Memory
Hard Drive
Optical Drive
Cooling
OS
500GB WD+External 500GB WD
Super Ritemaster Speed Plus DVD
Speed fan Software+Stock Cooler Fan
Windows 7 Ultimate x64
Monitor
Keyboard
Power
Case
LCD Acer 21inch Monitor
HP Black Keyboard
Thermaltake 430 PSU
Dell Optiplex 745
Mouse
Mouse Pad
Audio
Dynex Grey and Black Mouse
Air National Guard
Diamond C-Media PCI Audio Device
View all
hide details
CPU
Motherboard
Graphics
RAM
Intel Xeon X3220 @ 2.40GHz Kentsfield 65nm Tech...
Dell Inc. 0GX297 (Microprocessor)
PNY GTX 550 TI 1GB GDDR5
4GB DDR2 Memory
Hard Drive
Optical Drive
Cooling
OS
500GB WD+External 500GB WD
Super Ritemaster Speed Plus DVD
Speed fan Software+Stock Cooler Fan
Windows 7 Ultimate x64
Monitor
Keyboard
Power
Case
LCD Acer 21inch Monitor
HP Black Keyboard
Thermaltake 430 PSU
Dell Optiplex 745
Mouse
Mouse Pad
Audio
Dynex Grey and Black Mouse
Air National Guard
Diamond C-Media PCI Audio Device
View all
hide details