These are the current timings my memory is running at: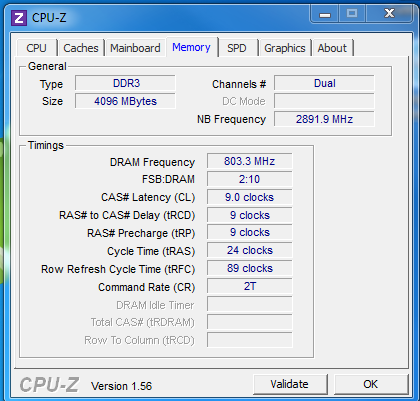 the memory is corsair xms3 rated, and running at 1600mhz
I have seen various benchmarks that show that games, and other applications for that matter, generally prefer memory with tighter timings over just speed.
I know where to change the timings in my bios but, whenever i change them the system fails to boot.
Is there something i am doing wrong?
Thanks,
Stephen
CPU
Motherboard
Graphics
RAM
|Intel Core i7 860 at 4.0GHz HT on 1.31V|
|Asus P7P55D Pro|
|GTX 260 OC, GTS 250 OC (Folding 24/7)|
|4GB Corsair xms3 at 1458 MHz, 8-8-8-20|
Hard Drive
OS
Monitor
Power
|WD 500GB Blue SATA, WD 500GB Black SATA|
|Windows 7 Premium (64-bit)|
|Asus 24" at 1920x1080, HP 19" at 1440x900|
|Corsiar TX850W|
Case
Mouse
Mouse Pad
|Cooler Master 690 II Advanced|
|Razer Naga|
|Razer Goliathus Standard|
View all
hide details
CPU
Motherboard
Graphics
RAM
|Intel Core i7 860 at 4.0GHz HT on 1.31V|
|Asus P7P55D Pro|
|GTX 260 OC, GTS 250 OC (Folding 24/7)|
|4GB Corsair xms3 at 1458 MHz, 8-8-8-20|
Hard Drive
OS
Monitor
Power
|WD 500GB Blue SATA, WD 500GB Black SATA|
|Windows 7 Premium (64-bit)|
|Asus 24" at 1920x1080, HP 19" at 1440x900|
|Corsiar TX850W|
Case
Mouse
Mouse Pad
|Cooler Master 690 II Advanced|
|Razer Naga|
|Razer Goliathus Standard|
View all
hide details