NOTE: Please be sure to read the updates at the bottom as well!
After deliberating between the M-Audio BX5a, Audioengine A2, and Swan D1080MKII08, I chose the Swan D1080MKII08 for its reputation for value, wide frequency range, and remarkably accurate sound. I also considered the Swan M50W, but after discussion with the salespeople at The Audio Insider, where I purchased the speakers, I decided the D1080 would be a higher quality system, especially if I chose to add a subwoofer.
Note: D1080MKII08 is an updated version of the Swan D1080MKII which supposedly has triple the power.
I purchased the Swans from The Audio Insider (TAI), which I believe is one of the only retailers of desktop/multimedia-model Swan loudspeakers. Shipping took a few days, contrary to what they claim on the website (same day shipping), but everything went smoothly otherwise.
This was my first foray into higher-quality speakers. However, as an experienced classical musician, I appreciate and notice sound quality. I had begun to grow tired of my muddy-sounding Z-5500s. The Swans would be replacing them.
I placed my order on 3/14, in time for the specified same-day shipping (which I didn't get in the end). I am going to school in Massachusetts, and it arrived here on 3/23 from Nevada.
Cost:
Sub-Total: $189.00
FedEx Module (Ground): $27.17
Total: $216.17
Unboxing
As you can see, the package was double-boxed. I'm not sure if this was TAI's doing or Swan's, but it seemed unnecessary. However, it definitely kept the package safe and I'd rather have an overly protected package than a damaged one. The packaging was also taped with reinforced boxing tape (the kind with the strong little fibers).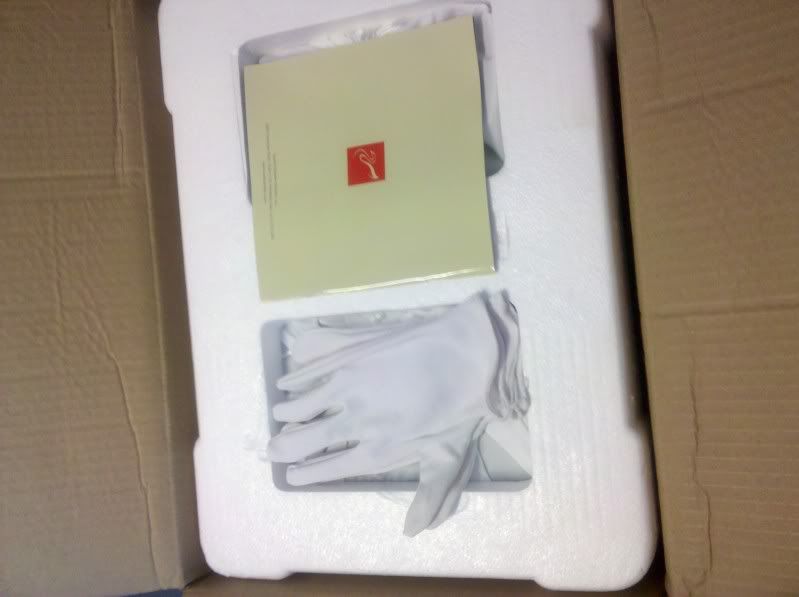 Upon opening the box, I was confronted with the famous white gloves and a brochure. The white gloves supposedly come with most, if not all, Swan speakers. I think they are meant to handle the speakers to prevent fingerprints. I put them on for the novelty, but just used my bare hands to handle the speakers.
The brochure just had some photos and advertisements for other Swan speakers. No manual. There was no documentation at all outside of the brochure.
The beefy styrofoam cocoon kept the speakers safe and sound inside of the double corrugated cardboard walls. Again, solid, solid packaging. I can't imagine that you'd ever get a Fed-Ex or UPS horror story with this level of safety.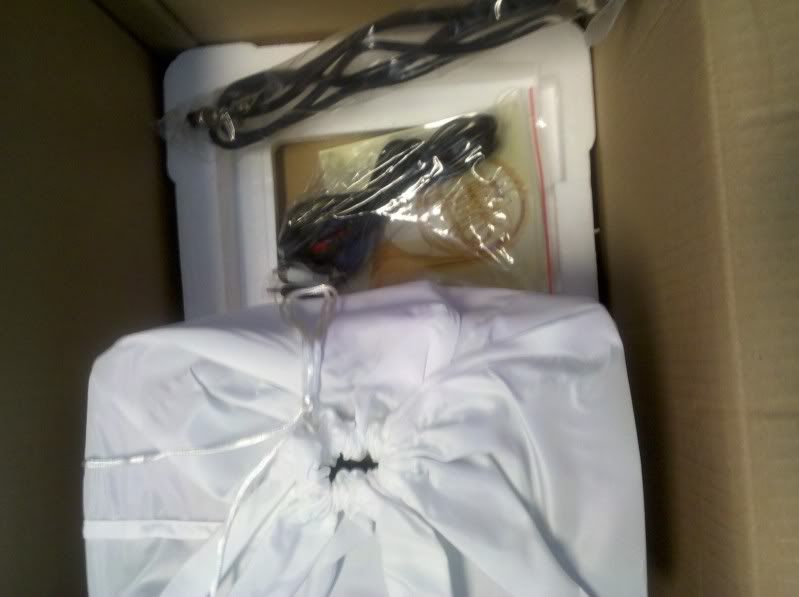 The speakers were each packaged in a white drawstring bag, similar in material to the gloves. Only one speaker is pictured here. They seem to be for prevention of any scratches during transport.
The required cables came in simple plastic bags which were unsealed. Cables included one cable for connecting the slave speaker, a power cable, and a 3.5mm-stereo RCA male-male. All of the cables were of a good length, and were very sturdy.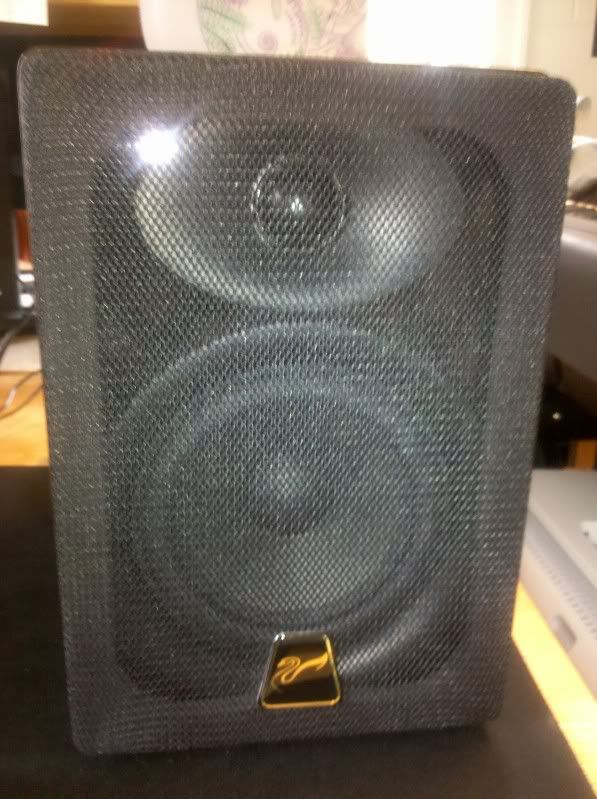 Total package contents:
-1 Master speaker with controls
-1 Slave speaker
-1 Speaker connector (~6ft)
-1 Power cable (~6ft)
-1 3.5mm-RCA Male-Male (~7ft)
-2 White drawstring bags
-1 Pair of white gloves
-1 Brochure
Installation
I'm glad Swan didn't include a manual: saves trees and keeps costs down. If you need a manual to install these--well, I don't know what to tell you.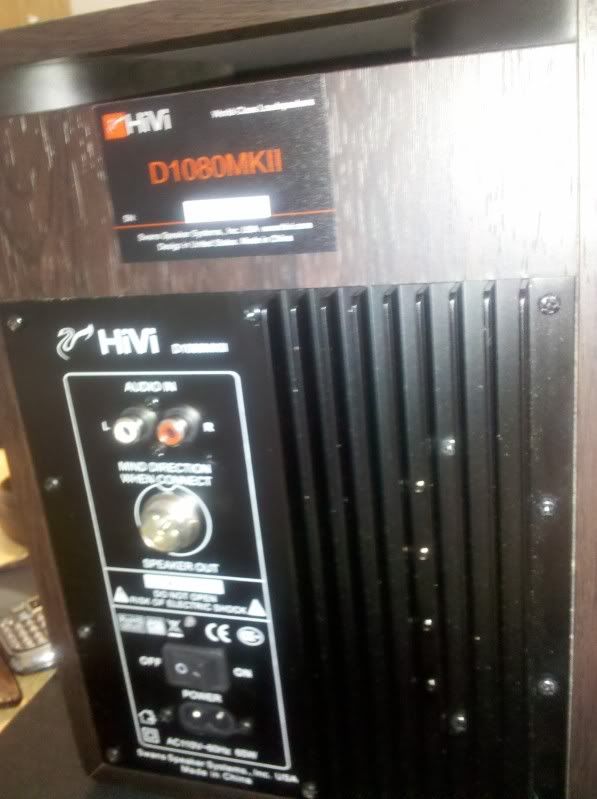 All I had to do was plug in each cable to where it fit into the master speaker, pictured above. Pretty obvious.
The speaker connector was especially beefy (probably shielded), and screwed into each speaker. Reminded me of the old Super Nintendo TV cable. But better designed, so you don't scream little boy screams in a struggle to keep the little bastard from falling out.
Setup:
-Speakers roughly 3 feet apart.
-Integrated sound through a laptop.
-320kbps and FLAC files.
First Impressions
The speakers are simple and attractive in design. The faux wood finish is again, simple yet attractive. The speakers were a lot bigger than I anticipated. Perhaps too large for a dorm room, but after listening I decided I would keep them!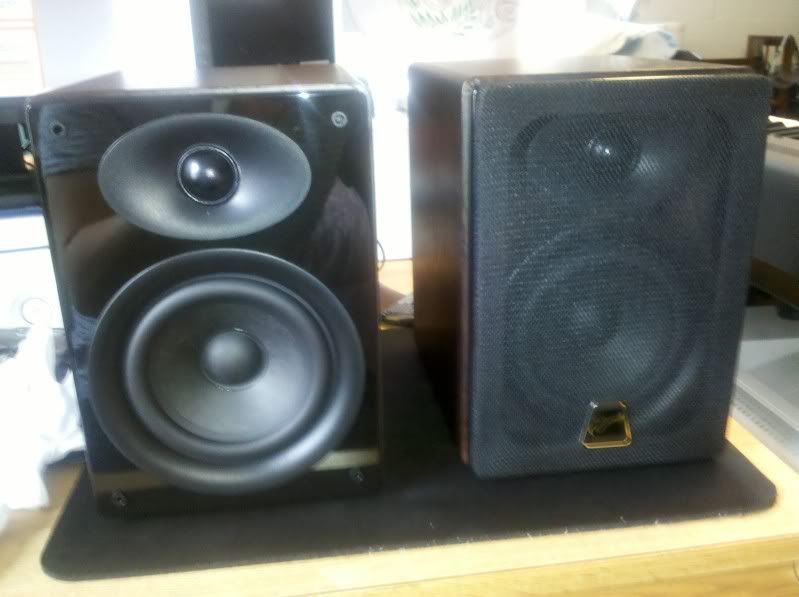 Since the speakers are never pictured with the grills on, I was happy to find they are, in my opinion, quite good-looking. The gold Swan logo is a nice touch.
The master speaker has three dials: volume, treble, and bass. I was extremely pleased to find that the treble and bass "snapped" to the middle very satisfyingly. Great feature for people who want a balanced, uncolored sound. Perfect addition to a supposed reference monitor setup.
Each control is sturdy, with no flimsy "play" in the dial. Overall, everything is very sturdy.
Sound
I was at first disappointed with the quality. Something about it was a little crunchy and noisy. And then I realized I was playing a 128kbps music file.
I switched to 320kbps and FLAC only, and was immediately impressed. The lows were crisp and loud, the mids clear, and the highs precise. The soundstage could have been wider if I had placed the speakers further apart, but because I live in a college dorm, I am unable to do so. Even so, the soundstage easily out-matched the Z-5500s.
In terms of volume, I did not bring the control past halfway. At halfway, it is very loud. Volume-wise these speakers should meet the expectations of nearly any listener.
To test if the speakers could handle reasonable lows, I tested Daft Punk's Around the World. The speakers passed with flying colors. I detected no dropoff; the volume was at the perfect level and the response was tight.
I also tested classical music on these speakers: violin/piano and full orchestra. I played Concert Fantasie on Gounod's Faust by Sarasate played by Gil Shaham. Incredible detail. I was blown away. I could hear little familiar artifacts that I know from my own experience with the violin, and even Shaham's breaths on the upbeats. Then I played a little Hans Zimmer, and again--incredible detail. Each group in the orchestra was represented clearly. I don't know how they could have performed any better!
I played all sorts of music for about an hour, and I couldn't find any weaknesses in these speakers! They sounded wonderful in every genre. Perhaps slightly less "boomy" than some people might want in a modern-day, bass-heavy pop song, but as far as I could tell, the speakers delivered exactly what the sound file told it to.
I did get the impression that something about the sound was a little "sharp," perhaps because the speakers haven't been broken in yet. Something about the response didn't seem as rounded as it should. After about an hour, the sharpness started to fade.
Some other notes about the sound:
The speakers are EXTREMELY directional! This is mostly a good thing. Symmetrical spacing and directing the speakers directly to the listening spot is essential. I would highly recommend getting something to bring the tweeters up to ear level. There is an enormous difference. I found myself slouching in my chair to enjoy the full experience.
I have not yet tested this, but these speakers should benefit from wide spacing for soundstaging reasons. The directional nature of the speakers should allow for and benefit from such wide spacing.
Due to the directional nature of the speakers, it's hard to hear any outside sounds. My friend was in the room while I was testing, and I couldn't hear her almost at all while I was in the prime listening spot. Constructive waves did their job.
Conclusion
Coming from the Z-5500s, the Swan D1080MKII08's were a breath of fresh air. The sound is tight, loud, and clear. Bass does not seem lacking at all. Soundstaging has not been fairly tested yet, but seems good. Sturdy and beautiful construction.
Overall, a great value. I am confident these speakers will only sound better with time.
Future testing
I will be watching Black Swan later tonight to see how these perform for movies. I might end up missing the bed shaking from the Z-5500's subwoofer during movies. Will report back later.
Edit:
The 2.0 setup left something to be desired in comparison to the bed-shaking Z-5500s with certain movies in certain parts of movies. However, aside from the lowest of low frequencies, the Swans performed well, and certainly outperformed the Z-5500s.
Final thoughts
I hope this was useful for all of you looking for budget, high quality audio. I had trouble finding information about this product and thought I should do everyone a favor and write a review when I got them.
I intend to update this review as I listen more and as the speakers get broken in.
Thanks for reading, everyone!
UPDATE!!!!
Hi, it's been a long time since I've touched this thread since I've been so busy (or touched OCN, for that matter). But since there is such a low number of reviews on these speakers floating around on the internet, I thought I should at least give 5 minutes to update this review with some important information.
Important things that caused the need for update:
1) The Swans are now fully broken in, after ~8 months' use.
2) Recent acquisition of Sennheiser HD598s for comparison.
3) Recent acquisition of Audinst HUD-MX1 DAC.
4) More general experience with audio.
The Swans have definitely benefited from a long break-in period. The sound has moved from intensely critical (hearing every tiny problem in the recording) to rounding out to critical, yet enjoyable. It's a great balance, and I'm glad it turned out this way. I don't think I could have enjoyed the cold, calculating sound for too long.
In addition, the directionality of the Swans have loosened somewhat. There is now some flexibility as to the listening area. However, as these are near-field monitors, it is still absolutely important to be in the prime listening spot (tweeters at ear level, equidistant from listening location).
I've found the Swans to be best performing at low to medium volume levels. This is perfect for me, because those are the levels I love to listen to music the most, but I know that's not the case for everyone. At high levels, the high frequencies tend to sound a little piercing. But keep in mind there is a built-in treble and bass control on the speakers themselves, so playing with that might get you somewhere. At medium-or-less volumes, the sound is perfect with the treble and bass at neutral.
I currently have the Swans sitting directly on my desk, which means they are below the desirable height, and are creating a lot of reflections off of the wall behind my desk and off of the desk itself. This mostly amplifies the low frequencies and makes them sound a little muddy--which is partly why I don't like listening to them at high volume.
Comparing the Sennheiser HD598s with these speakers is pretty easy. They are just about as close to exactly the same as you could get between speakers and headphones. The HD598s perform better at high volumes and have slightly better detail overall. I suspect this is mainly due to lack of problems that any speakers (from $10 to $1000) have, e.g. reflections on walls, standing waves in the room, or non-ideal placement.
That's it for my updates for now. Hopefully I'll be able to clean up this review a little bit when I get time over Thanksgiving break or the winter holidays.
<3 you guys!
-flush
Edited by flushentitypacket - 10/9/11 at 9:14am