Hey guys,
My wife's NLE video editing system has been up on water for about 3 months now (since late Dec), and all was going well until last week when she started complaining about occasional, unexplained reboots & hangs (no error codes). When I went to check things out & opened the case, I noticed the water in the res had turned to a cloudy, brownish, polluted-looking color. My first thought is algae by the look of the water, but now I'm not quite so sure & I wanted to throw it out here before I broke the loop down.
I'd love to hear any thoughts or ideas on the problem, as well as recommendations to clean up the loop and prevent a repeat.
Here's a bit of info that may help narrow things down
The loop was built with Tygon Silver Anitmicrobial tubing and filled with DI water treated with PT Nuke (8 drops/gal).
I added four drops of PT Nuke three days ago and it has cleared up a bit, but is still very cloudy (pics below).
The system runs about 15 hrs/day, room temp ~72° F. The AC is bumped up to 78° F after shut down.
[Added Item] Water in the loop was clear for the first month or so. I haven't opened the case since early Feb, so I'm not 100% sure when the problem started.
I also have about a quart of treated water left over from the build which has been stored in the garage. It is still crystal clear.
Other system components are in sig
And here's a few pics to give you a visual: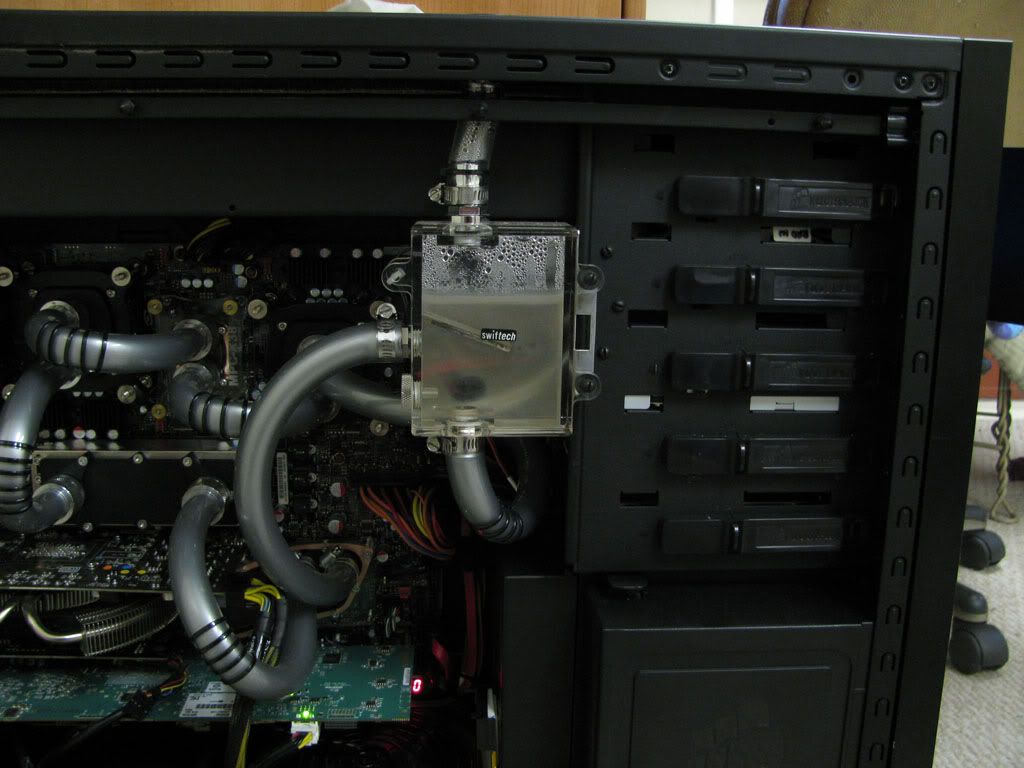 Any thoughts or ideas are welcome.
Regards,
HateTheSnow
Edit: Added more background info
Edited by HateTheSnow - 3/23/11 at 8:28pm
CPU
CPU
Motherboard
Graphics
Xeon QX9775 @ 4.0 24/7
Xeon QX9775 @ 4.0 24/7
Intel Skulltrail D5400XS
MSI Cyclone GTX 460
Graphics
RAM
Hard Drive
Hard Drive
Matrox Mojito
Kingston Value Ram FB DDR2-800
3Ware 9650-SE SATA RAID Controller
2 x WD VelociRaptor (WD3000HLFS)
Hard Drive
Hard Drive
Optical Drive
OS
6 x WD RE4 (WD2003FYYS)
WD Black 2TB (WD2001FASS)
LG GGW-H20L Blu-Ray Burner
Windows 7 Ultimate (64-bit)
Monitor
Monitor
Monitor
Power
Dell 2408WFP
Dell 2408WFP
Dell U2410
Silverstone Strider Gold ST1200-G
Case
Corsair 800D
View all
hide details
CPU
CPU
Motherboard
Graphics
Xeon QX9775 @ 4.0 24/7
Xeon QX9775 @ 4.0 24/7
Intel Skulltrail D5400XS
MSI Cyclone GTX 460
Graphics
RAM
Hard Drive
Hard Drive
Matrox Mojito
Kingston Value Ram FB DDR2-800
3Ware 9650-SE SATA RAID Controller
2 x WD VelociRaptor (WD3000HLFS)
Hard Drive
Hard Drive
Optical Drive
OS
6 x WD RE4 (WD2003FYYS)
WD Black 2TB (WD2001FASS)
LG GGW-H20L Blu-Ray Burner
Windows 7 Ultimate (64-bit)
Monitor
Monitor
Monitor
Power
Dell 2408WFP
Dell 2408WFP
Dell U2410
Silverstone Strider Gold ST1200-G
Case
Corsair 800D
View all
hide details