I've got a fan lying around that I'd quite like to use in my system and was wondering if this was possible.
Atm the 120 rad in my loop has a fan in push and looks like this:
If i were to add my extra fan to it like this: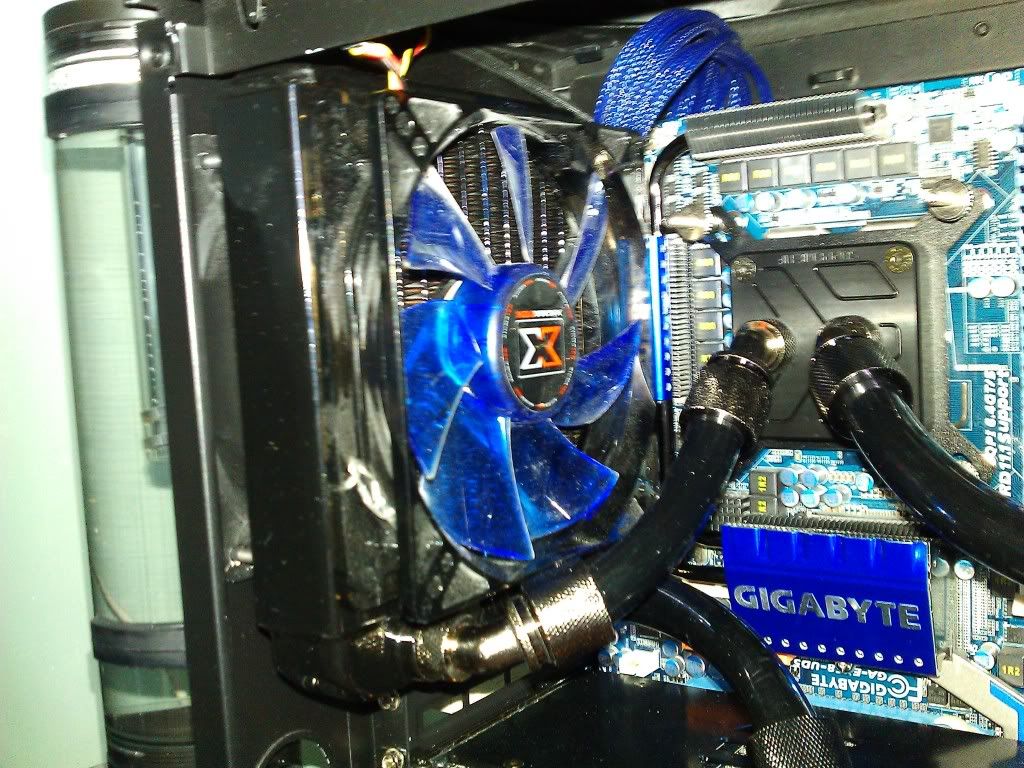 ..but only have it turned on when i need it, would it affect the air flow through the rad too much?
As well as the benefit of more air going through my rad it will also bring more cool air in towards my chipset as I've tested that already. I don't want it on all the time though coz i like to keep my noise levels down unless I'm benchmarking/gaming so if it didn't affect the rad's performance when it's turned off this would be great.
Any thoughts?
CPU
Motherboard
Graphics
RAM
i7 920
Gigabyte EX58-UD7
Asus GTX 580 Voltage Tweak Edition
Corsair Dominator 6Gb DDR3-1600
Hard Drive
OS
Monitor
Keyboard
50gb OCZ Vertex 2 Pro | 1Tb HDD
Windows 7 Professional 64bit
BenQ 24" 1080p LED
Razer Lycosa
Power
Case
Mouse
Silverstone Strider 750W
TJ07
Razer Deathadder
View all
hide details
CPU
Motherboard
Graphics
RAM
i7 920
Gigabyte EX58-UD7
Asus GTX 580 Voltage Tweak Edition
Corsair Dominator 6Gb DDR3-1600
Hard Drive
OS
Monitor
Keyboard
50gb OCZ Vertex 2 Pro | 1Tb HDD
Windows 7 Professional 64bit
BenQ 24" 1080p LED
Razer Lycosa
Power
Case
Mouse
Silverstone Strider 750W
TJ07
Razer Deathadder
View all
hide details