So I finally got around to installing Windows 7 on my SSD (Corsair Force 115GB) using the
Win 7 SSD's Setup and Secrets
thread here on OCN as a guide. Of course I did not read through the thread's OP thoroughly enough before getting started and, as such, I did not do the alignment step before I installed the OS (I did do all the other configuration tweaks afterwards).
Results are as follows: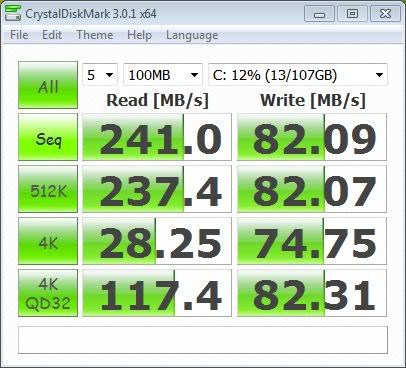 Write speeds on the Crystal Mark are troubling but a number of sites have mentioned that the CrystalMark test doesn't do well with SandForce drives, so I'm taking that one with a grain of salt... ATTO results are right on track with the advertised speeds.
So my question is, should I align the disk using TwoCables' alignment process or should I just let it ride the way it is now? Will alignment increase longevity or performance in any noticeable way?
Edited by MCBrown.CA - 3/28/11 at 3:09pm
CPU
Motherboard
Graphics
RAM
920 D0 | 4104MHz@1.23V
Big Bang XPower
5850 | 880/1050
6GB Sector 7 | 1728MHz
Hard Drive
OS
Monitor
Power
F115
W7P64
245BW
SPI Magna 1kW
Case
cardboard (case/loop in prog)
View all
hide details
CPU
Motherboard
Graphics
RAM
920 D0 | 4104MHz@1.23V
Big Bang XPower
5850 | 880/1050
6GB Sector 7 | 1728MHz
Hard Drive
OS
Monitor
Power
F115
W7P64
245BW
SPI Magna 1kW
Case
cardboard (case/loop in prog)
View all
hide details