Sounds like you either have a vibration problem or you didn't bleed all the air out of your loop. When I had my MCP655 Vario on 5 it was dead silent. Some rubber between the mount and the pump can alleviate most of the vibration.
And
don't
run your pumps in electrical series. 6V might be too low and could stall your pumps.
Anyways you don't need any extra cables at all. Just switch the two pins on the molex connector.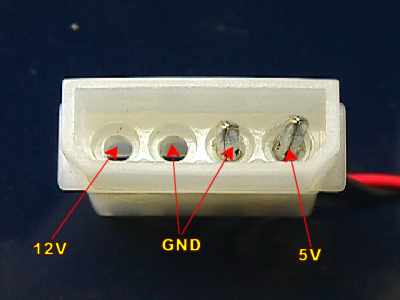 Right now your pumps have pins in one of the grounds and the 12V line. Take the wire going to one of the grounds and hook it into the 5V line. The electical potential between these two lines is 7V. Basically this is what that 'adapter' is doing.
CPU
Motherboard
Graphics
RAM
i7 4770K
ASUS Gryphon
CF R9 290Xs
Samsung 4x4GB
Hard Drive
Cooling
OS
Monitor
Samsung EVO 1TB
2x 240s | 360 | MPC35X | Mostly BP
W7 Pre x64
XL2720T
Keyboard
Power
Case
Mouse
K70
AX1200
CaseLabs S5 + Ped
G700/Mamba
Mouse Pad
Audio
Vespula
WA7 + KRK RP6s + HD650s
View all
hide details
CPU
Motherboard
Graphics
RAM
i7 4770K
ASUS Gryphon
CF R9 290Xs
Samsung 4x4GB
Hard Drive
Cooling
OS
Monitor
Samsung EVO 1TB
2x 240s | 360 | MPC35X | Mostly BP
W7 Pre x64
XL2720T
Keyboard
Power
Case
Mouse
K70
AX1200
CaseLabs S5 + Ped
G700/Mamba
Mouse Pad
Audio
Vespula
WA7 + KRK RP6s + HD650s
View all
hide details