Introduction
So before i bought my eyefinity setup, i wondered how much of a fps hit i would take and if the fps hit scaling was linear or not. I could not find any review or performance comparisons, so i am doing this review today for anyone wondering how much of a performance hit their is and if their gpus can take it.
Test System
Intel Core i5 650 @ 4.2Ghz
Gigabyte P55
4GB DDR3 @ 1600
Radeon HD 6950 2GB 900/1375
Seagate 500GB
Windows 7 Ultimate 64-bit
Single Monitor - 1680 x 1050
Eyefinity - 5040 x 1050
Games To Be Tested
Dirt 2 - Max Settings (2 xaa) [In Game Bench]
Batman: Arkham Asylum - Max Settings [In Game Bench]
Just Cause 2 - Max Settings (2 xaa) [Desert SunRise]
Crysis - Max Settings (no aa) [Guru3D Bench Tool]
Note: all of the games above will be benched using their bench tools. How ever not all will provide a minimum fps, thus the reason why some of the graphs will not have a min fps bar
Results
Dirt 2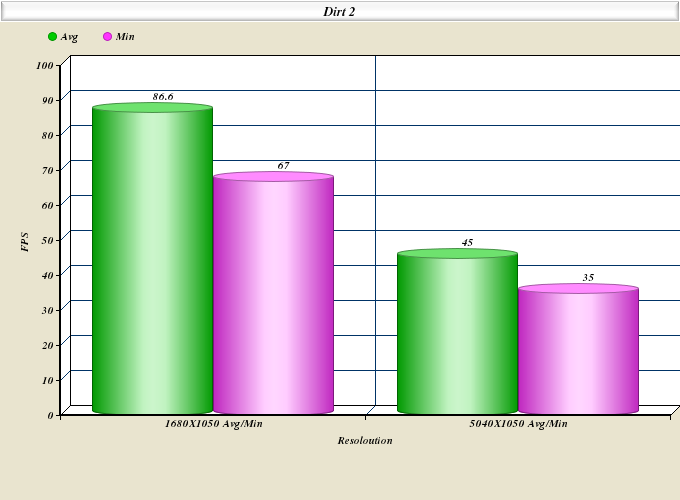 Just Cause 2
Crysis
Batman Arkham Asylum
Conclusion
Eyefinity Percentage Performance Hit
Dirt 2 - 47% Decrease in FPS
Batman AA - 42% Decrease in FPS
Crysis - 66% Decrease in FPS
Just Cause 2 - 53% increase
So it seems that eyefinitys hit on fps varies by a fair amount.You can see some games take more of a performance hit than others, Crysis for example took 66%, which appears to be almost linear scaling after adding the other 2 monitors! Where Batman AA took much less of a hit at 42%!
Thankyou for reading this review, i hope it was of some use to you
If you have any particular games / settings you would like me to bench, do not hesitate to ask
x
Edited by MHSSLU - 3/29/11 at 7:06am
CPU
Motherboard
Graphics
RAM
Core I5 650 @ 4.2GHz
Gigabyte P55
HD6950 2GB 1000/1375
4GB DDR3 1600
Hard Drive
Optical Drive
OS
Monitor
Seagate 500GB
Samsung 22x
Windows 7 Ultimate X64
3 x 22" Asus Eyefinity
Keyboard
Power
Case
Mouse
Logitech G110
Antec TP New 750W
Silverstone RV01
Razer Deathadder
View all
hide details
CPU
Motherboard
Graphics
RAM
Core I5 650 @ 4.2GHz
Gigabyte P55
HD6950 2GB 1000/1375
4GB DDR3 1600
Hard Drive
Optical Drive
OS
Monitor
Seagate 500GB
Samsung 22x
Windows 7 Ultimate X64
3 x 22" Asus Eyefinity
Keyboard
Power
Case
Mouse
Logitech G110
Antec TP New 750W
Silverstone RV01
Razer Deathadder
View all
hide details