Quote:
Originally Posted by
MHSSLU
Introduction
So before i bought my eyefinity setup, i wondered how much of a fps hit i would take and if the fps hit scaling was linear or not. I could not find any review or performance comparisons, so i am doing this review today for anyone wondering how much of a performance hit their is and if their gpus can take it.
Test System
Intel Core i5 650 @ 4.2Ghz
Gigabyte P55
4GB DDR3 @ 1600
Radeon HD 6950 2GB 900/1375
Seagate 500GB
Windows 7 Ultimate 64-bit
Single Monitor - 1680 x 1050
Eyefinity - 5040 x 1050
Games To Be Tested
Dirt 2 - Max Settings (2 xaa) [In Game Bench]
Batman: Arkham Asylum - Max Settings [In Game Bench]
Just Cause 2 - Max Settings (2 xaa) [Desert SunRise]
Crysis - Max Settings (no aa) [Guru3D Bench Tool]
Note: all of the games above will be benched using their bench tools. How ever not all will provide a minimum fps, thus the reason why some of the graphs will not have a min fps bar
Results
Dirt 2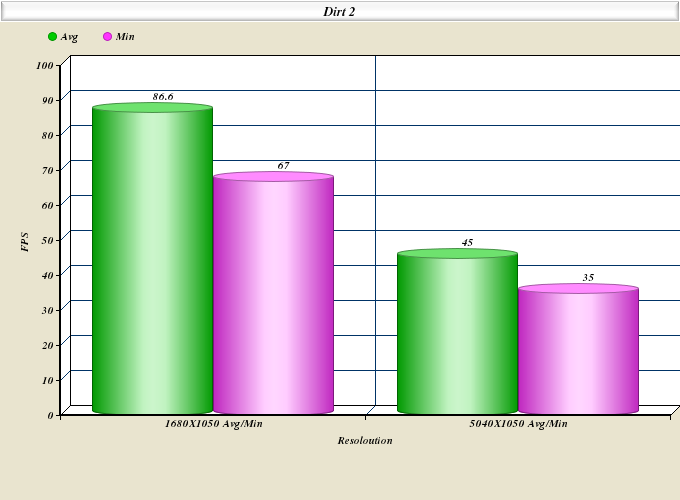 Just Cause 2
Crysis
Batman Arkham Asylum
Conclusion
Eyefinity Percentage Performance Hit
Dirt 2 - 47% Decrease in FPS
Batman AA - 42% Decrease in FPS
Crysis - 66% Decrease in FPS
Just Cause 2 - 53% increase
So it seems that eyefinitys hit on fps varies by a fair amount.You can see some games take more of a performance hit than others, Crysis for example took 66%, which appears to be almost linear scaling after adding the other 2 monitors! Where Batman AA took much less of a hit at 42%!
Thankyou for reading this review, i hope it was of some use to you
If you have any particular games / settings you would like me to bench, do not hesitate to ask
x
In regards to your PM, I will put this into the homepage of the Info thread, however your account seems to not be accepting PM's back? Anything to do with yesterdays issues ?
CPU
Motherboard
Graphics
RAM
I7 950 (batch 3041A657)
Gigabyte x58-ud3r
XFX HD6970 2Gb Crossfire
Corsair Dominator 6gb
Hard Drive
Optical Drive
OS
Monitor
C-300 64 Gb In Raid, WD 500Gb in Raid
DVD/CD RW
Windows 7 64bit
Asus VE248H 1 over 3 Eyefinity with Ergotech Stand
Keyboard
Power
Case
Mouse
Logitech 510
Corsair HX850
Cooler Master HAF 932 (mod'd AMD version)
Razer Naga
View all
hide details
CPU
Motherboard
Graphics
RAM
I7 950 (batch 3041A657)
Gigabyte x58-ud3r
XFX HD6970 2Gb Crossfire
Corsair Dominator 6gb
Hard Drive
Optical Drive
OS
Monitor
C-300 64 Gb In Raid, WD 500Gb in Raid
DVD/CD RW
Windows 7 64bit
Asus VE248H 1 over 3 Eyefinity with Ergotech Stand
Keyboard
Power
Case
Mouse
Logitech 510
Corsair HX850
Cooler Master HAF 932 (mod'd AMD version)
Razer Naga
View all
hide details