So, after leak testing for around 12 hours I finally have my CPU loop up and running. My temps are good, but some cores are running decently hotter than others. I plan to re-seat the water block soon once I figure a few things out.
First off, what thermal compound(s) are considered to be the best? I have a whole tube (syringe?) of Thermalright Chill Factor sitting here and I'm wondering if it's good or if i should get some AS5 or something.
Secondly, what is the best way to add an easy way to drain my loop? Here is what my loop looks like (note: whenever I get a new GPU I will be water cooling it, and I may even water cool my GTX 260 for the fun of it):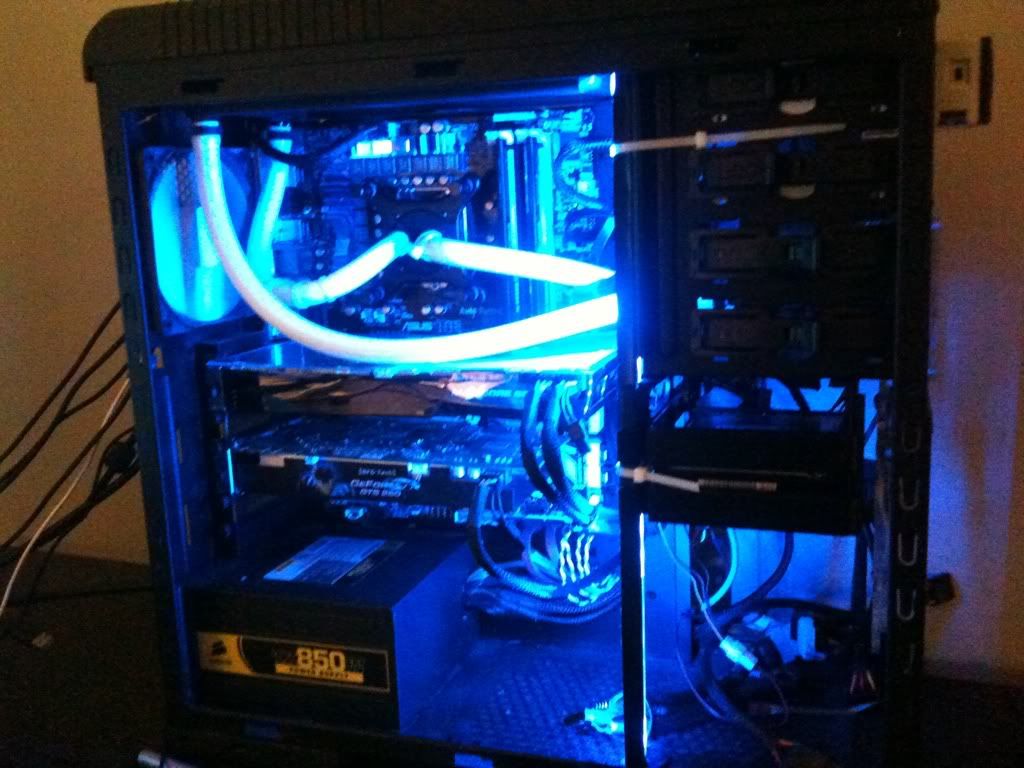 The reservoir is a dual bay reservoir/pump combo and the loop goes like this:
Reservoir > Pump > Rad > CPU block > Reservoir
Thirdly, are Gentle Typhoons still considered the radiator fan kings? The fans I am using now don't seem to be anything special and I'd like to get some 120mm fans that will perform well, but also not be too loud.
Thank you in advance,
Stephen
CPU
Motherboard
Graphics
RAM
|Intel Core i7 860 at 4.0GHz HT on 1.31V|
|Asus P7P55D Pro|
|GTX 260 OC, GTS 250 OC (Folding 24/7)|
|4GB Corsair xms3 at 1458 MHz, 8-8-8-20|
Hard Drive
OS
Monitor
Power
|WD 500GB Blue SATA, WD 500GB Black SATA|
|Windows 7 Premium (64-bit)|
|Asus 24" at 1920x1080, HP 19" at 1440x900|
|Corsiar TX850W|
Case
Mouse
Mouse Pad
|Cooler Master 690 II Advanced|
|Razer Naga|
|Razer Goliathus Standard|
View all
hide details
CPU
Motherboard
Graphics
RAM
|Intel Core i7 860 at 4.0GHz HT on 1.31V|
|Asus P7P55D Pro|
|GTX 260 OC, GTS 250 OC (Folding 24/7)|
|4GB Corsair xms3 at 1458 MHz, 8-8-8-20|
Hard Drive
OS
Monitor
Power
|WD 500GB Blue SATA, WD 500GB Black SATA|
|Windows 7 Premium (64-bit)|
|Asus 24" at 1920x1080, HP 19" at 1440x900|
|Corsiar TX850W|
Case
Mouse
Mouse Pad
|Cooler Master 690 II Advanced|
|Razer Naga|
|Razer Goliathus Standard|
View all
hide details