Hey there guys.
I received my Steelseries 6GV2 through the post yesterday and though I would make a review and give you my opinions on mechanical keyboards and this keyboard. Also differences between the 6GV2 and the 7G.
So to begin with I have never used a mechanical keyboard in my life. Never heard of them until my mate said he borrowed his brothers for a while and I heard him tapping away on ventrilo. Anyway after that I started looking at them and wanted one to match my Xai mouse, so steel series was my main option. So here are some pictures of the boring bit which would be the box and it's contents which everyone knows about..
Overall I though it was very basic packaging. As you can see. Contents were standard stuff really, Manual, other steelseries products and a sticker.
The first thing I did when I opened the box which I tried to resist was press down on the keys, as every human being would. Now I have listen to sounds of a mechanical keyboard and read reviews myself that other users fingers get tired after using it so I thought they would be hard to press down. It was the complete opposite. They are really soft it's just the fact that the spring underneath reacts so well is probably what makes your fingers tired, plus you can press down half way and it will register the key. I was trying to press down half way on my G15 and just couldn't do it. It's either down or up. Where as on this keyboard you can gradually press the keys down.
Here are some more photos of my set-up and the size difference between this keyboard and the G15: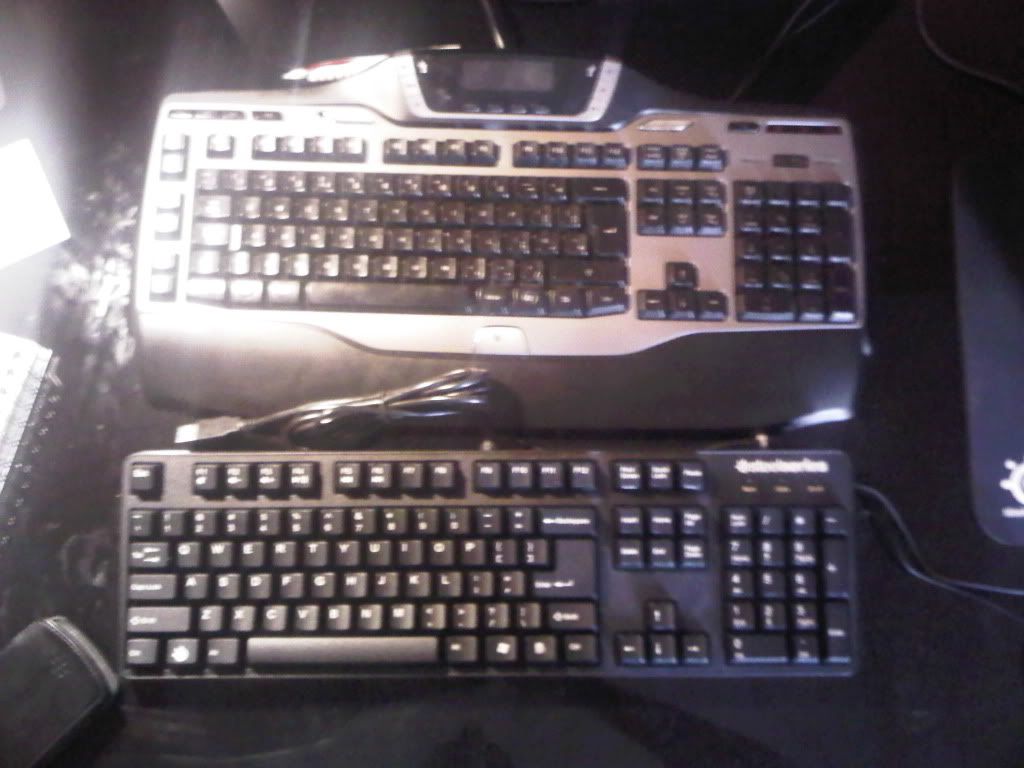 With the last photo you can see the texture of the keys. It looks rough but it's not. I guess this sort of texture helps the keys keep the letters on? Well that's my guess anyway. After setting up my 6GV2 I obviously took my G15 out of the way and realised how much the 6GV2 weighs. I wasn't expecting it to be that heavy in all honesty, then again it's a perfect weight and doesn't move what so ever. Underneath the keyboard are 4 rubber feet, two at the top and two at the bottom. The back of the kayboard (where the wire sticks out) is raised. I thought I wouldn't like this as I have my G15 almost flat. However I love it. Perfect height to see all the keys along with reaching them. Although some users might want it higher, which you can't have. After playing a few games today I noticed the the bottom row of the keyboard (with the spacebar) are lower then all the other keys. It feels weird when you notice it but it's actually perfect. Here's what I mean underneath.
The CTRL button is lowered compared to the shift. I think this is perfect, it helps stop pressing CTRL instead of shift (not like that happens anyway) but feels more comfortable. Also you can see the keys are slight indented. This again makes it more comfortable to type as it fits your fingertips perfectly. The only problem I have had with this keyboard is that the right shift is smalled and the backwards slash is next to it, so I've pressed that instead a couple of times. Easy to get used to. The only downside to this keyboard are the media keys, I mean I use iTunes and can't change the song when iTunes is minimized. So there's really no point in using them.
Okay so the differences between this and the 7G? Price. The extra money you will spend on a 7G is just for a wrist wrest and 1.1 USB ports, headphone and mic jack. Worth it? I don't think so. Also the layout of the 7G is worse imo. The tiny backspace? Everyone is surely use to have a large backspace so that's why I avoided it. I managed to pick the 6GV2 up pretty cheap off amazon. Which I couldn't find for ages! After receiving the 6GV2 through the post I actually prefer it without the wrist wrest as I think it makes it look some what ugly. Along with both keyboard looking very basic compared to other competitors such as the Razor Black widow with it's backlights and pulses I actually prefer the more basic set-up. The LED for Num lock, Caps lock and scroll lock aren't as bright as I thought they would be from other reviews. Another thing I've just picked up on is that this is an American style keyboard as the @ symbol is on the 2, so I got confused when I press shift 2 for @ it came up with ". Just be careful with that quite annoying. Other users may find this quite annoying I'm not too bothered now, is the keyboard won't let you put headphone cable underneath. Slightly annoying at first but then you wouldn't care that much.
Overall if you're thinking about getting a mechanical keyboard, do it. You will not regret it. Typing seems a lot easier and more comfortable. Plus moving around in games actually feels a lot easier as it doesn't take that much weight to push down the keys. I prefer the basic look although they could release a version with back lit keys and more?
My rating I would give this keyboard a 9/10. Just because the small right hand side shift is smaller and it will take a few days to get use to.
I hope you like my first review, here is my set up.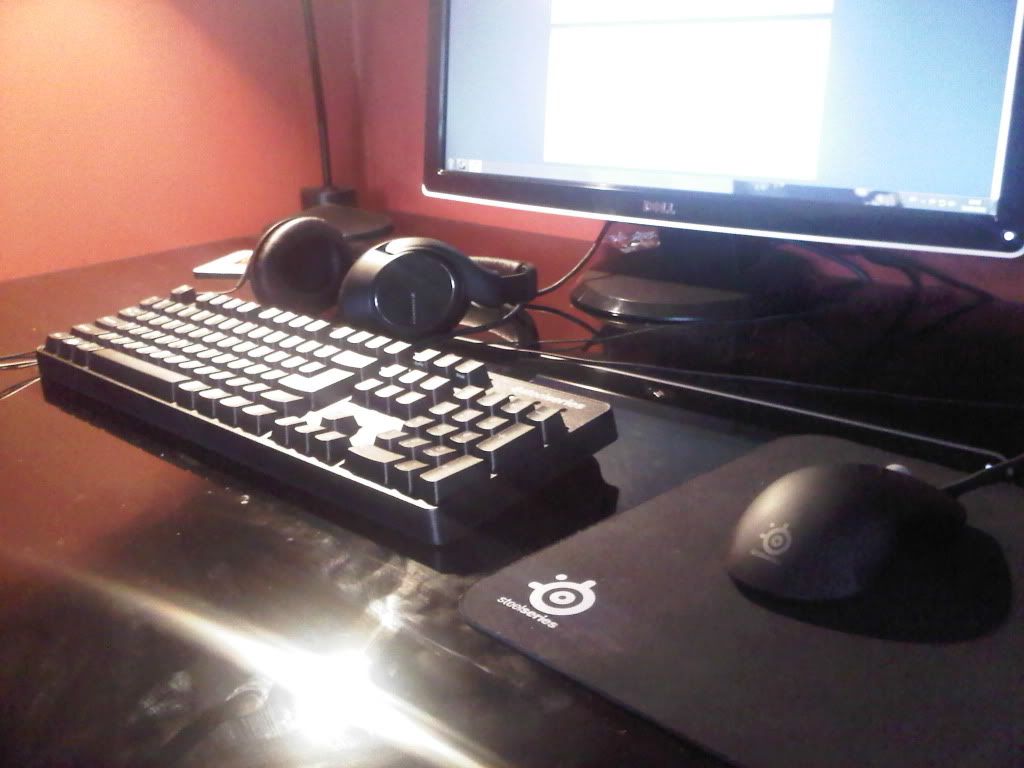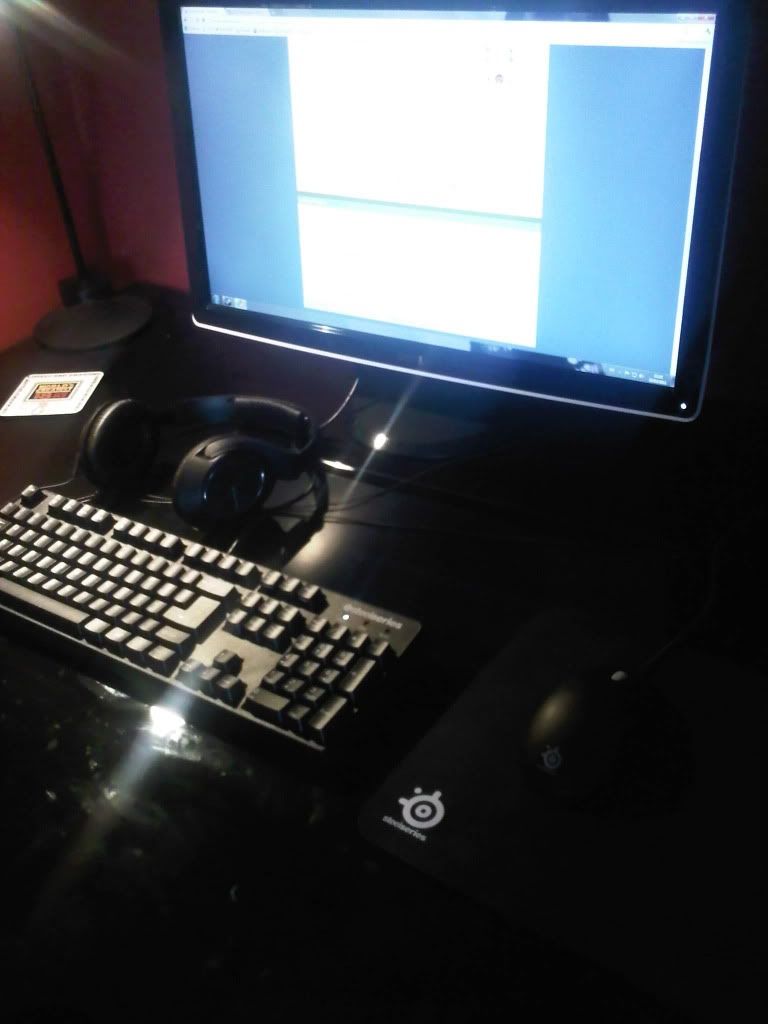 Thanks!
Edited by BMorrisSly - 3/30/11 at 4:40am