I am looking to add a way to easily drain my loop without having to cut any tubing. I understand that there are quick disconnect fittings, are they trustworthy? The idea of something that can "quickly disconnect" and spread water all over the inside of my computer doesn't sound fun to me.
Anyway...here is my setup:
(sorry for the low quality picture)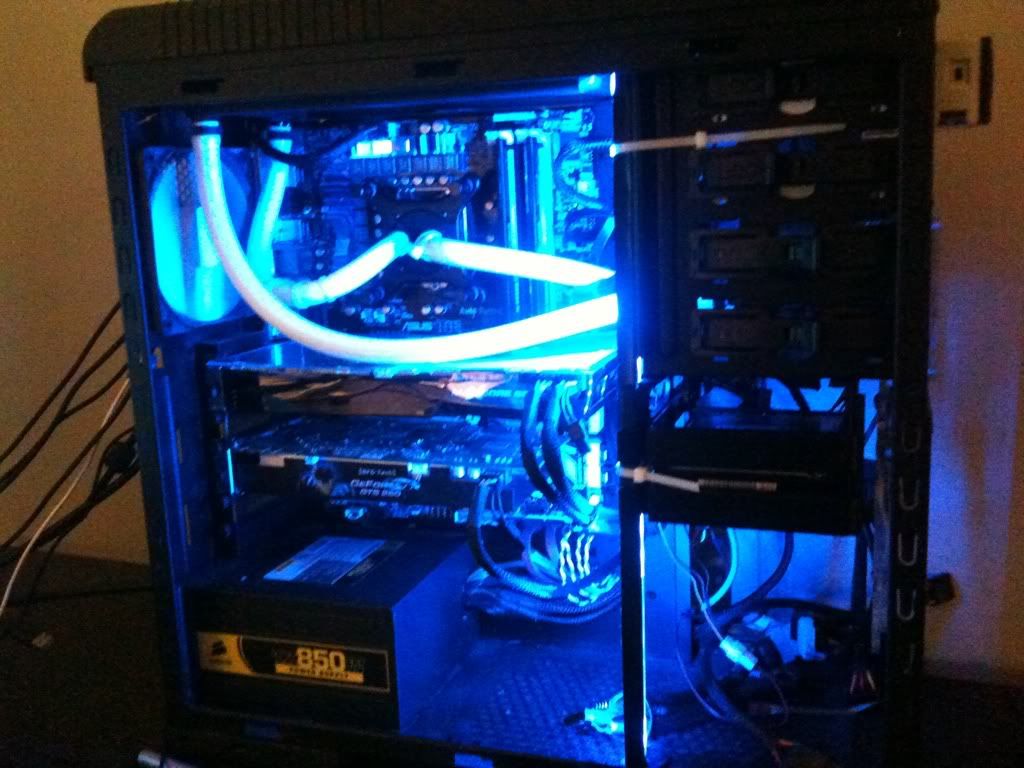 At the top left of my case is where the water enters the radiator after coming from the pump. Since this tube is long, and would be easy to get to the outside of the case, it seems like a good place to put a place to drain. Another thing I have considered is putting a T there and draining that way.
Any help would be greatly appreciated.
Edit: Just noticed that my title has "adding" spelled with 3 d's. Please don't make fun of me too much
CPU
Motherboard
Graphics
RAM
|Intel Core i7 860 at 4.0GHz HT on 1.31V|
|Asus P7P55D Pro|
|GTX 260 OC, GTS 250 OC (Folding 24/7)|
|4GB Corsair xms3 at 1458 MHz, 8-8-8-20|
Hard Drive
OS
Monitor
Power
|WD 500GB Blue SATA, WD 500GB Black SATA|
|Windows 7 Premium (64-bit)|
|Asus 24" at 1920x1080, HP 19" at 1440x900|
|Corsiar TX850W|
Case
Mouse
Mouse Pad
|Cooler Master 690 II Advanced|
|Razer Naga|
|Razer Goliathus Standard|
View all
hide details
CPU
Motherboard
Graphics
RAM
|Intel Core i7 860 at 4.0GHz HT on 1.31V|
|Asus P7P55D Pro|
|GTX 260 OC, GTS 250 OC (Folding 24/7)|
|4GB Corsair xms3 at 1458 MHz, 8-8-8-20|
Hard Drive
OS
Monitor
Power
|WD 500GB Blue SATA, WD 500GB Black SATA|
|Windows 7 Premium (64-bit)|
|Asus 24" at 1920x1080, HP 19" at 1440x900|
|Corsiar TX850W|
Case
Mouse
Mouse Pad
|Cooler Master 690 II Advanced|
|Razer Naga|
|Razer Goliathus Standard|
View all
hide details