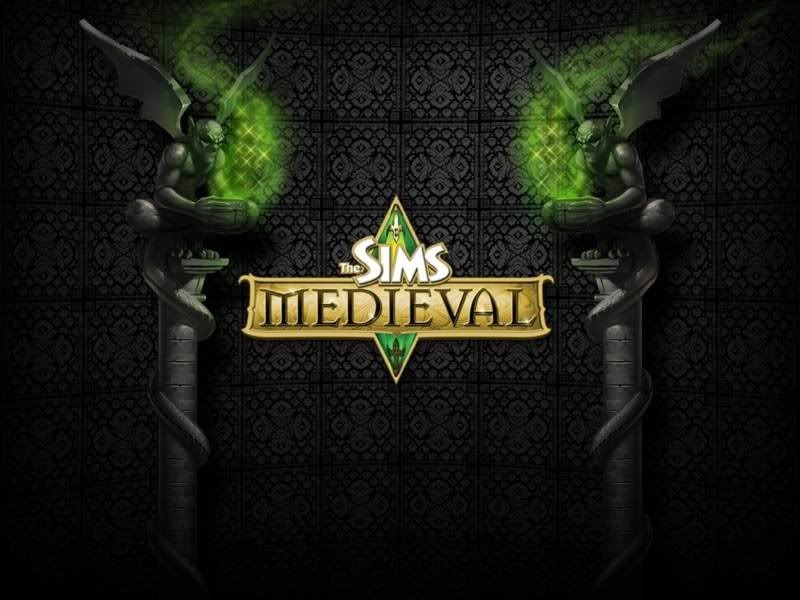 OFFICIAL WEBSITE:
http://www.ea.com/the-sims-medieval
OFFICIAL TRAILER:
[ame]
http://www.youtube.com/watch?v=p8RaUzvgF8I[/ame
]
OFFICIAL YOUTUBE PAGE:
http://www.youtube.com/user/TheSims?blend=2&ob=1
Q: What is The Sims Medieval?
Developed by the award-winning The Sims studio, The Sims Medieval is a new stand-alone game offering a fresh setting, a new look, an exciting new set of features gameplay mechanics, and all-new features.
The Sims Medieval lets you experience the medieval era with Sims you create and control: kings, queens, knights, wizards, spies, blacksmiths, merchants, bards and many more. You will create heroes, choose quests, build your kingdom, and create epic tales full of drama, romance, conflict and comedy.
Q: What are the features of The Sims Medieval?
Built with next-gen Sims tech and features
A world of Sims filled with stories, adventures, romance, drama and comedy
Enhanced environment and character graphics, lighting, and gameplay
Rich dramatic medieval setting
Experience epic stories of the age, full of drama, fantasy, conflict, comedy, romance, and intrigue
Heroes
Create Hero Sims and build up their skills and send them on epic quests
Quests
Drive your kingdom's story - Good or evil, cruel or kind, romantic or warlike
Kingdom Building
Start with an empty field and build up your kingdom, deciding its ultimate ambition and working to achieve its destiny
Diving in a bit deeper:
The Sims Medieval offers Achievements to reward you for your skill in reaching your ambitions and completing your Quests.
The Sims Medieval allows you to play every Hero Sim in your kingdom, not just the Sims in one household.
There is a magic system, and your wizard will learn a variety of powerful spells.
There is a crafting system, allowing your blacksmith to forge weapons of varying quality and physician to create cures for a variety of ailments.
There is a diplomatic system, allowing you to negotiate trade and declare war on surrounding kingdom.
The objects your Sims will interact with rangefrom profession-oriented objects like the Blacksmith's forge and anvil and the Physician's operating table to medieval food-preparation objects such as a roasting spit and cook-pot hanging over a fire.
The buildings are custom-crafted for each profession, from the Monarch's Great Hall in the castle to the Tavern for the Bard to the Wizard's Tower.
The art style is painterly, with a hand-crafted look to befit the medieval setting.
And yes, there is fishing.
Q: This game seems very new and different for The Sims. Why make such a big change?
Because to create a game devoted to the medieval age, we needed to create a new art style, new features, new stories and new ways to interact with your Sims.
Let's start with the art. The world we've created is more stylized and painterly. It's a bit more moody and dramatic. Where The Sims 3 is designed to represent modern life, we wanted our game to be more dramatic, romantic and slightly fantastic. We have cultivated a more illustrative look, with textures meant to look hand-painted, and objects and outfits mean to look handcrafted.
We didn't want to allow out-of-place objects, either for their looks or function, into the game. The game play is geared around the professions of the Hero Sims, as are the objects—from the monarch's throne to the blacksmith's forge. Objects from contemporary Sims games would not match the art style, and most of them would not fit into the time period.
The Sims themselves look and act in ways suited to the medieval period.. Not only does the clothing have a handcrafted look, but the traits of the Sims themselves suit the time period, from Chivalrous to Cruel, Adventurous to Cowardly. Medieval Sims have two regular traits and a Fatal Flaw. You can send them on Quests to convert their Fatal Flaw into a Legendary Trait.
And lastly, we want the kingdom itself to play a role in the storytelling. We wanted players to be able to build up a kingdom and make important decisions about how to do that. That was the basis for the feature we call Kingdom Ambitions, which is exactly what it sounds like. You decide for your kingdom what it long-term ambition should be –from amassing riches, to conquering neighbouring territories, to developing in the most buildings and Heroes – and how to go about achieving that. Part of that means bringing in new Hero Sims and their buildings as the game goes on that fit specialized roles in the medieval world.
Q: What features are brought over from The Sims 3?
The Sims Medieval is based on The Sims 3 technology, and because of that, it offers some incredible features. For instance, we have Sims with their own little minds and motivations, Create-A-Sim, customizable interiors, a robust item system, a collection and crafting system, a relationship system and much more.
Q: Could you describe a typical Quest?
There are so many Quests, with so many scopes, with so many different storylines! It's hard to say what's typical.
In general, here is how the Quest system works:
At the beginning of the game, you select a kingdom ambition. For example, let's say you want your kingdom to be the richest in the history of the world. That ambition will mean Quests will become available that help you on your way to that goal.
Perhaps you're making good progress to that goal, but then the king takes ill and that causes a slowdown in revenue. At that point, you can take on a Quest to cure the king.
You will then choose a team to complete the Quest. You'll choose a team leader and a supporting cast. That's an important choice because Quests will have many different ways to be solved. Maybe you'll want to use magic or medicine or prayer to cure the king. It's up to you.
Once your Sims are working on the steps within the Quest, you'll face many challenges. You might have to craft items, enter into combat, encourage people in prayer or find a rare spell book. You will simultaneously have to fulfil the Responsibilities of the Sims on that Quest. For example, the physician needs heal sick people every day, and the blacksmith needs to craft swords.
If successful, your completed Quest will give you Kingdom Points, which you can then spend to expand your kingdom. With that expansion – maybe placing the wizard's tower – you will get a new Hero Sim. The Hero Sims can then be used on new Quests. For instance, if the next Quest you choose is "Punish He Who Poisoned The King" the wizard will be available to lead your team or be a team member.
You create Heroes, and select Quests for them. Completing Quests earns Kingdom Points, which you spend to expand your kingdom. When you expand your kingdom by adding a new building, you unlock a new Hero, which in turn unlocks new Quests. And on it goes as your kingdom grows and you get closer to fulfilling your Kingdom Ambition. And then you start again, with a new Ambition and unfold a new set of Quests and Achievements.
Q: Other than the medieval setting, what are the biggest differences to the gameplay of The Sims 3?
The Sims Medieval is still a game about creating, nurturing and controlling people, about storytelling, about adventure, romance and humor. However, in taking The Sims to a new setting, we have created a new art style and new features that change and expand the way you play.
Overall, the focus of the game, while still on the Sims, has shifted a bit toward the Kingdom as a whole: you can control any of the Hero Sims in your kingdom, not just the Sims in one household. Completing Quests (goal-oriented stories that you craft and customize) earns you Kingdom Points, which you use to expand the Kingdom (bringing in new buildings and new playable Hero Sims). You earn Achievements for your skill in completing Quests and Kingdom Ambitions, which are tracked from one game to the next.
The Sims Medieval transports players to a dramatic, evocative era and lets them experience stories they simply can't get in any other game, including The Sims 3.
Q: What is the release date?
March 2011
REVIEWS:
Information will be added as it becomes avaliable.
PM me if you have anything you think should be added to this post.