Right... Sorry if this goes on a bit..
To note
: This is for the F@H TC... So getting another card... yada, yada, yada, is not an option, ta.
After searching for a good/cheapish cooling solution for a 9800GX2 water cooling gives the best results.
The GX2 blocks are really hard to find and the ones that still retail are $200+ not including shipping to the UK (thats if they do ship international).
So I have an idea to install two standard GPU blocks..
Excuse the bad drawing its supposed to give you a visual image of what im describing...
The idea was to remove the standard air cooler and open the card up, the top PCB will slot into the PCI-E slot as normal but the bottom half will hang down at an angle. I will be using a fan attached to the end to help support the lower half and aid in cooling. I will also try to use zip ties on the other end.
I am thinking blocks like this...
http://www.watercoolinguk.co.uk/p/EK-Water-Blocks-EK-VGA-Supreme-HF-Acetal_19698.html
With little heatsinks for the RAM.... A couple packs will do.
http://www.watercoolinguk.co.uk/p/Enzotech-BMR-C1-Passive-RAM-Heatsinks-High-Profile_4364.html
My only concern is that little chip on the top PCB next to the internal SLI cable and above the PCI-E connector...
Here...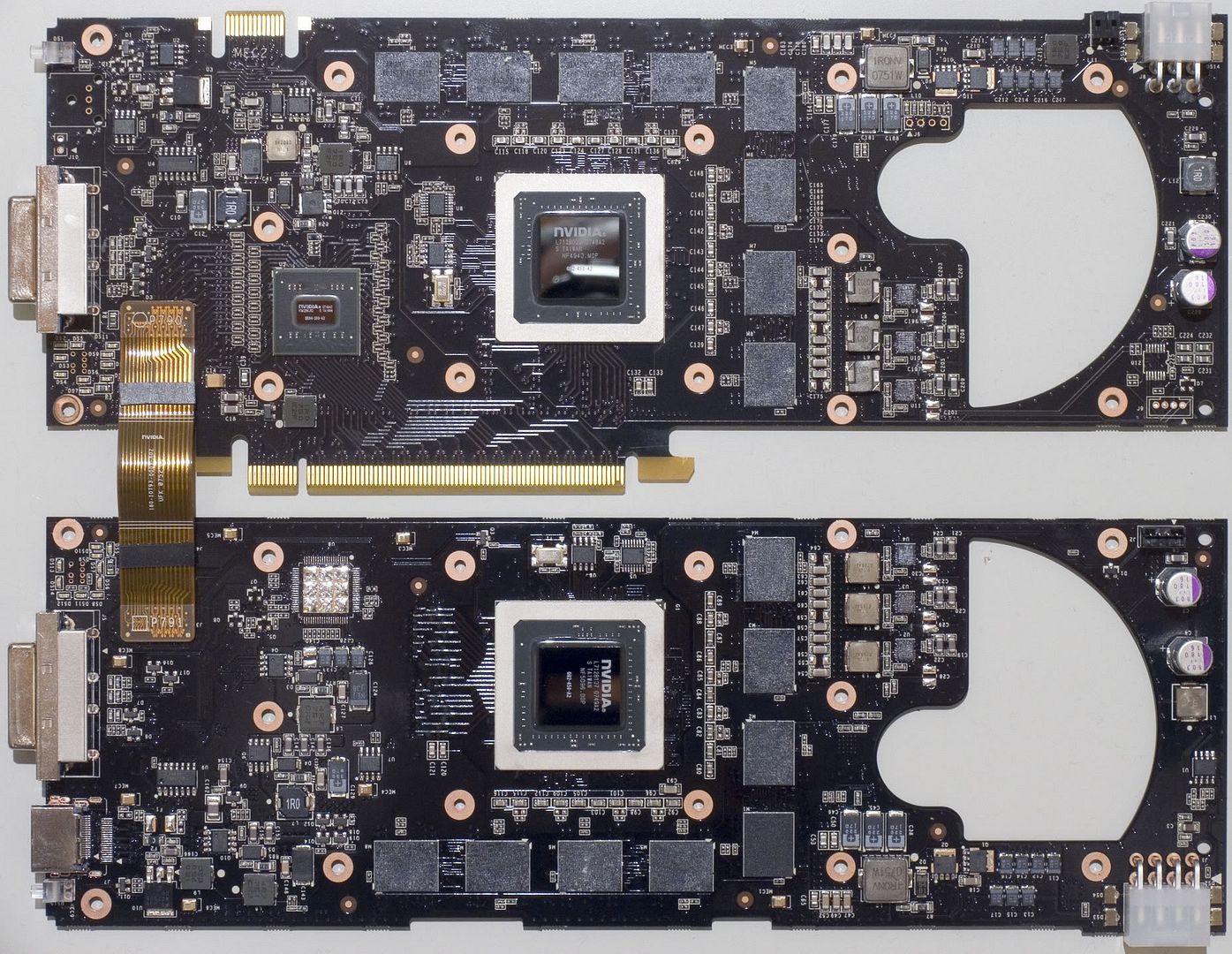 Would using one of the little heatsinks suffice? Or would I need to get something a bit bigger on there? (TBH I'm not 100% on what it is
).
Another question.. Is that a standard SLI bridge? Could I use my spare much longer one to space them out a little more?
Thoughts, opinions?
CPU
Graphics
RAM
Hard Drive
Athlon 64 3500+ 2.2Ghz
9800GX2 (wet) 1998Mhz Shader
4.5GB mixed
WD Caviar black 20GB 'SS'
Optical Drive
Cooling
OS
Monitor
Cheap beige DVD ROM
Koolance full copper GX2 block
Vista 32bit
LG W2486L
Power
Case
Antec EA650
Antec 900
View all
hide details
CPU
Graphics
RAM
Hard Drive
Athlon 64 3500+ 2.2Ghz
9800GX2 (wet) 1998Mhz Shader
4.5GB mixed
WD Caviar black 20GB 'SS'
Optical Drive
Cooling
OS
Monitor
Cheap beige DVD ROM
Koolance full copper GX2 block
Vista 32bit
LG W2486L
Power
Case
Antec EA650
Antec 900
View all
hide details