x86 is quite mature, and there is not much more they can do to improve greatly IPC
If intel+AMD could continue increasing IPC with additional transistors, they would not have bothered with multicore.
so what you gonna do if you need more performance ?
** throw in more cores , until workload shows no additional improvement (Amdahl law )
** clock chip higher, until you hit thermal wall (P4 anybody?)
Reason why SB has such performance, is agressive turbo and chip design which allows to clock higher than previous types.
Quote:
Originally Posted by
Heavy MG
Bulldozer isn't HT,it is a whole different take on hyper threading that is made of real cores,instead of Intel's fake crap.
AMD claims it's something better than HT and actually delivers in media/gaming.
We can only wait and see.
true.
HTT shares everything except registers,
BD CMT shares less parts, here you see which exactly.
Bulldozer idea - Share parts which are often underutilized , improve them so they can support two int cores w/o bottlenecks.
Now, with this design, you saved amounts of power, which you can reuse it -> higher clocks. (or not -> low power consumption)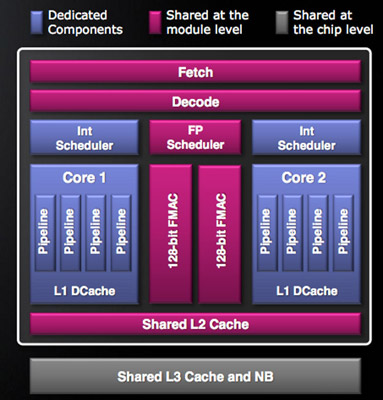 Edited by pietro sk - 4/10/11 at 4:04am
CPU
Motherboard
Graphics
RAM
Opteron 6386SE G34r1
H8SGL
Radeon R9 380X
32GB ECC_DDR3 1333 4ch
Hard Drive
Hard Drive
Cooling
OS
Seagate 600 Pro Enterprise SSD
WD Green+Black
some water
Win8.1_64
Keyboard
Power
Case
Mouse
K120
TX850
Tai-chi
M560
Audio
Audio
Xmos_u8_DAC; (diy Pluto 2A3/SE estat amp)
STAX cookies 3pcs
View all
hide details
CPU
Motherboard
Graphics
RAM
Opteron 6386SE G34r1
H8SGL
Radeon R9 380X
32GB ECC_DDR3 1333 4ch
Hard Drive
Hard Drive
Cooling
OS
Seagate 600 Pro Enterprise SSD
WD Green+Black
some water
Win8.1_64
Keyboard
Power
Case
Mouse
K120
TX850
Tai-chi
M560
Audio
Audio
Xmos_u8_DAC; (diy Pluto 2A3/SE estat amp)
STAX cookies 3pcs
View all
hide details