So around a year ago, I started what I called "Project BRX":
http://www.overclock.net/case-mods-g...oject-brx.html
Anyways, that project once finished kinda worked. It had a minor leak that could have easily been repaired, however the motherboard recorded the CPU fan speed as to slow and thought the fan was broken. This lead to a shutdown.
To fix this, I had to open the ENTIRE case up, which was bolted and latexed together. I didn't find the thought of putting it back together very attractive.
Sooo...I went the plexiglass route. It turned out pretty well.
I designed it, however I did have to remove some cool aesthetic features to keep the cost down. The bill hasn't come from the plastic shop yet, but we are expecting around $500.
It is literally under my friends better, and the slurping...eerie red glow makes him call it the monster under his bed. Hopefully this can be held more true later on when he has better hardware. Right now he is on an OEM motherboard with a Celeron D 353 3.2ghz, running is a ATI 4670, 1 measly gig of ddr2 533 ram, and a 300w Diablotek power supply.
We got the case assembled now and it is running.
Here are a couple quick pictures. I will take more when I have time. It was really dark when I took these, so most were blurry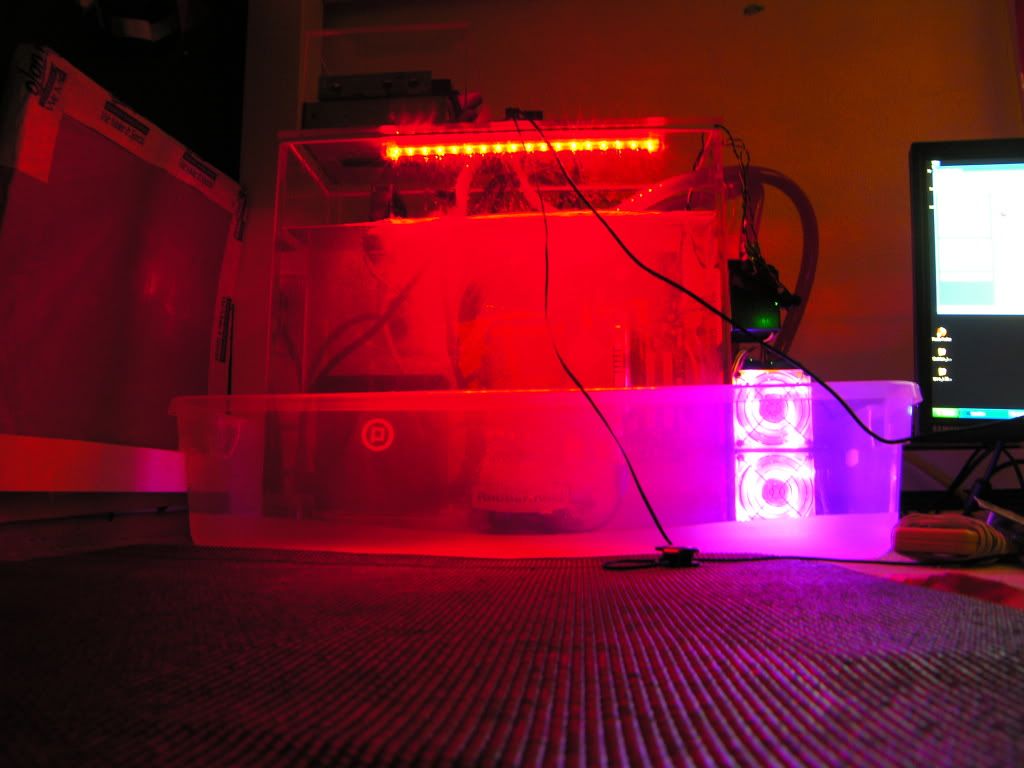 ------------------------------------
One of the REALLY cool features this case has is, instead of having the hardware sitting in oil and a pain to take out, there is a plate that all of the hardware is mounted to. I can easily pull out this plate for quick [but messy] maintenance.
Here is a picture showing the plate about 4 inches out while we were running some air tests:
The wood blocks were there so we could have a fan blowing in. We don't want to skew the test results by having a mostly sealed chamber. Can you say hotbox?
I will also update this and add some more build info.
Edited by Blast - 4/3/11 at 12:21pm