So i got my das keyboard today.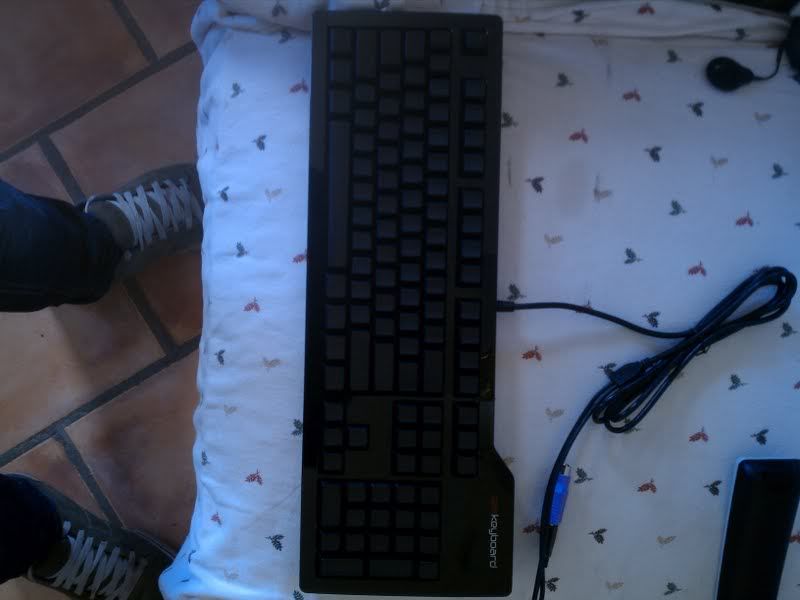 As you can see from the photos, the das is packaged nicely
alright, onto the serious part.
My Das is the ultimate non silent one. That means it has the Cherry MX blue switches.
My initial thoughts were wow, this is a really nice keyboard. everything on it just screams quality. my typing speed has doubled, but as i am getting used to the new feel of mechanical switches over rubber domes, i am bottoming out quite a lot and am missing keystrokes as it is a different feel that i have to get used to.
but it is not a bad thing. i am loving typing on the keyboard. it makes me WANT to type. my old rubber dome was "oh god. i have to type again." with this, its like "ooh! i get to type again!"
how would this compare to the majestouch and other comparable keyboards? its all down to personal preference really. i find this to be a TRUE typists keyboard..not saying the other ones wouldnt be, but this is a keyboard for one of the elite typists. if you have to look at the keyboard or are not the fastest typer, dont get this. I also find the das to be more asthetically pleasing to the eye.
the feel of the keyboard itself is great. i feel like i am actually hitting a key, and it dosent make my fingers work overtime to press down on the keys. it also makes a racket, but its not enough to make you bothered by it.
overall: the das keyboard is a really nice typists keyboard, and i am mr. cheap, and i feel as if i could not have spent my $130 any better. the das keyboard will serve me well for years to come, and it will serve you well too. it is completely worth the full price, and do not hesitate to buy it if you are on the edge.
ATTENTION: this has full key rollover, but only made possible with the PS/2 adapter that is included. this also requires two usb ports.
ALSO: quality test. holding down both shift keys:
QWERTYUIOPASDFGHJKLZXCVBNM
Edited by srsparky32 - 4/5/11 at 4:46pm
CPU
Motherboard
Graphics
RAM
Intel Core i7 3770K @ 5GHz 1.43V
Gigabyte GA-Z77X-UP4 TB
MSI Twinfrozr III 7870
2x4GB Samsung Wonder Ram
Hard Drive
Hard Drive
Hard Drive
Cooling
128GB Crucial M4
1TB Caviar Blue, 640GB Caviar Blue
2x2TB Western Digital Reds coming
Prolimatech Megahalems w/ 2x San Ace H1011's pu...
OS
Monitor
Keyboard
Power
Windows 8 Pro
32 inch Toshiba LCD, 24 inch Dell ST2412L
Coolermaster Quickfire Rapid
Antec Truepower New 750W
Case
Mouse
Mouse Pad
Audio
Antec P280
Razer Deathadder 1800dpi
frankenstein!
just hdmi audio to the tv for now
View all
hide details
CPU
Motherboard
Graphics
RAM
Intel Core i7 3770K @ 5GHz 1.43V
Gigabyte GA-Z77X-UP4 TB
MSI Twinfrozr III 7870
2x4GB Samsung Wonder Ram
Hard Drive
Hard Drive
Hard Drive
Cooling
128GB Crucial M4
1TB Caviar Blue, 640GB Caviar Blue
2x2TB Western Digital Reds coming
Prolimatech Megahalems w/ 2x San Ace H1011's pu...
OS
Monitor
Keyboard
Power
Windows 8 Pro
32 inch Toshiba LCD, 24 inch Dell ST2412L
Coolermaster Quickfire Rapid
Antec Truepower New 750W
Case
Mouse
Mouse Pad
Audio
Antec P280
Razer Deathadder 1800dpi
frankenstein!
just hdmi audio to the tv for now
View all
hide details