Quote:
Originally Posted by
Levesque;13067979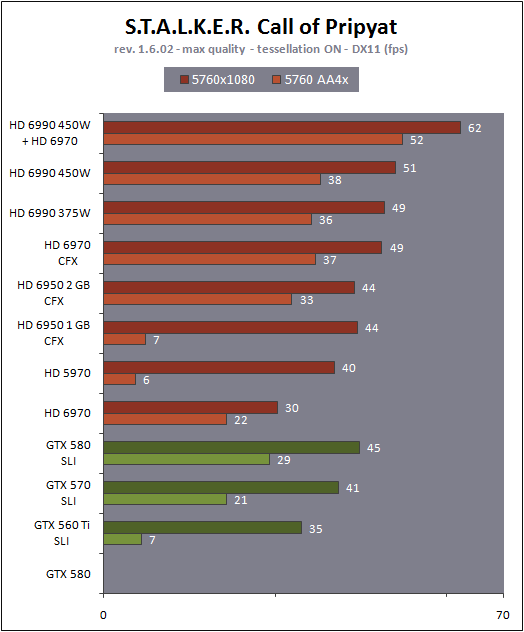 That slide is pretty good. LOL! Look at 570 SLi vs 6950 Crossfire.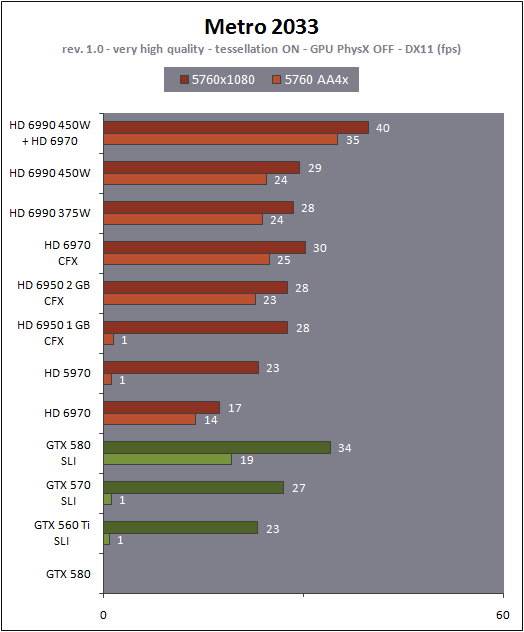 Stop pestering me, I already showed you those slides with the latest 11.4 drivers. But you simply ignored them, and then trying to troll me again. Ignoring them, because they are proving that you are wrong.
Look at the top of those slides, it's always a 6990+6970 Tri-Fire set-up smoking everything, even 580 SLI, for the exact same price.
But you won't even look at them, because I'm right, and you're a zealot. LOOK AT THE SLIDES! But you won't, since you are just trolling.
Stop eluding. Where do you see nvidia ''dominating'' here? I know it's hard for you, but look at those slides carefully. Take some time to think. Are you blind?
Those benchmarks are only 3 weeks old. Not an old review made 6 months ago. And with really demanding real-life games. Not synthetic benchmarks optmized for Nvidia.
And stop asking for them when I already posted them!
Edited by Levesque - 4/10/11 at 9:45am
CPU
CPU
Motherboard
Graphics
i7-5930k @ 4.9
i7-3930k @ 5.1 (2nd rig)
Asus Rampage V (X99) + Asus Rampage IV (2nd rig)
2X Nvidia 1080 Ti SLI watercooled
Graphics
RAM
RAM
Hard Drive
2X Nvidia 980 Ti SLI watercooled (2nd rig)
4X8GB=32GB G.Skill DDR4-2700
4X4GB=16GB Ripjaws DDR3 2400 CL9 (2nd rig)
3X Samsung 840 Evo 1TB SSD
Hard Drive
Hard Drive
Optical Drive
Cooling
Samsung 850 Pro 250GB
3XSeagate 3TB
LG Blu-ray writer
2X Quad-120 MCR420
Cooling
Cooling
Cooling
Cooling
2X Triple-120 MCR320 + 1X Triple-120 Feser
2X Dual-120 XSPC RX240
32 Gentle Typhoon fans (mix of 3000 and 1850rpm)
Reservoir 2X Koolance RP-452x2 with 4X MCP655 p...
Cooling
OS
Monitor
Keyboard
2X EK Supreme HF CPU waterblock
Windows 10 Pro x64
Acer XB270HU IPS G-Sync 2440p (main rig) 3X 30'...
CoolerMaster Masterkeys Pro S MX blue switch, C...
Power
Case
Mouse
Audio
Antec HCP1200 + AX850 dual PSU main rig, AX120...
Mountain Mods Extended Ascension + Pedestal 24 ...
Logitech G502 x 2
PSB speakers 5.1
View all
hide details
CPU
CPU
Motherboard
Graphics
i7-5930k @ 4.9
i7-3930k @ 5.1 (2nd rig)
Asus Rampage V (X99) + Asus Rampage IV (2nd rig)
2X Nvidia 1080 Ti SLI watercooled
Graphics
RAM
RAM
Hard Drive
2X Nvidia 980 Ti SLI watercooled (2nd rig)
4X8GB=32GB G.Skill DDR4-2700
4X4GB=16GB Ripjaws DDR3 2400 CL9 (2nd rig)
3X Samsung 840 Evo 1TB SSD
Hard Drive
Hard Drive
Optical Drive
Cooling
Samsung 850 Pro 250GB
3XSeagate 3TB
LG Blu-ray writer
2X Quad-120 MCR420
Cooling
Cooling
Cooling
Cooling
2X Triple-120 MCR320 + 1X Triple-120 Feser
2X Dual-120 XSPC RX240
32 Gentle Typhoon fans (mix of 3000 and 1850rpm)
Reservoir 2X Koolance RP-452x2 with 4X MCP655 p...
Cooling
OS
Monitor
Keyboard
2X EK Supreme HF CPU waterblock
Windows 10 Pro x64
Acer XB270HU IPS G-Sync 2440p (main rig) 3X 30'...
CoolerMaster Masterkeys Pro S MX blue switch, C...
Power
Case
Mouse
Audio
Antec HCP1200 + AX850 dual PSU main rig, AX120...
Mountain Mods Extended Ascension + Pedestal 24 ...
Logitech G502 x 2
PSB speakers 5.1
View all
hide details