Quote:
Originally Posted by
Farih
set your cpu at 3,8ghz and overclock your gtx570's 10% with no added voltage's and then compare
Well here are my results. And I apologize, I was just trying to say that the parameters of your last test were unfair for the GTX 570.
Without further ado;
MSI GTX 570 OC (786 Mhz)+ EVGA GTX 570 SC (797 Mhz)
I'll pick the lower clocked stock card as a base clock.
Core: 786Mhz* 110% (10% overclock) = 865 Mhz ~
860 Mhz
@ 1.035V, the stock voltage on my MSI card.
Memory: 1375Mhz (6970 Mem) / 1250 Mhz (6950 Mem) = 110%, 2000Mhz *110% =
2200 Mhz
CPU set @ 3.8Ghz.
3Dmark11
Performance settings.
- 860/2200Mhz -
P10782
3Dmark Vantage
Performance settings. [No Physx]
- 860/2200mhz -
P40393
Metro2033
[DX11. No DOF, Quality very high, AA= AAA, texture filtering= AF 16X, Advanced Physx disabled, 1920x1080]
Scene= Frontline [1 loop]
- 860/2200mhz
•Average Framerate: 76.47
•Max. Framerate: 380.81
•Min. Framerate: 6.03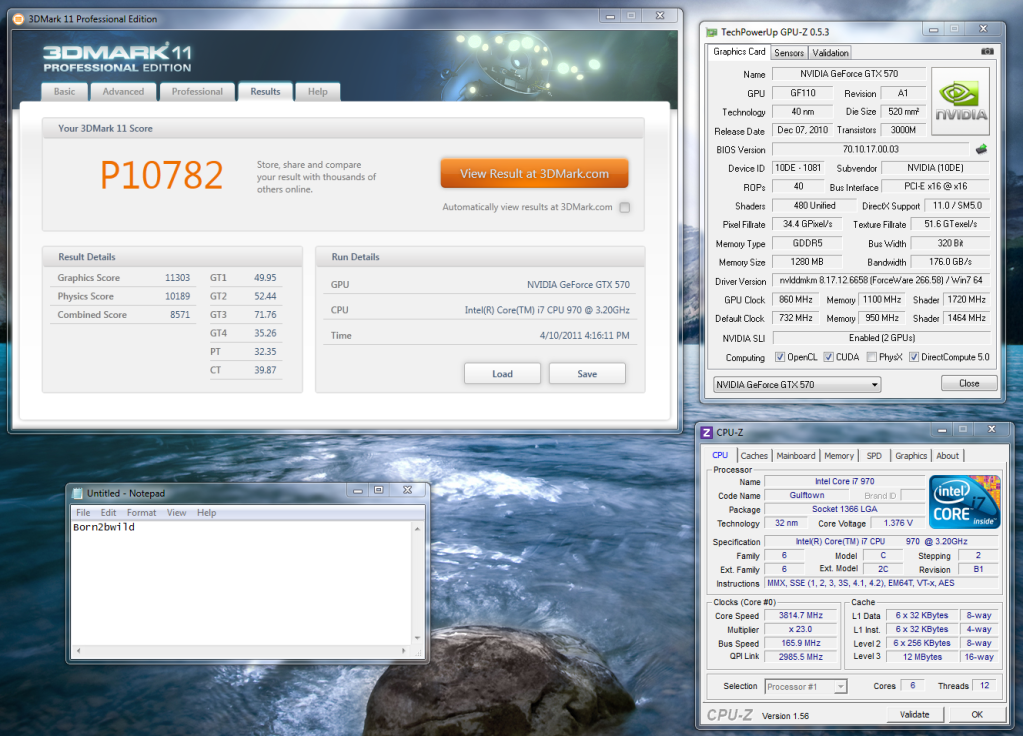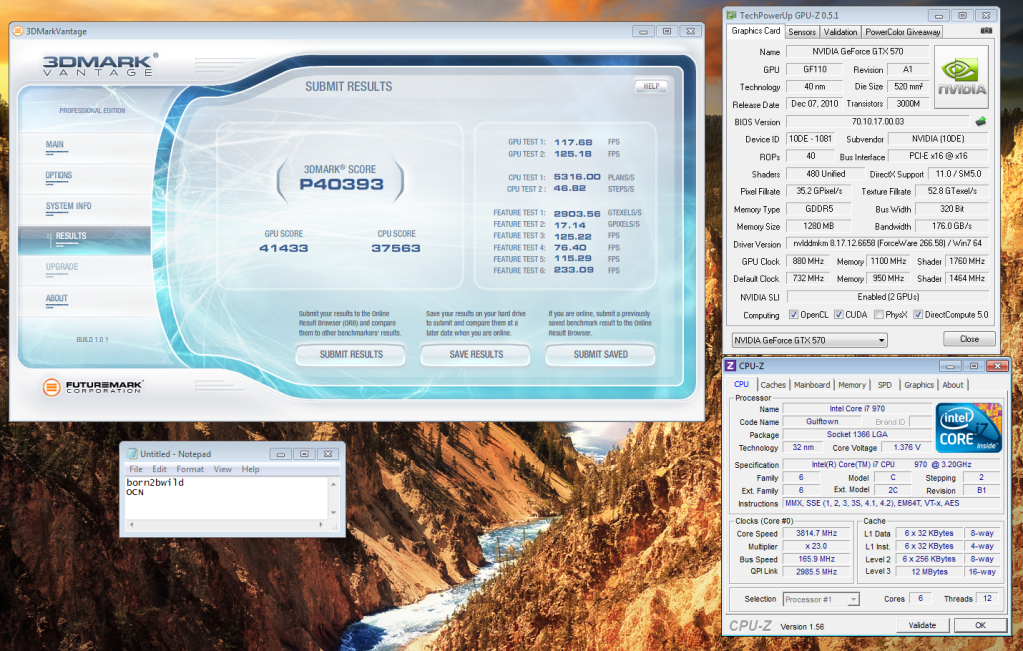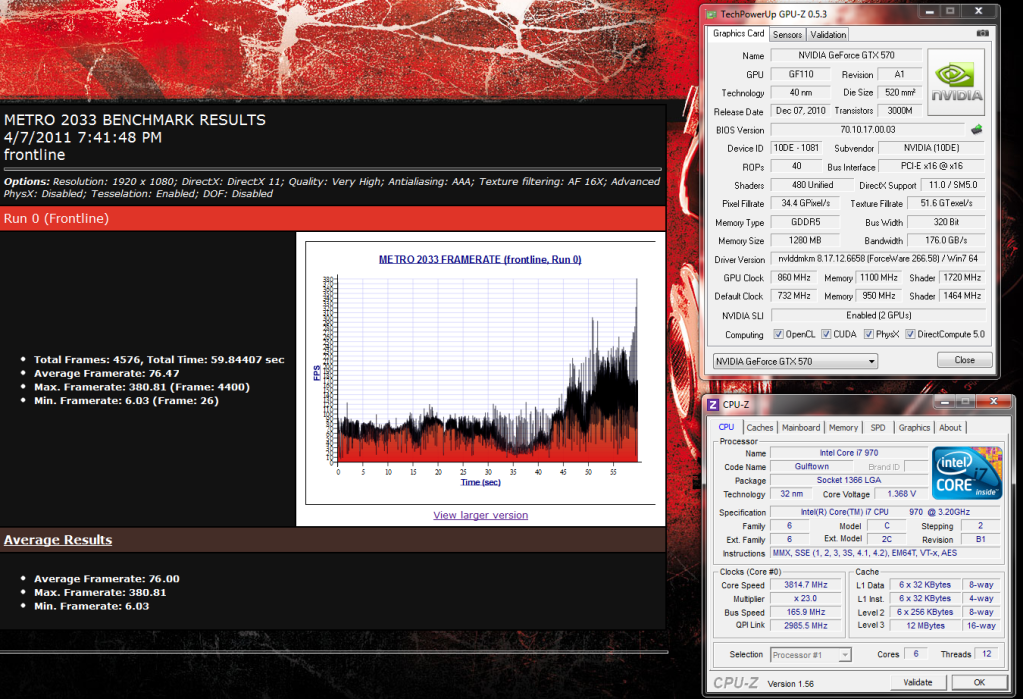 P.S. No I don't actually need 1.368V to reach 3.8Ghz... that's the voltage for my 4.25Ghz overclock.
UPDATED.
Edited by born2bwild - 4/11/11 at 12:28pm
CPU
Motherboard
Graphics
RAM
i7 6700K
Custom Apple Motherboard
AMD Radeon R9 M395X 4GB
16GB 1867Mhz DDR3
Hard Drive
Hard Drive
OS
Monitor
3TB Apple Fusion Drive
4TB WD Elements External Drive
Mac OS X
5120‑by‑2880, 10-bit IPS
Keyboard
Mouse
Audio
Apple Magic Keyboard
Apple Magic Trackpad 2, Razer Deathadder 2013
Bose Companion 2 Series iii
View all
CPU
Graphics
RAM
Hard Drive
Intel Core i5-6360U
1536MB Iris Graphics 540
8GB RAM
256GB SSD
OS
Monitor
Mac OS X
2560-by-1600 resolution IPS display
View all
hide details
CPU
Motherboard
Graphics
RAM
i7 6700K
Custom Apple Motherboard
AMD Radeon R9 M395X 4GB
16GB 1867Mhz DDR3
Hard Drive
Hard Drive
OS
Monitor
3TB Apple Fusion Drive
4TB WD Elements External Drive
Mac OS X
5120‑by‑2880, 10-bit IPS
Keyboard
Mouse
Audio
Apple Magic Keyboard
Apple Magic Trackpad 2, Razer Deathadder 2013
Bose Companion 2 Series iii
View all
CPU
Graphics
RAM
Hard Drive
Intel Core i5-6360U
1536MB Iris Graphics 540
8GB RAM
256GB SSD
OS
Monitor
Mac OS X
2560-by-1600 resolution IPS display
View all
hide details