Ok - Here is the fast temp reading.
I ran the Prime95 - waited 10min before taking screenshot.
Where I'm at its 16:45 right now - and the sun is basicly just warming up the rooom right now.
Idle temps:
Load temps with Prime 95: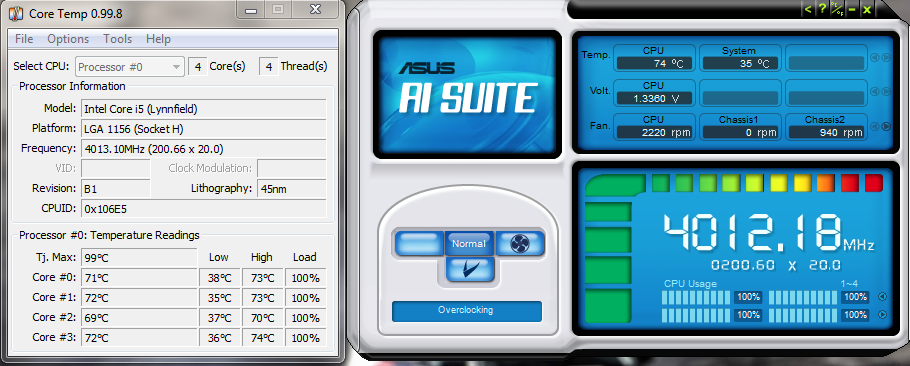 After the screen shot the peak is 75 degress on one core - but the usually lay around 70-73.
I didnt seem to get a lover voltage - is this way too much though?
CPU
Motherboard
Graphics
RAM
Core i5 760 2.8GHz @ 4.0GHz
Asus P7P55D
2x Sapphire HD 5770 in CF
8GB (4x2GB) Corsair XMS3
Hard Drive
Optical Drive
OS
Monitor
1TB WD - Next: SSD
LiteOn DVD Burner
Microsoft Windows 7 Ultimate x64
3x HP S2031a
Keyboard
Power
Case
Mouse
Logitech G11
Corsair TX650
Chieftec Bravo
2x Logitech MX1000 (No flat battery)
Mouse Pad
Icemat v2
View all
hide details
CPU
Motherboard
Graphics
RAM
Core i5 760 2.8GHz @ 4.0GHz
Asus P7P55D
2x Sapphire HD 5770 in CF
8GB (4x2GB) Corsair XMS3
Hard Drive
Optical Drive
OS
Monitor
1TB WD - Next: SSD
LiteOn DVD Burner
Microsoft Windows 7 Ultimate x64
3x HP S2031a
Keyboard
Power
Case
Mouse
Logitech G11
Corsair TX650
Chieftec Bravo
2x Logitech MX1000 (No flat battery)
Mouse Pad
Icemat v2
View all
hide details