My Sapphire 5870 2GB Eyefinity 6 Edition graphics card is acting strange.
I can't even play Crysis 2 for more than a minute before it starts crapping its pants and freezing and showing grey screens and crashing.
My friend and I decided to take it apart (this is before it was acting up) and apply some new thermal compound on it.
It worked fine after that nothing was wrong, but I'm just throwing that in there because it possibly could be the problem.
He has the same card as I and he came over and we Crossfired our cards.
They were super buggy and such and wouldn't run anything without crashing or freezing.
After reinstalling drivers and such, it worked flawlessly.
Then more problems came when we took his out and it was doing the same thing as when we first put the two together.
After reinstalling the drivers, it worked fine again.
Until now.
Now it just refuses to play anything without going crazy.
I'm using the Catalyst 11.4 Preview Drivers with the 11.3 CAP 2 Profiles.
I am also using MSI AfterBurner 2.2.0 Beta 2.
I never get above 70C on my card under heaviest load with a custom fan profile in MSI AfterBurner.
I'm also overclocked to 900/1275, and I have made sure this is perfectly stable.
I noticed that my GPU #1-3 Temps were
VERY
high.
Here's a pic of when I was running Kombustor: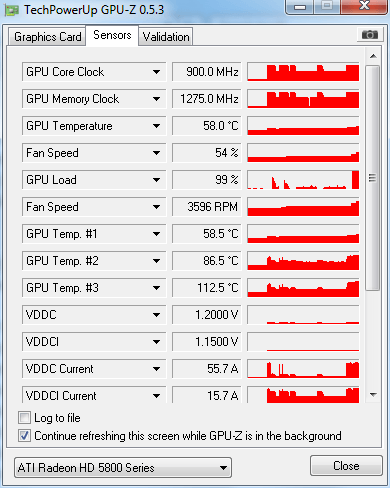 Are those normal temperatures?
Also, what are those temperatures for, anyways?
Thanks guys, hope you can help me.
CPU
Motherboard
Graphics
RAM
Intel Core i7 2600k
MSI P67A-GD65
MSI R6970 Lightning Radeon 2GB x2
Patriot Viper Xtreme Series Division 2 Edition 8GB
Hard Drive
Optical Drive
OS
Monitor
1TB Western Digital Caviar Black
LG Super Multi
Windows 7 Ultimate x64
24in Dell
Power
Case
850w Thermaltake Black Widow
Rosewill Cruiser
View all
hide details
CPU
Motherboard
Graphics
RAM
Intel Core i7 2600k
MSI P67A-GD65
MSI R6970 Lightning Radeon 2GB x2
Patriot Viper Xtreme Series Division 2 Edition 8GB
Hard Drive
Optical Drive
OS
Monitor
1TB Western Digital Caviar Black
LG Super Multi
Windows 7 Ultimate x64
24in Dell
Power
Case
850w Thermaltake Black Widow
Rosewill Cruiser
View all
hide details