Comments, Questions, Hints and Tips Much Appreciated!
Coming up with a name was tough, but while looking for good names I glanced over at my D&D figurine of the Gargantuan Black Dragon and then remembered the movie "How to train your dragon". I liked the ring of the name nightfury since I was putting aggressive looking parts in and I play in low light and at night.
This is my first build and I want to make it a memorable one so i've selected 2 brands for all my major components and im going to try and fill up as much as I can with their products. Mainly, Asus and Corsair, although there will be quite a few NZXT parts included.
The basic look I want is to have parts that are very visually pleasing on the inside while keeping a black and blue lighting theme, maintaining functionality while not sacrificing performance.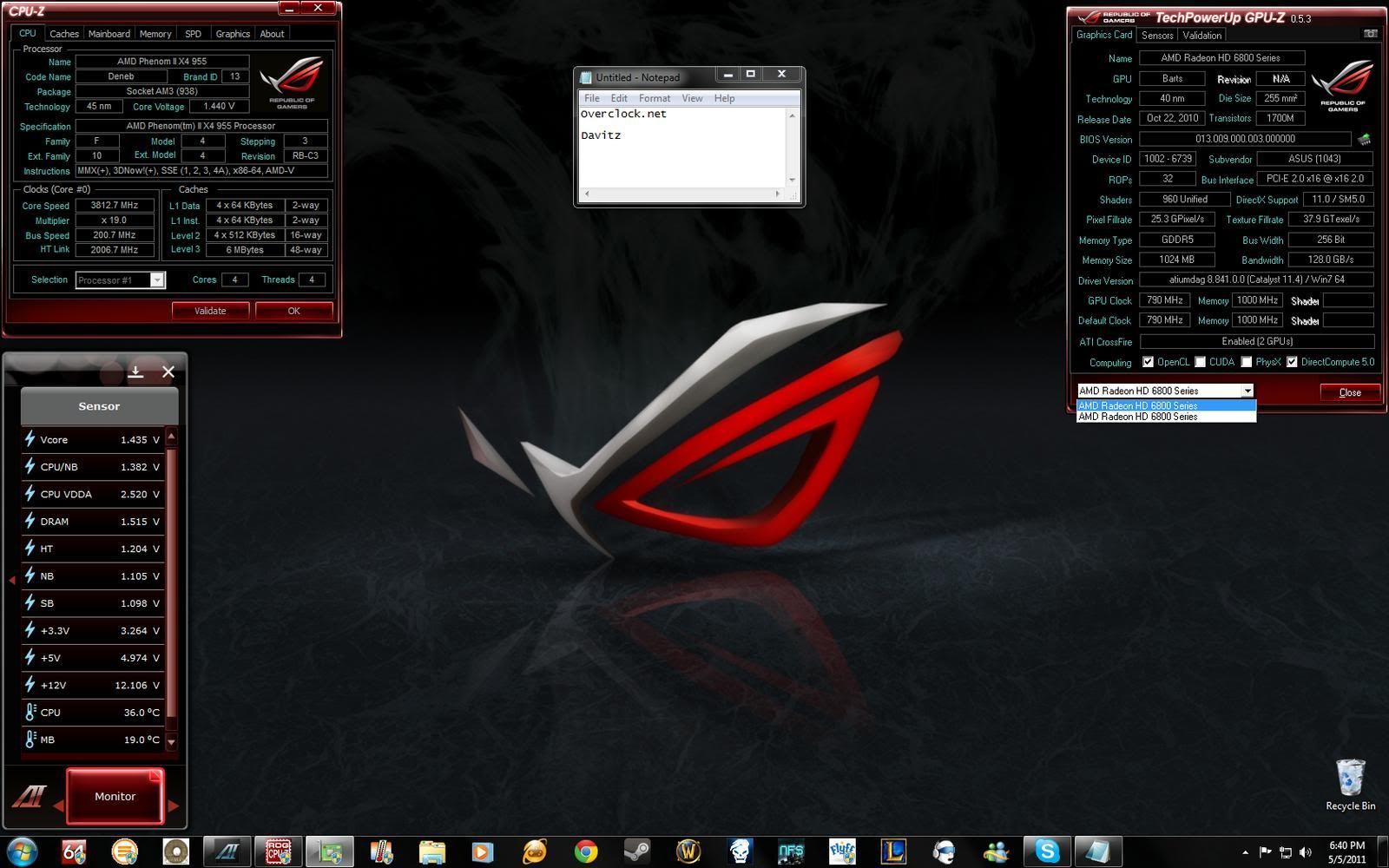 Main Components:
CPU
: Phenom II x4 955 Black Edition C3
Mobo
: Asus Crosshair IV Extreme
RAM
: 8gb Corsair Vengeance DDR3 1600 CL8
GPU
: Asus 6850 Directcu Crossfire
PSU
: Corsair 750HX
Heatsink
: Corsair Hydro Series H70 (Shipping on the 15th!)
Case Accessories:
Case
: Black NZXT Phantom
Case Ventilation
: 2 Noctua 120mm Fans Push/Pull for H70 (on Hyper 212+ ATM), 2 120 mm Enermax TB Appolish Blue, 1 NZXT 200mm Silent Fans, 1 120mm Blue fan, 1 140mm Blue fan.
Case Lighting
: NZXT 2m LED Blue light strand
Cables
: Black NZXT 24 pin connector extension, Black NZXT 8 pin mobo connector extension.
Periphrials:
Keyboard
: Razer Lycosa Mirror Edition
Mouse
: Razer Naga
Keypad
: Belkin N52TE
Headset
: Razer Carcharias
Mousepad
: Goliathus Fragged Control
Monitor
: Acer x223w
--------------------------------------------------------------------------
Reasoning:
CPU
:
I originally upgraded from a C2Q Q8200 to the 955 BE, had everything installed by a local shop and pretty much picked up the BE for a great price/performance ratio. (This was before Sandy Bridge was released)
I'm extremely pleased with the performance of the chip and i want to try my hand at OCing it so im re-using it for my first real build.
Motherboard
:
The most bad-ass looking motherboard on AMD's side in my opinion is the CHIVE, i've loved the look since I first saw it and had to have it. I am quite aware my motherboard is black and red, but for the amount of features it brings to the table also for the idiot proof dual bios's and the in depth 'hold you by the hand' manual. I figured it would be an excellent board to start with not to mention a lot of people have it here so there is a plethora of knowledge on the board available here if I run into problems.
RAM
:
Corsair Ram, always heard great things about their RAM and O-M-G look at those heatspreads! I find it goes well with the ROG design and being 1600MHz CL8 it should pack a punch and give me some headroom for OCing.
GPU
:
I've always wanted a crossfire setup and I love the look on the 6850 Directcu when its installed. It has that 'race car' type look with the heat pipes and the Asus label on it. Not to mention, the 6850 xfire should be more than enough for most of the games I play.
PSU
:
I went back and forth a few times questioning the PSU but finally settled on the 750HX because of the semi-modular design, reviews and NCIX had a sale when I was in the market.
Heatsink
:
Im currently using a Hyper212+ but will be upgrading to a H70 soon. More overclock headroom by a more efficent and better cooler with a simple install looks like a nice plus to me. Besides, it allows a better view of the mobo and looks pretty BA.
Case
:
A friend of mine has the white version of the Phantom and let me say. Once I saw it I knew I had to have one. SEXY case is sexy.
Ventalation
:
Mainly silent fans with mid CFM and i'll probably be replacing the two 'no name' blue fans with aerocool blue sharks or more enermax tb appolish.
Lighting theme
:
Since my Razer products all have blue black lighting I thought "hey lets carry over the theme to the case" pretty simple call
Keyboard
:
The Lycosa, yes some have had problems with the lycosa but I havent, it looks great and it does its job extremely well. Major deciding factor was the laptop style keys.
Mouse
:
I'm an MMO player, 17 buttons? Heck to the yes! 5600DPI when I want to play FPS games? Heck to the yes!
Keypad
:
I'm pretty ADHD, I have to utilize both my hands when I game so what better way to get a game pad to share bindings that would be awkward on? Mainly having a paladin as my main there are TONS of different possibilities and bindings that I require to do my job at an exceptional level.
Headset
:
Read a few reviews on it, all my other products were with Razer and Canada computers had a special on it so I jumped on it. Extremely comfortable, great sound and mic clarity. Feels flimsy but its actually VERY strong.
Mousepad
:
Wasn't sure how i'd take a 5600 DPI mouse so I got a control pad to learn and hey, why not keep the razer trend? I was happy with all other products so drink more kool aid.
Monitor
:
Had this for over a year, bought it knowing nothing but im quite please with how things have turned out. Pretty decent monitor.
Edited by Davitz - 5/9/11 at 6:39pm