Add me to the club! I got both.
Been using the 620 on my back up rig for a bit now. Keeps my E8500 pretty cool @ 4GHz. (Will hopefully post a pic or two later.
After a good experience with the 620 I got a 920 for my i7. Working really well right and now and on par with my D14! I actually did the software and minor customizations you can make.
Only thing that sucked was having to remove the back top 200mm exhaust fan to get it to fit. I guess it wasnt exactly necessary anymore but still would have liked to have kept it.
Couple quick pics I snapped after initial install of the 920. Still have to get some updated pics with the new GPU stuff. Still using the stock Antec Push/Pull fans. They actually work pretty well.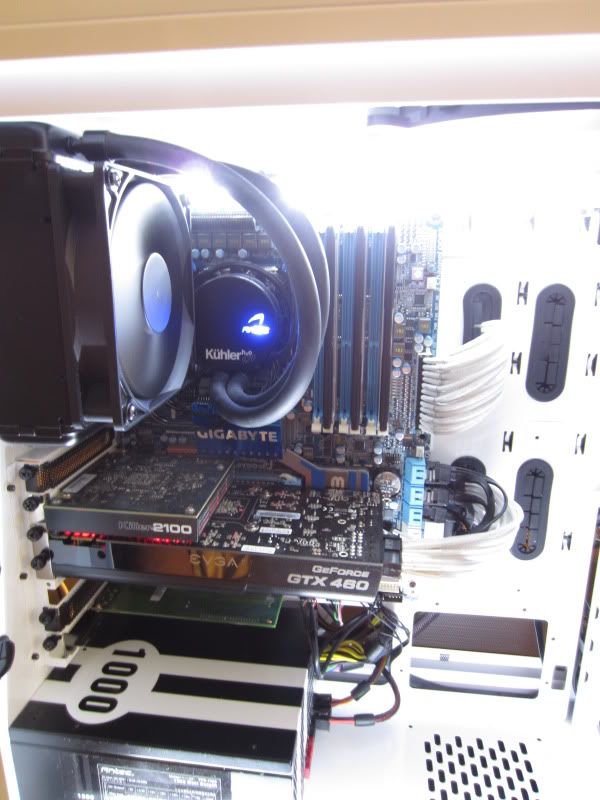 Edited by iamtwan - 5/26/11 at 10:08pm
CPU
Motherboard
Graphics
RAM
i7 4770K
ASRock Z87M Extreme4
XFX R9 390 Black Edition
16GB Corsair
Hard Drive
Hard Drive
Cooling
OS
256GB Samsung 840 Pro
Seagate 3TB
Cryorig H7
Ubuntu
Monitor
Keyboard
Power
Case
ASUS VG248QE 24"
Logitech g710
Corsair AX 760i
CM N200
Mouse
Logitech G502
View all
hide details
CPU
Motherboard
Graphics
RAM
i7 4770K
ASRock Z87M Extreme4
XFX R9 390 Black Edition
16GB Corsair
Hard Drive
Hard Drive
Cooling
OS
256GB Samsung 840 Pro
Seagate 3TB
Cryorig H7
Ubuntu
Monitor
Keyboard
Power
Case
ASUS VG248QE 24"
Logitech g710
Corsair AX 760i
CM N200
Mouse
Logitech G502
View all
hide details