CPU: E8500
MOBO: GIGABYTE GA-G31M-ES2L
RAM: 2x2GB DDR2 800 (no heat spreaders)
Obviously id rather be doing this with a P45 and some more OC friendly RAM but this is what I got to work with at the moment.
So to start I have:
CPU Enhanced Halt (C1E) - Disabled
CPU Thermal Monitor 2(TM2) - Disabled
CPU EIST Function - Disabled
The highest stable I get with stock settings is 3.8GHz by only changing the Host Frequency to 400 with the default multiplier at 9.5.
As soon as try and go over that itll crash/freeze at login. So I started to mess with the CPU Voltage Control option (@ 9.5 x 425) progressively taking it up to 1.35 with the same crashing results. I tried adjusting the multiplier to 8 x 500 as well but that helped nothing in fact I crashed at 8 x 475 (3.8) even though I was stable at the previous 9.5 x 400 (3.8).
Im always making sure to either keep the RAM at stock speeds or underclocked.
So what settings and changes does this noob need to make? What mistakes am I making? Huge Thanks In Advance!
Heres my stable 3.8GHz: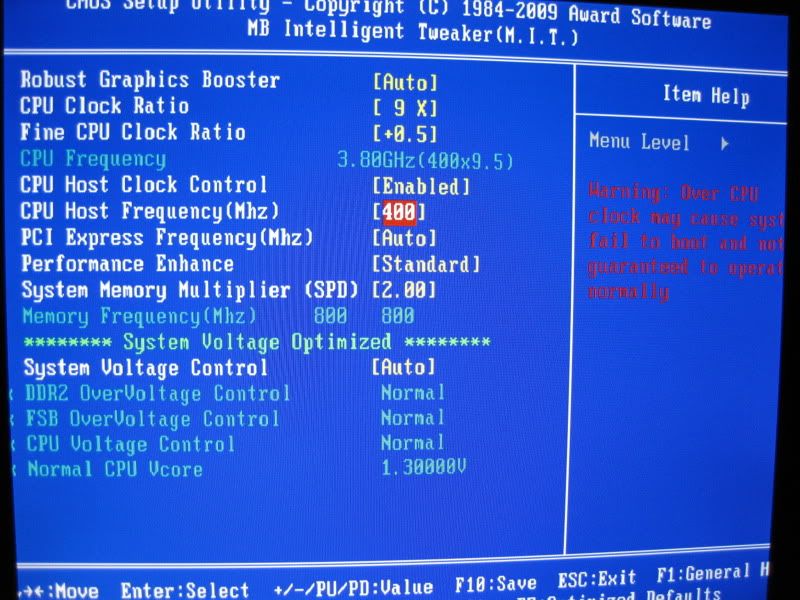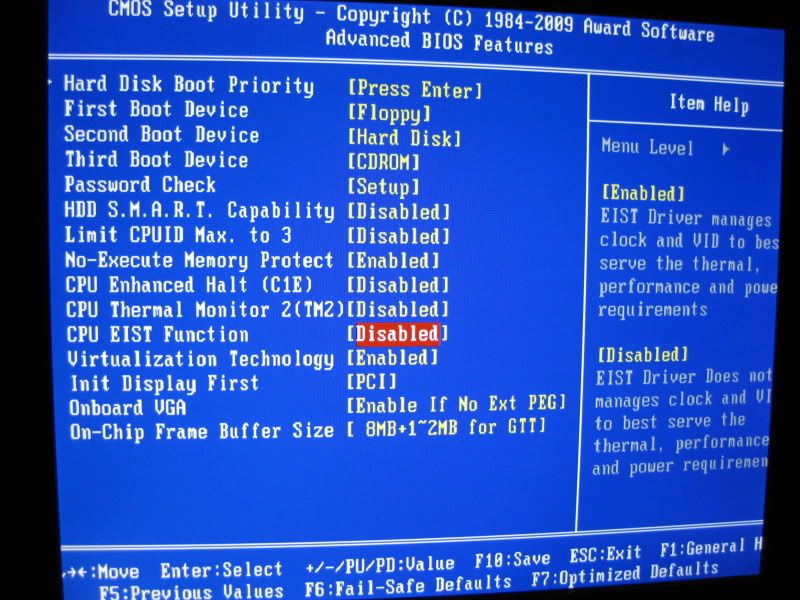 Edited by iamtwan - 4/15/11 at 8:41pm
CPU
Motherboard
Graphics
RAM
i7 4770K
ASRock Z87M Extreme4
XFX R9 390 Black Edition
16GB Corsair
Hard Drive
Hard Drive
Cooling
OS
256GB Samsung 840 Pro
Seagate 3TB
Cryorig H7
Ubuntu
Monitor
Keyboard
Power
Case
ASUS VG248QE 24"
Logitech g710
Corsair AX 760i
CM N200
Mouse
Logitech G502
View all
hide details
CPU
Motherboard
Graphics
RAM
i7 4770K
ASRock Z87M Extreme4
XFX R9 390 Black Edition
16GB Corsair
Hard Drive
Hard Drive
Cooling
OS
256GB Samsung 840 Pro
Seagate 3TB
Cryorig H7
Ubuntu
Monitor
Keyboard
Power
Case
ASUS VG248QE 24"
Logitech g710
Corsair AX 760i
CM N200
Mouse
Logitech G502
View all
hide details