Hello everyone! - I have been working on a build over the last few months and thought I would share some content for everyones' viewing pleasure.
As the title implies, I decided to build this into a CM Storm Scout for the following reasons:
Color Scheme (All black interior / exterior)
Size and Portability (I love the handle!)
My particular theme for this build was to try and achieve a tactical or "tacticool" look as I am an avid fan of target-shooting and I also tend to enjoy hours of mindless fragging in Counter-Strike and Counter-Strike:Source.
I also wanted to try and avoid making major structure changes to the case, as I wanted to push the limits of the CM Storm Scouts' stock design. So that means I am not reaching for any of my power tools this time around.
Initial Mod List:
Swap out factory fans for CM Excalibur Fans (Pricey I know)
Sleeve front panel cabling
Parts List (The Goods!)
Case: CM Storm Scout
PSU: Seasonic X-Series 660W
Mobo: ASUS P67 Sabretooth
CPU: Intel Core i7 2600K
Cooler: COOLER MASTER Hyper N520
Mem: Corsair Vengence (4x 4GB DDR3 1600)
HDD: Hitachi 1TB SATA-II
Vid: ASUS GTX560ti DirectCU
Links to pictures below
Disassembly of Case and Front Panel Wiring
Installing CM Excalibur Fans
Sleeving the front panel cables
Motherboard Installation
Power Supply
Video Card Installation
Fan Controller
Lighting / Cold Cathodes
Wire Management
Teaser Pics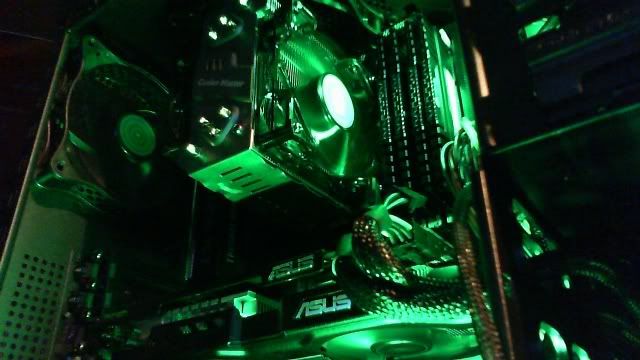 Edited by vercomtech - 4/15/11 at 9:21pm
CPU
Motherboard
Graphics
RAM
Intel Core i7 2600k
ASUS Maximus IV Extreme-Z
ASUS MATRIX GTX580
Corsair Dominator GT
Hard Drive
Optical Drive
OS
Power
Corsair GT SSD 120
External - "Need my space"
Windows 7 Professional x64
Corsair Professional AX1200
Case
Corsair Graphite 600T
View all
hide details
CPU
Motherboard
Graphics
RAM
Intel Core i7 2600k
ASUS Maximus IV Extreme-Z
ASUS MATRIX GTX580
Corsair Dominator GT
Hard Drive
Optical Drive
OS
Power
Corsair GT SSD 120
External - "Need my space"
Windows 7 Professional x64
Corsair Professional AX1200
Case
Corsair Graphite 600T
View all
hide details