Hiya guys, I got my Corsair Dominator GT DDR3 2000 C8 memory kit to run in my Signature rig "Red October". I got this ram to replace my Ocz DDR3 Reapers 1600 that was a great set of ram but was limiting me on what i wanted to do. I wanted to bench around the 2k mhz mark and run it lower speeds with tighter timings for daily use.
So far this is what i am running 24/7 prime stable:
The Dominators @ 1600 mhz 6.7.6.20 1.7volts
CPU @ 4.0 Ghz 1.4v 20x200
NB Frequency @3000mhz
CPU/NB Voltage 1.3v
VDDA 2.5v
NB Voltage 1.2
HT volts 1.3V
Anything anyone can recommend ? or does everything look good for now?
I havent started tweaking anything yet with this memory.I only just installed it.Here is my Cpuz and 3dmark 06 quick tests.
I can get 4.5 ghz and boot windows but it is now stable at that speed. I have alot of tweaking to go for that one. But please feel free to examine my hardware,settings or whatever and let me know your opinion. Also if any of my settings help you out please leave thanks.
Cant wait to hear some feedback guys. My ears are all yours.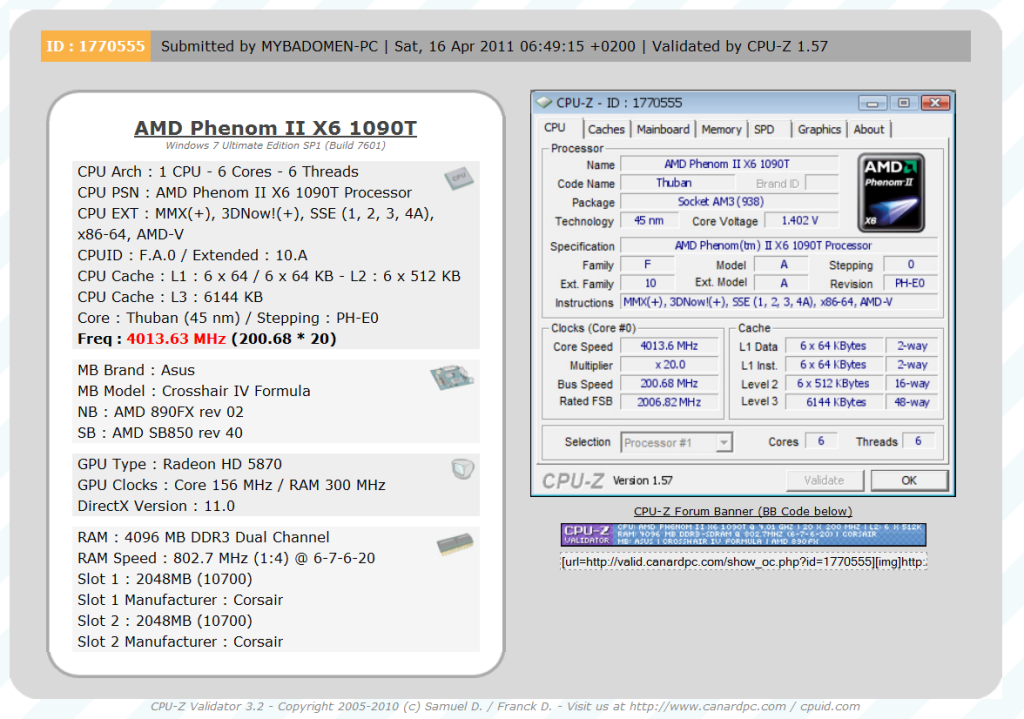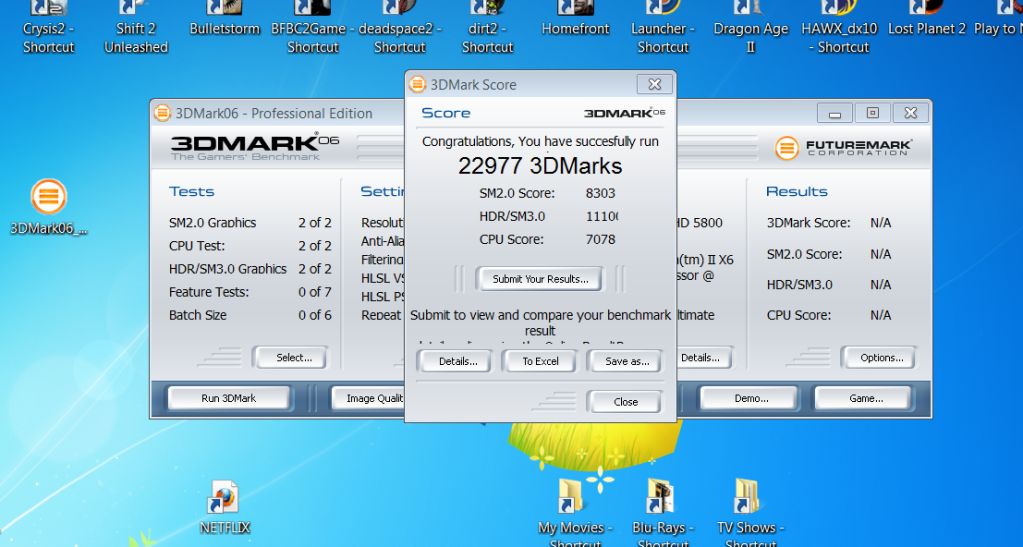 CPU
Motherboard
Graphics
RAM
Intel i7 2700k
AsRock Fatal1ty Professional Z68 Gen3
PowerColor Hd6970 2gig (Reference)
Corsair Dominator Gt's 1.5 volt
Hard Drive
Hard Drive
Optical Drive
Cooling
2 OCZ Vertex 3's Striped Raid 0
2Tb WD Black
Asus Dual Layer Burner
Custom Loop
OS
Monitor
Keyboard
Power
Windows 7 Ultimate 64 bit
Hanspree 23" 1080p Monitor Hdmi and 55" Toshiba...
Microsoft Sidewinder x6 Gming Keyboard
Painted and Fully Sleeved Cougar 1050watt
Case
Mouse
Mouse Pad
Audio
NZXT Phantom White (Chrome Yellow Now! )
Cyborg Rat 5
Cheapo organomic one.
Bose Campanion 3
View all
CPU
Motherboard
Graphics
RAM
i5 2500k @ 5ghz
AsRock Fatal1ty P67 Professional
Powercolor Hd6970
Corsair Dominator c9 2133mhz Ram kit
Hard Drive
Hard Drive
Optical Drive
Cooling
OCZ VERTEX II
WD Black
Asus Dual Layer Dvd Burner w/Lightscribe
EK HD6970 water block (Nickel)
Cooling
Cooling
Cooling
Cooling
EK Gpu Ram Plate
EK Dominator Ram cooler
Rasa RS360 KIT
Magicool Extreme Dual 120mm Radiator
Cooling
Cooling
Cooling
Cooling
3 Bitspower Ratory 1/2IDx3/4OD Compression Fitt...
7 Bitspower Compression fittings
High Quality anti kink Primochill 1/2x3/4 Tubing
9 NZXT fANS (8 120'S and 1 140)
OS
Monitor
Keyboard
Power
Microsoft Windows 7 Ultimate 64 bit
Handspree 23" 1080p Hdmi and 55" Toshiba Led (H...
Microsoft wireless keyboard 3000 v2
Modded Cougar SX850 (Painted and Sleeved)
Case
Mouse
Mouse Pad
Audio
Modded NZXT Phantom
Basic Microsoft Optical mouse for now.
Black Gel Orgenomic Mousepad (not sure brand na...
2.1 Klipsche System (was top of the line 4 year...
Other
Other
Antec Veris Premier
Nzxt Sleeved Led Kits (White)
View all
hide details
CPU
Motherboard
Graphics
RAM
Intel i7 2700k
AsRock Fatal1ty Professional Z68 Gen3
PowerColor Hd6970 2gig (Reference)
Corsair Dominator Gt's 1.5 volt
Hard Drive
Hard Drive
Optical Drive
Cooling
2 OCZ Vertex 3's Striped Raid 0
2Tb WD Black
Asus Dual Layer Burner
Custom Loop
OS
Monitor
Keyboard
Power
Windows 7 Ultimate 64 bit
Hanspree 23" 1080p Monitor Hdmi and 55" Toshiba...
Microsoft Sidewinder x6 Gming Keyboard
Painted and Fully Sleeved Cougar 1050watt
Case
Mouse
Mouse Pad
Audio
NZXT Phantom White (Chrome Yellow Now! )
Cyborg Rat 5
Cheapo organomic one.
Bose Campanion 3
View all
CPU
Motherboard
Graphics
RAM
i5 2500k @ 5ghz
AsRock Fatal1ty P67 Professional
Powercolor Hd6970
Corsair Dominator c9 2133mhz Ram kit
Hard Drive
Hard Drive
Optical Drive
Cooling
OCZ VERTEX II
WD Black
Asus Dual Layer Dvd Burner w/Lightscribe
EK HD6970 water block (Nickel)
Cooling
Cooling
Cooling
Cooling
EK Gpu Ram Plate
EK Dominator Ram cooler
Rasa RS360 KIT
Magicool Extreme Dual 120mm Radiator
Cooling
Cooling
Cooling
Cooling
3 Bitspower Ratory 1/2IDx3/4OD Compression Fitt...
7 Bitspower Compression fittings
High Quality anti kink Primochill 1/2x3/4 Tubing
9 NZXT fANS (8 120'S and 1 140)
OS
Monitor
Keyboard
Power
Microsoft Windows 7 Ultimate 64 bit
Handspree 23" 1080p Hdmi and 55" Toshiba Led (H...
Microsoft wireless keyboard 3000 v2
Modded Cougar SX850 (Painted and Sleeved)
Case
Mouse
Mouse Pad
Audio
Modded NZXT Phantom
Basic Microsoft Optical mouse for now.
Black Gel Orgenomic Mousepad (not sure brand na...
2.1 Klipsche System (was top of the line 4 year...
Other
Other
Antec Veris Premier
Nzxt Sleeved Led Kits (White)
View all
hide details