ok i FINALLY got my rig up and running
i ran a 1hr blend with prime 95 and here are my results:
i dont OC ALL the time but from what i do know these temps seem to high for stock settings. as im using a Corsair H60 in push / pull with 5 extra case fans id expect these temps with a 24/7 OC, but not with stock. im sitting at about 30 - 34c as im writing this. My TIM is shin etsu g751
heres how it is setup:
TIM: shin-etsu g751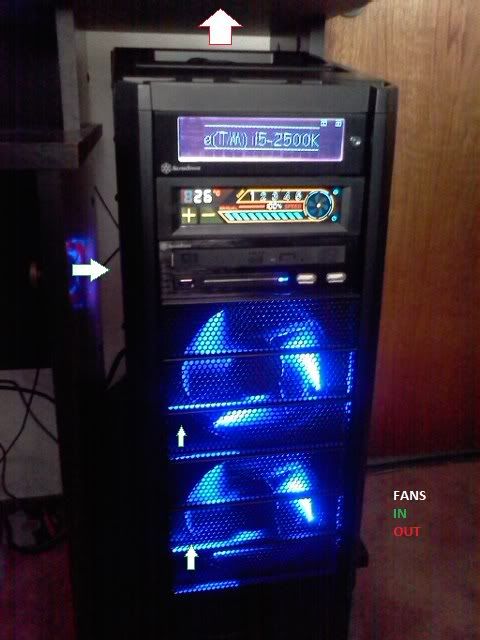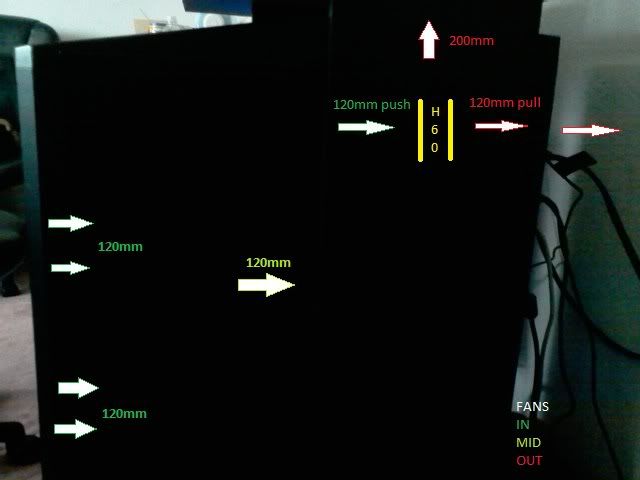 my case is an antec 900, fans are:
Top exhaust:
200mm antec stock. switch on low.
Front IN:
2x 120mm antec stock. switch on low.
VGA side:
CoolJag Everflow EF4-120 120mm Programmable LED Case Fan 49CFM 22dBA
(not expecting too much here being its really only eye candy
)
Middle push:
EVERCOOL 120mm Case Fan
Rear exhaust + CPU Cooler:
Corsair H60
with 2x
EVERCOOL 120mm
in push / pull to exhaust
Concerns: i thought that clearance may of been an issue, but i can feel intake and exhaust everywhere it should be. Some bad points are that i had accidentally thrown away some old molex Y splitters so although the vga side fan, the middle push fan, and the fans on the h60 are all plugged in to my controller and receiving power, the only fan i can control is the h60 exhaust fan. im going to pick up my new splitter from SVC when they open on monday. i can also set the antec case fans to a higher setting. Also i did notice, that with the side vga fan installed, the pump hoses get a slight push upon closing the case. dunno if its enough to cause separation though. or maybe not enough TIM applied? i got it in a 0.2cc or 2cc syringe from frys, and only used JUST enough for a complete coat. have a lil left, but had a nasty incident with over-app of some AS5, so now im stingy.
Edited by _TRU_ - 4/16/11 at 6:46pm