Hi all,
I'm running my i7 930 @ stock speeds with a Sabertooth X58 motherboard, everything is left to default (I didn't change anything from the BIOS's settings), some stuff do seem a bit off (I'm a newbie to overclocking so I'm not sure):
Idle temps: 30-35
100% load temps: 57-62
Screenshot with lots of details: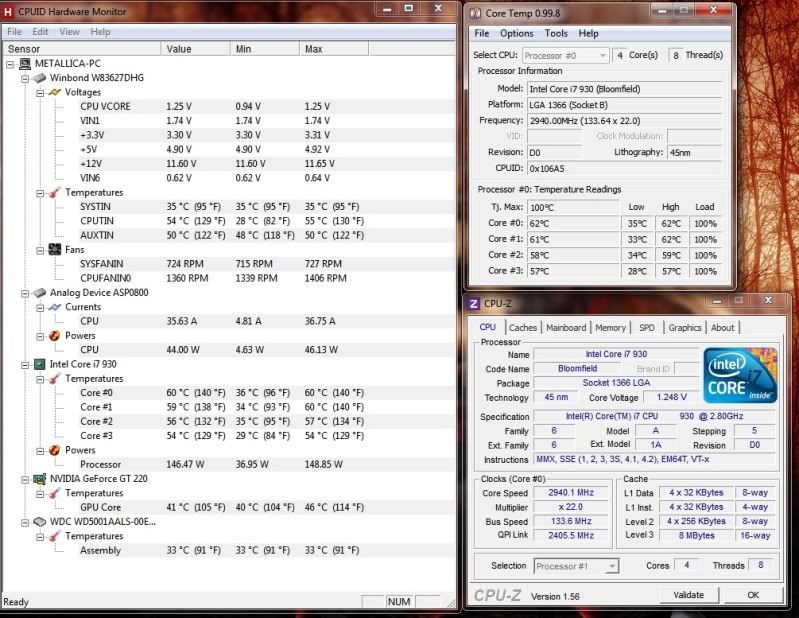 What's weird is that it says the speed is 2900Mhz, I thought 930's stock speed should be 2800. Also, 1.25v seems high for stock speeds or is it supposed to be like this by default?
If the voltage/speed numbers are abnormal, does that mean I have a bad 930 or something? I was hoping that my first overclock would be to get this thing to 4.0+ Ghz =(
My Noctua D14 was installed using it's stock fans and I'm running this in a HAF X case, I built this PC in Nov 2010 (my first build ever) and I decided to start overclocking it now that's why I'm concerned about the temps. I think I did an OK job with the wire management since the case was easy to work with, I am not sure about the thermal paste application though, I think I could have done that better (I used the small line in the middle of CPU method, I might have used a tiny bit more paste than I should have).
Any help would be really appreciated.
CPU
Motherboard
Graphics
RAM
i7 930 @ 4Ghz
ASUS Sabertooth X58
GT 220 (temp)
Corsair XMS3 6GB 1600
Hard Drive
OS
Monitor
Power
500GB WD Caviar black
Windows 7 Premium 64bit
22" HP 1680x1050/ 50" 1080p Pioneer Kuro 9G
Corsair AX850
Case
Cooler Master HAF X
View all
hide details
CPU
Motherboard
Graphics
RAM
i7 930 @ 4Ghz
ASUS Sabertooth X58
GT 220 (temp)
Corsair XMS3 6GB 1600
Hard Drive
OS
Monitor
Power
500GB WD Caviar black
Windows 7 Premium 64bit
22" HP 1680x1050/ 50" 1080p Pioneer Kuro 9G
Corsair AX850
Case
Cooler Master HAF X
View all
hide details