UPDATE 2! 6/15/11
============
I got to 4.138 with the CHV board. Pretty much used almost the same settings as before. Just had to OC the NB and get the right voltage. Lookin good now, 24 hour prime stable. 25 linx passes and 5 IBT
UPDATE 1
=======
These posts are old up until the last few posts in the thread. I'm trying to get past 4.0 and it's not working out so great. I upped the multi to 17*250 and it didn't start up. I upped the voltage and got into Windows but P95 crashed when I start the test. Upped the voltage a little more and one of the workers stops and gives an error. Any suggestions are welcome. The newer posts start after post #65 in this thread.
======================================
original posting
======================================
So, I'm new to the forums AND to overclocking. I've done a lot of reading here and everywhere else and there's so much info, I almost just gave up. But I didn't. I kept reading and searching what other users have been doing with their 1100Ts. I've found that ppl like myself with the BE have it a bit easier. Lots of posts/forums/etc say to just increase the multiplier to your desired speed and maybe bump the voltage a tad. At the same time, lots of posts/forums/etc say that it's more than that. Rather then just come here asking for someone else to tell me what to do, what better way than to just try it myself?
Firstly, I'm not an OC nerd. I have no NEED to OC (do any of us? haha) but everyone likes to do things just because they can. I am not running any heavy programs. I play BC2 and Borderlands. Eventually I will get into video editing and I'll probably look to OC then. As for now, I have no need to OC my RAM, or anything else. I wanted to try the CPU and get other people's input/suggestions/horror stories/etc.
I have a Gigabyte 890GPA-UD3H Rev 2.1 board and have the latest BIOS. First I started off light. The 1100T is stock 3.3 and goes to 3.7 with the Turbo. I decided to try first at 3.6 Firstly, I disabled the Turbo CPB and kept the CNQ (Cool N Quiet) enabled. I upped the multi to 18 for 3.6 and THAT'S IT. Changed nothing else, no voltage or anything. Restarted, everything was fine. CNQ was still enabled and under load it dropped itself down between 800-900mhz like it normally does at stock 3.3.
Next I decided to try 3.8. Upped the multi to 19 and put the CPU voltage to 1.4. I've read a lot of settings from other people saying they just upped their multi and CPU Voltage to 1.4 and mostly from what I've seen it's safe. Started up just fine, everything in CPUZ looked good. I did noticed that CNQ no longer matters since it's past 3.7 anyways. My temps were also good. I believe the max temp at 3.8 wassss 40.3? I forgot to take a screenshot. I did a couple IBT tests at different settings and they passed. Cool!
I read a lot of posts about people not being so stable past 4.1 so I figured I'd just go 4.0 even. I brought the voltage down to 1.37 because I jumped from 1.32 to 1.4 when I thought I shoulda been going up in smaller increments. Changed the multi to 20, CPU voltage at 1.4. Reboot. Everything starts up, CPUZ is fine. Do another IBT test. Frozen during the IBT. Go back into the BIOS, bring the CPU voltage back up to 1.4. Restart. CPUZ good, Open Hardware good, back to IBT test. Ran one at Maximum. Passed with a temp of 43. Wanted to go take shots of my BIOS settings just because and restarted without screencapping my results/info. Reboot again, did IBT again. This time passed with a temp of 42.1.
Everything seems to be ok. I know I haven't put it under stress for hours/days like I'm "supposed" to. I'm looking for any input. Any suggestions. Things I should do differently? I'm just gonna disable the CNQ since it doesn't do anything now anyway. Right now Open Hardware is saying my CPU is at 23.5C at idle. Like I said, I'm not looking to go crazy. I'm just trying to figure out how things work and why. I've done a lot of reading over the last couple days and am pretty proud of myself. So feel free to praise or flame or tell me my computer's gonna blow up. Either way, I want to learn! Here are pics of my current settings.
BIOS settings. ONLY changed the Multi and CPU voltage.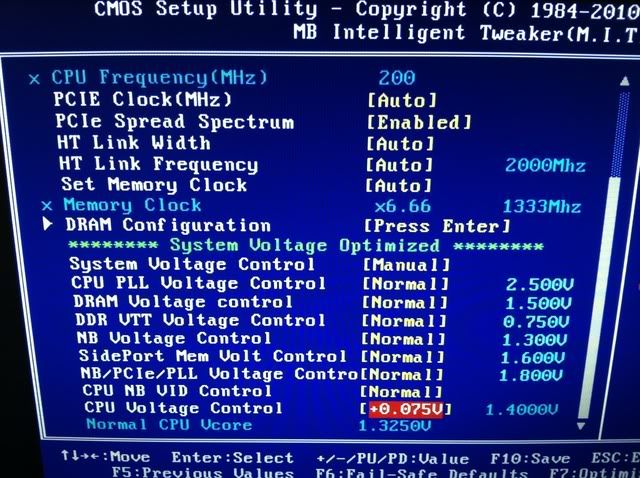 IBT test/Open Hardware/CPUZ right after IBT.
Open Hardware monitor now.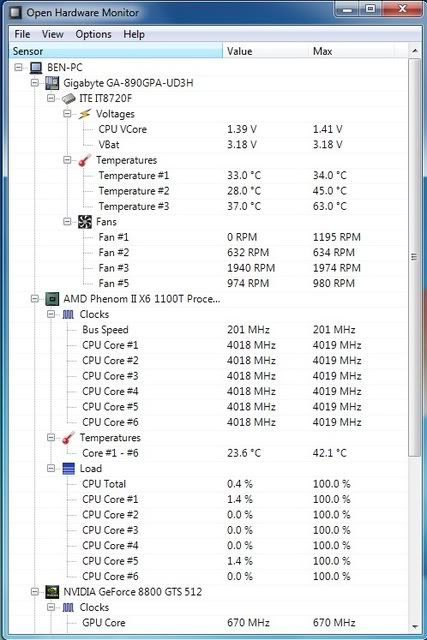 If there's anything I've forgotten to include that I should have, please tell me! Thank you all.
Edited by B-Roll - 6/15/11 at 7:12pm
CPU
Motherboard
Graphics
RAM
1100T BE @ 4.1ghz
ASUS Crosshair V Formula
Gigabyte 6970 reference
8GB Gskill Ripjaws X 1333
Hard Drive
Optical Drive
OS
Monitor
Crucial 128GB SSD | Seagate Barracuda 1TB
Generic
Windows 7 Home Premium
ASUS VE249
Keyboard
Power
Case
Mouse
Razer Lycosa
Corsair AX750
Corsair 800D
Razer Deathadder
View all
hide details
CPU
Motherboard
Graphics
RAM
1100T BE @ 4.1ghz
ASUS Crosshair V Formula
Gigabyte 6970 reference
8GB Gskill Ripjaws X 1333
Hard Drive
Optical Drive
OS
Monitor
Crucial 128GB SSD | Seagate Barracuda 1TB
Generic
Windows 7 Home Premium
ASUS VE249
Keyboard
Power
Case
Mouse
Razer Lycosa
Corsair AX750
Corsair 800D
Razer Deathadder
View all
hide details