Hey,
Im considering to upgrade my good ol' 4870, its not that i really need to because i can max pretty much everything with it, but it cant handle more than 2x or 4x AA on some of the latest games, so im considering to upgrade to a 5850.
Does it really worth it or i should save some more and aim for a 6950 or something bigger?
Well.. i dont know, considering these charts..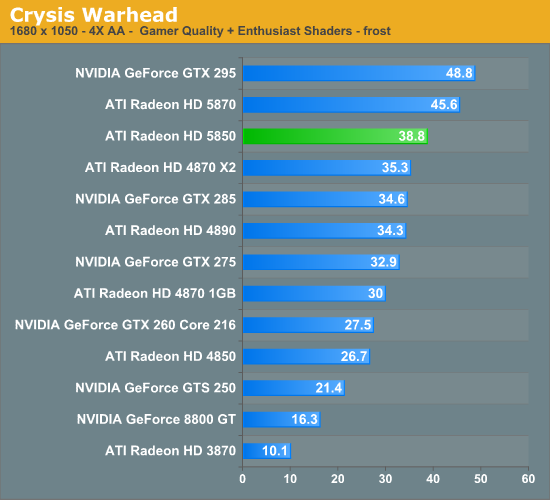 Those 9 fps are too expensive..
Edited by octohedron - 4/18/11 at 5:37am
CPU
Motherboard
Graphics
RAM
Phenom II x3 720 @ x4 20.
M4A77TD
XFX HD 4870 XXX
Super Talent 4GB
Hard Drive
Optical Drive
OS
Monitor
Seagate 500GB.
CD Rom 52xD
Windows 7 Ultimate / GNU-Linux.
Samsung 2053NW
Keyboard
Power
Case
Mouse
Logitech
TR2-470W Thermaltake
Topower
Logitech Mx510
View all
hide details
CPU
Motherboard
Graphics
RAM
Phenom II x3 720 @ x4 20.
M4A77TD
XFX HD 4870 XXX
Super Talent 4GB
Hard Drive
Optical Drive
OS
Monitor
Seagate 500GB.
CD Rom 52xD
Windows 7 Ultimate / GNU-Linux.
Samsung 2053NW
Keyboard
Power
Case
Mouse
Logitech
TR2-470W Thermaltake
Topower
Logitech Mx510
View all
hide details