I want to start by saying, thank you, to the OCN community for all your feed back, it was very helpful. Unfortunately i was unable to find a Hale90-650, they where out-of-stock everywhere when i made my purchases so i just went with the 750w, extra 20 bucks. However, got a killer deal on my 2500k, thanks Micro Center! Also, thank you Newegg for finally getting some p8p67 Pros in. Since i was able to shave off some money from a few other items also i dropped the CM n520 and went with a Antec Kuhler to cool my cpu.
So here here we go, my new build.
OS: Windows 7 home 64-bit -$99.99
Case: NZXT Phantom PHAN-001WT White -$139.99
PSU: NZXT HALE90-750-M 750W -$139.99
Mobo: ASUS P8P67 PRO (REV 3.0) -$189.99
CPU: Intel Core i5-2500K Sandy Bridge 3.3GHz -$179.99
Cooling: Antec Kuhler H2O 620 -$69.99
GPU: EVGA 01G-P3-1561-AR GeForce GTX 560 Ti -$249.99
Memory: CORSAIR Vengeance 8GB 1600 (2 x 4GB) -94.99
HDD: SAMSUNG Spinpoint F3 HD502HJ 500GB -$49.99
Drive: ASUS DRW-24B1ST/BLK/B/AS Black SATA 24X DVD Burner
Monitor: AOC e2343F Black & White 23" 5ms LED BackLight LCD -$164.99
Mouse: GIGABYTE GM-M6980 -$39.99
First Delivery, more to come.
PSU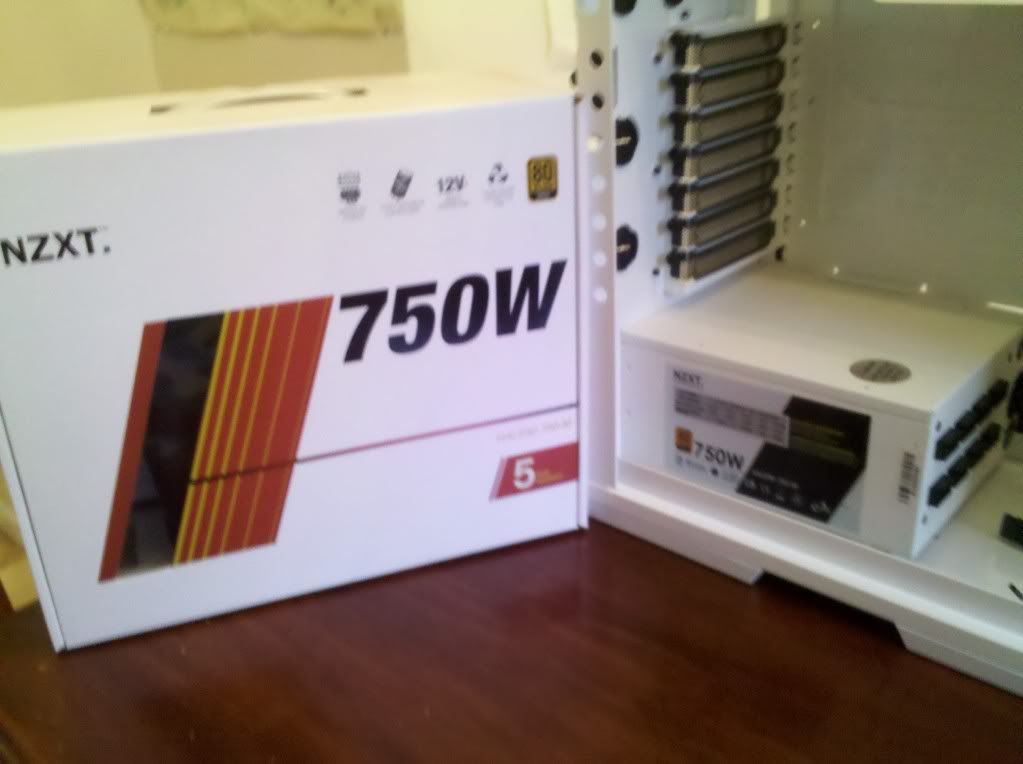 UV Blue extensions
An unbelievably thin, awesome monitor, that matches my phantom perfectly
All installed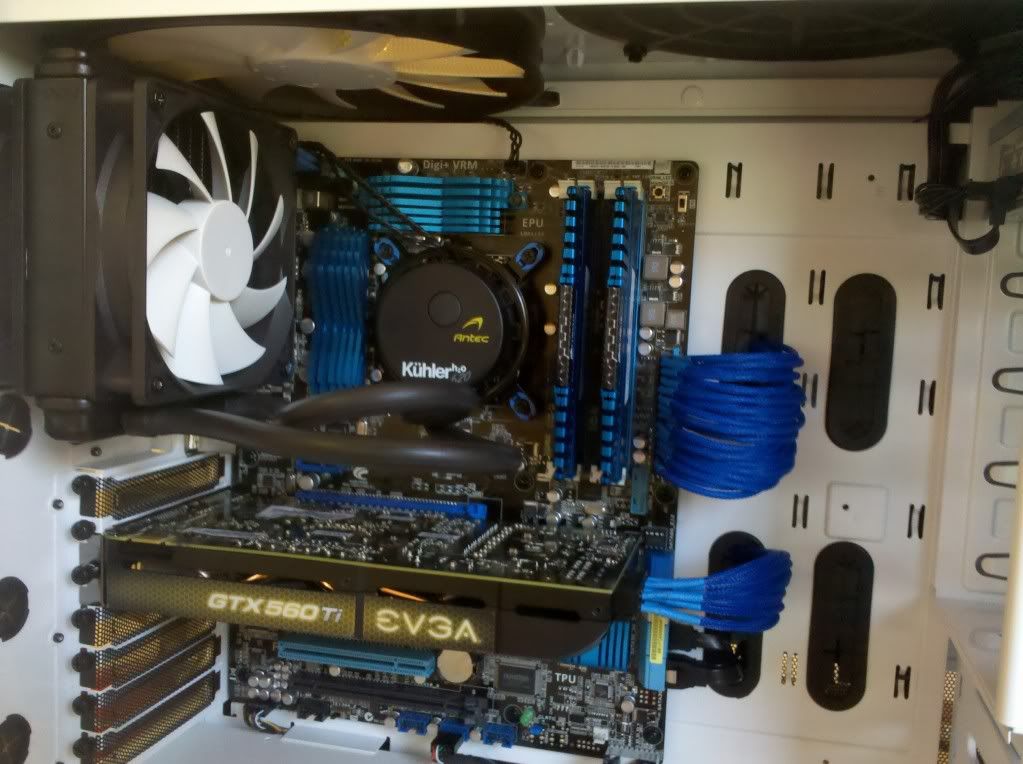 Kuhler keeping it cool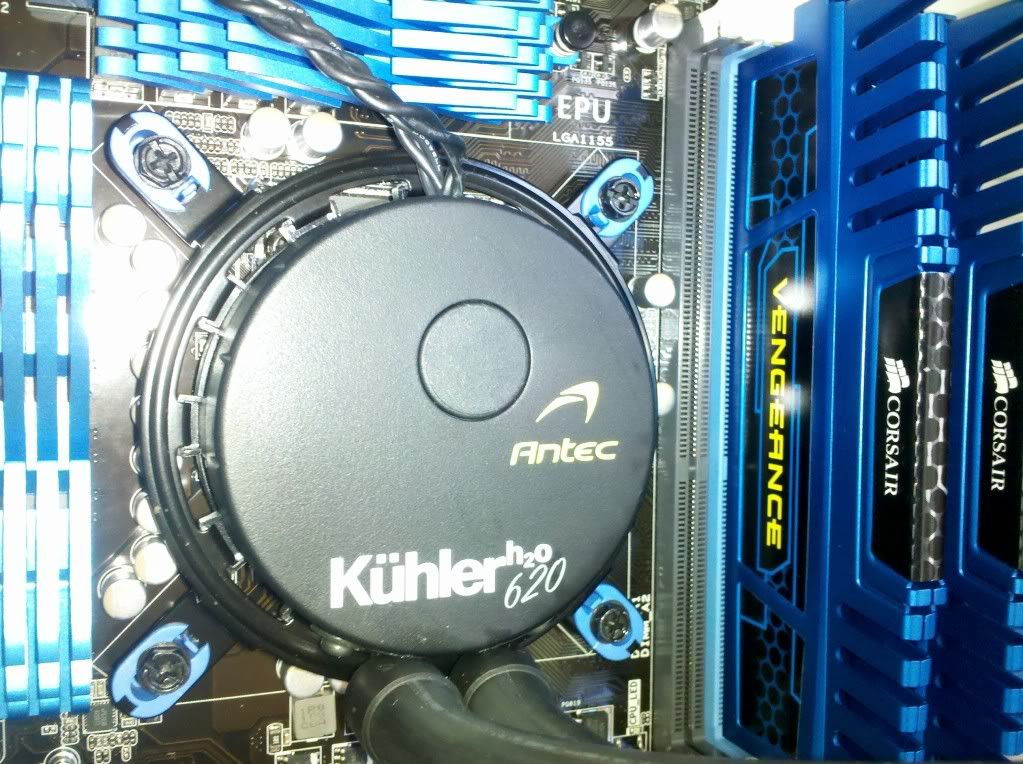 YES! no DOAs
I haven't overclocked the cpu yet but running crysis at 1080 and max setting and staying in the 30c's and 40c's with the kuhler 620 (peaked at 53c)
Will update again later when i have time to oc
CPU
Motherboard
Graphics
RAM
i5 2500k @4.0ghz 24/7
Asus P8P67 Pro (Rev 3.0)
EVGA GeForce GTX 560 Ti
CORSAIR Vengeance 8GB 1600
Hard Drive
Optical Drive
OS
Monitor
SAMSUNG Spinpoint F3 500GB
ASUS DRW-24B1ST
Win 7 Home Premium 64-bit
23" AOC e2343F Black & White
Power
Case
NZXT HALE90 750W
NZXT Phantom White
View all
hide details
CPU
Motherboard
Graphics
RAM
i5 2500k @4.0ghz 24/7
Asus P8P67 Pro (Rev 3.0)
EVGA GeForce GTX 560 Ti
CORSAIR Vengeance 8GB 1600
Hard Drive
Optical Drive
OS
Monitor
SAMSUNG Spinpoint F3 500GB
ASUS DRW-24B1ST
Win 7 Home Premium 64-bit
23" AOC e2343F Black & White
Power
Case
NZXT HALE90 750W
NZXT Phantom White
View all
hide details