After getting some feedback from some other OCN members, I decided to add another rad and res to my loop. I only had 2 x 5.25" bays free in the front of my case and one of my primary requirements in my system is to keep all cooling components internal.
So here is what I came up with (less the fan screws as I need to take a trip to the hardware store):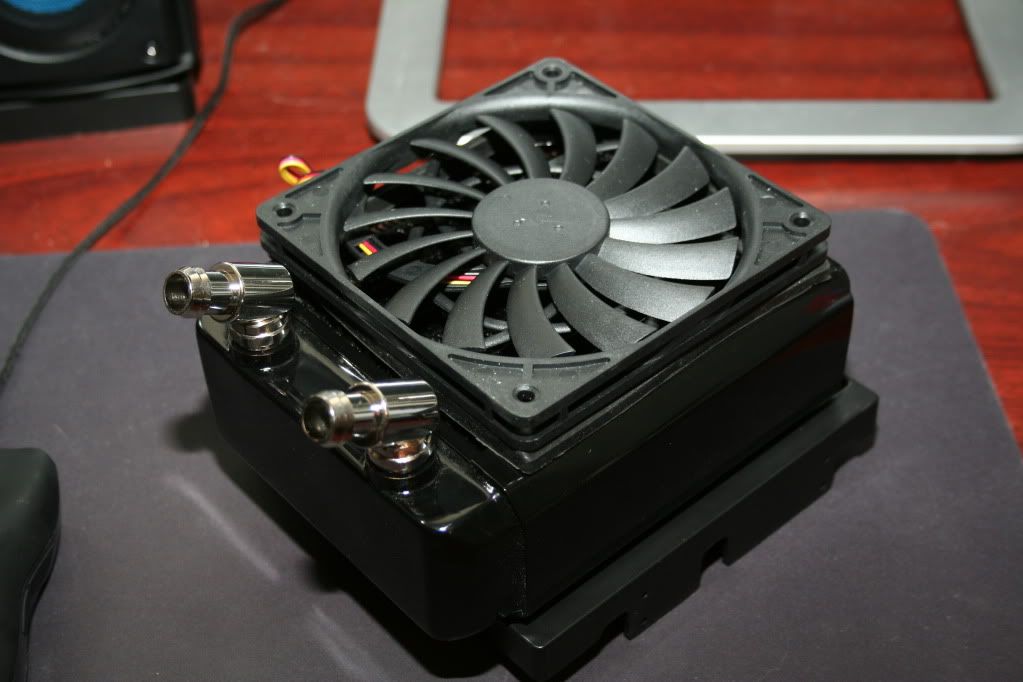 The parts are as follows:
Black Ice Xtreme 120 Radiator - $69.95
7mm gasket - $4.50
Scythe Kaze-Jyuni Slip Stream 120x12mm (2000 RPM) fan -$10.99
Scythe Bay Rafter (modified for better air flow) - $7.99
Barbs - recycled (new O-rings) - $0.00
IandH StealthRes Deluxe 225 - $62.95 (not pictured)
Hopefully I will get to install on Saturday. I will post some pics when everything is said and done. I am also upgrading to 1/2" ID Tygon black tubing and replacing all of my 3/8" ID barbs with 1/2".
While I am not planning on overclocking much farther than what I already have, I am hoping that my temps come down a bit.
Edited by TheRealHeavyG - 4/20/11 at 9:04am
CPU
Motherboard
Graphics
RAM
Intel Core i7-5930K
ASRock X99 WS-E
NVIDIA GTX 980 x 3
32 GB G.Skill Ripjaws DDR4 3000MHz
Hard Drive
Hard Drive
OS
Monitor
Intel 730 Series
Samsung SM951 M.2
Windows 8.1
ASUS ROG Swift
Keyboard
Power
Case
Mouse
Razer Black Widow Chroma
Cooler Master Silent Pro 1000w
Cooler Master Cosmos SE
Razer Taipan
Mouse Pad
SteelSeries
View all
hide details
CPU
Motherboard
Graphics
RAM
Intel Core i7-5930K
ASRock X99 WS-E
NVIDIA GTX 980 x 3
32 GB G.Skill Ripjaws DDR4 3000MHz
Hard Drive
Hard Drive
OS
Monitor
Intel 730 Series
Samsung SM951 M.2
Windows 8.1
ASUS ROG Swift
Keyboard
Power
Case
Mouse
Razer Black Widow Chroma
Cooler Master Silent Pro 1000w
Cooler Master Cosmos SE
Razer Taipan
Mouse Pad
SteelSeries
View all
hide details