Memory Madness MKII
Date Range 1st of May 00:01 till the 1st of June 00:01 Times in GMT.

It's that time again! Sorry for the wait, we've been real busy
Sandra 2011 bandwidth and latency
as well as
Super pi 32m
are the benchmarks this time around. There are no cooling limits or clock limits this time, it's all about raw bandwidth, speed and latency
CPU speed has little impact on Sandra so the air guys can compete here with some good ram tweaking and Super pi reacts in a very similar way with more of a focus on core speed.
Benchmarks:
SuperPi 32M
SiSoftware Sandra: Memory Latency by the ns
SiSoftware Sandra: Memory Bandwidth by the Aggregate Memory Performance GB/s
Rules:
1366 user must run dual channel. ( This is just to keep the competition tippy top and keep it to 5 classes )
Sandy bridge cpu's will be limited to the x48 multiplier so everyone can play.
No unreleased or es hardware (ES hardware that is equal to retail specs will be allowed).
All submissions must have three CPUz's open with CPU, motherboard and memory tabs showing
All submissions must use the background provided.
Any cheats will be banned from this and future competitions.
If you submit it wrong and someone gives you a big red stamp you can't QQ
You can enter all 5 classes if you can handle it. 1155, Intel DDR2, Intel DDR3, AMD DDR2 and AMD DDR3.
You must use the same system for both submissions per class.
In the event of a tie the bencher with the lowest latency in sadra wins, if they match it will be the highest bandwidth speed.
Sandra's bandwidth and latency benchmarks do not have to be ran with the same settings.
MEMORY LATENCY TEST
MEMORY BANDWIDTH TEST
Results must be in red with the run details visible as shown. Use the latest sandra 2011 lite version. 3 cpu-z tabs open including memory, cpu and mainboard. The required background also.
I guess you want prizes?
Gigabyte HD 5870
Xeon W3530
2 kits of 2x2GB Corsair CMS3's
MSI Trinergy motherboard
3 OCN hoodies!
3 OCN new era hats!
20 OCN Lanyards!
Prizes will be drawn randomly between the winners of each class, 1st place is guaranteed a hardware prize
Massive thanks to Admin for the swag!
Prizes Winners!!!
The hardware prizes and 1st place finishers where put in a randum order by two seperate staff members that don't bench to keep things as unbais as possisble.
OCN Hoodies where then randomized amongst the 2nd place finishers. The two remaining 2nd place players get OCN Hats. The third OCN Hat is then done random amongst 3rd place finishers.
From there we're going down the lines with lanyards.
1st place in random order
Prizes in random order
Hoodies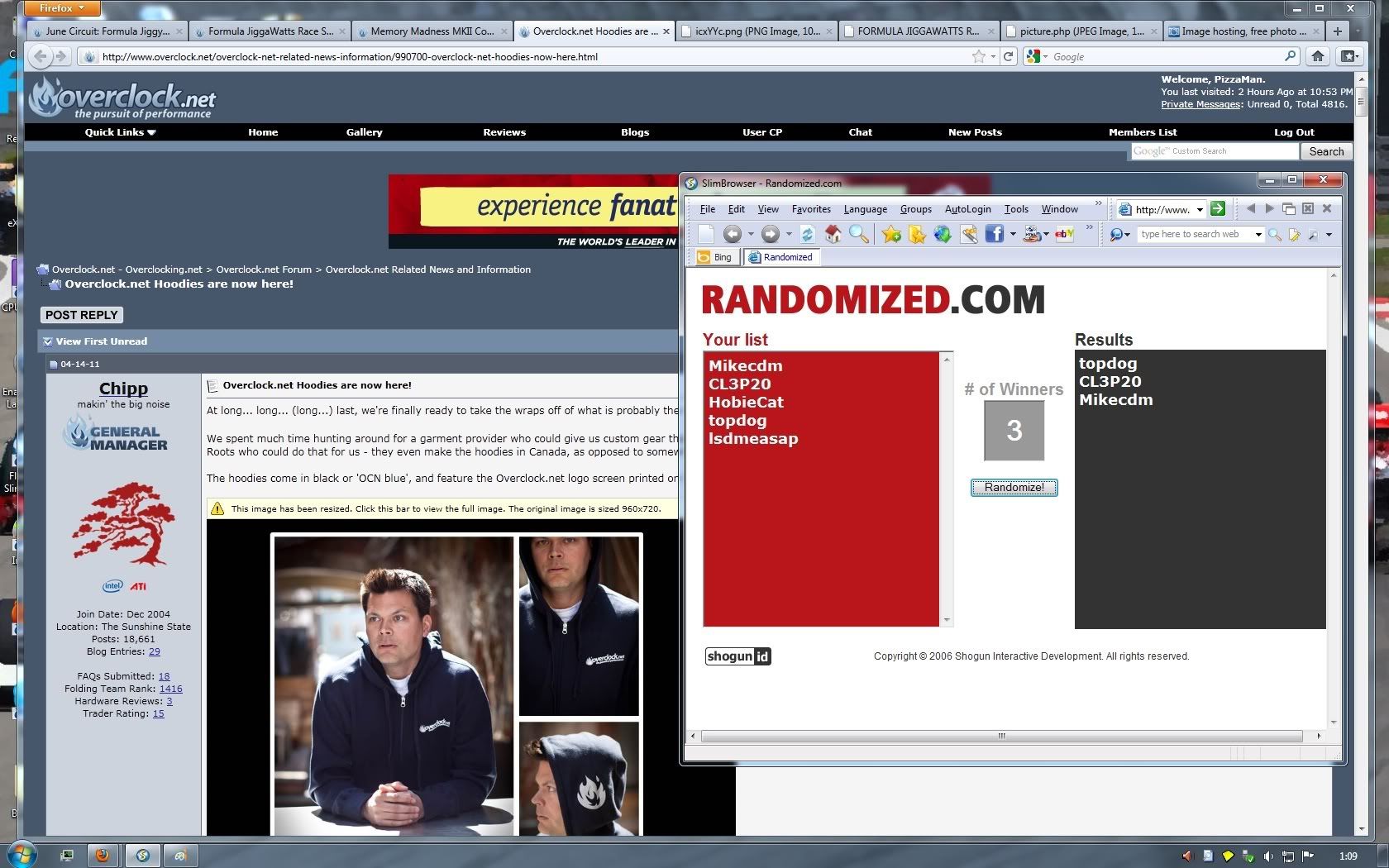 Hats
SkunnyUK: Xeon 3530
addies: 2X2GB Corsair CMS
Slappa 2x2GB Corsair CMS
topdog: GigaByte 5870
69_Goat: MSI Trinergy Motherboard
topdog: OCN Hoodie
CL3P20: OCN Hoodie
Mikecdm: OCN Hoodie
HobieCat: OCN Hat
lsdmeasap: OCN Hat
greed: OCN Hat
wumpus: Lanyard
nolonger: Lanyard
Reggiesanchez: Lanyard
mrinnocent: Lanyard
Moparman: Lanyard
CL3P20: Lanyard
Rasparthe: Lanyard
Farih: Lanyard
topdog: Lanyard
nagle3092: Lanyard
fl0w3n: Lanyard
Drobomb: Lanyard
BeepBeep2: Lanyard
Farmer Boe: Lanyard
SkunnyUK: Lanyard
redhat_ownage: Lanyard
Davidsen: Lanyard
greed: Lanyard
veblen:Lanyard
Redwoodz: Lanyard
Hardware prize winners PM
PizzaMan
your shipping address for your prize.
OCN Gear prize winners PM
El Gappo
your shipping address for your prize.
Please title messages with "MKII prize".
Edited by el gappo - 5/12/11 at 12:59pm
CPU
Motherboard
RAM
Hard Drive
FX8150
Crosshair V Formula
G.Skill PIS 2200 cl7
Acard ans9010 raid 0+Corsair Force 3
Cooling
OCN Marksman
View all
hide details
CPU
Motherboard
RAM
Hard Drive
FX8150
Crosshair V Formula
G.Skill PIS 2200 cl7
Acard ans9010 raid 0+Corsair Force 3
Cooling
OCN Marksman
View all
hide details