Quote:
Originally Posted by
Arizonian
To the OP - the GTX 590 is two down clocked GTX 580 on one pcb. SO your wrong that it's better performance. Two GTX 580 in SLI mode is better performance than one dual GTX 590.
Collectively since it running at a higher performance you'll have more power consumption and in turn more heat. Yet the GTX 580's heat is a non-issue.
This card with a 1.1volt OC at 875 core/ 1031 memory / 1750 shader runs idle at 42C and in Crysis or Metro 2033 maxed settings AA x16, 1920x1200 resolution highest temp is 81C on air cooling. Stock the card idles at 39C and highest temp 76C full throttle in same scenario.
In fact I hit 912 core for a 3D Mark 11 bench mid-level performance and scored 6902.
This is my slightly OC profile for gaming. If you'd like to take a peek.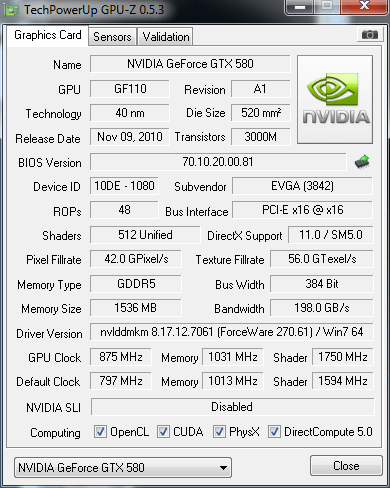 Lastly the GTX 580 is over clockable without any VRM issues. You'll be able to over clock two GTX 580 separately higher than one dual GTX 590. There are no driver problems and is a non-issue, in fact the latest driver just improved single, SLI, and 3D gaming yet again as the driver is maturing.
Unless your thinking of almost quad power with two GTX 590's I'd get them separately and SLI the GTX 580.
I am not considering a single 590, not at all. I am aware that the 580 SLI would completely demolish the 590. In my first post however you can see that i mentioned the 590 Quad-SLI, not single.
CPU
Motherboard
Graphics
RAM
i7-2600K
ASUS Sabertooth P67
EVGA GTX 580 SLI
Corsair 16GB 1600Mhz
Hard Drive
Optical Drive
OS
Monitor
Vertex 3 120GB | WD Caviar Green 2TB (x3)
LG Blu-ray
Windows 7 Ultimate x64
AW2310 120Hz
Keyboard
Power
Case
Mouse
FC200RT/ABN - Cherry MX Brown
AX1200
Silverstone Raven RV01
Mionix Naos 5000
Mouse Pad
Razer Vespula
View all
hide details
CPU
Motherboard
Graphics
RAM
i7-2600K
ASUS Sabertooth P67
EVGA GTX 580 SLI
Corsair 16GB 1600Mhz
Hard Drive
Optical Drive
OS
Monitor
Vertex 3 120GB | WD Caviar Green 2TB (x3)
LG Blu-ray
Windows 7 Ultimate x64
AW2310 120Hz
Keyboard
Power
Case
Mouse
FC200RT/ABN - Cherry MX Brown
AX1200
Silverstone Raven RV01
Mionix Naos 5000
Mouse Pad
Razer Vespula
View all
hide details