New to overclocking. With the help of the OCN community I got my i5 2500K to 4.6ghz 24/7 stable.
I ran Prime95 for a few hours on it fine.
A friend of mine asked what does it score on LinX.. so I downloaded it and ran it: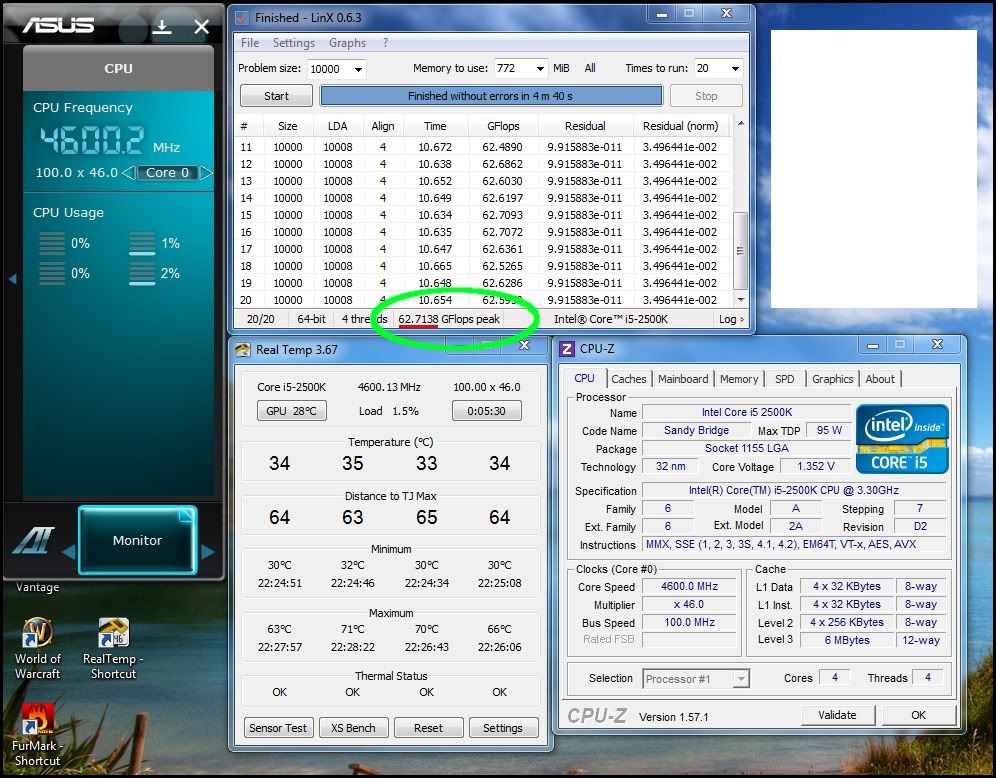 Here are the results I got. Is that good?f
Also, can someone explain what LinX does to achieve it's results? Thanks!
CPU
Motherboard
Graphics
RAM
Intel Pentium G2020 Ivy Bridge 2.9GHz
ASRock H61M-DGS
Integrated Intel HD Graphics (Don't Laugh!)
G.SKILL Ripjaws Series 4GB (2 x 2GB)
Hard Drive
Optical Drive
Cooling
OS
Samsung P3 500GB 7200RPM
LITE-ON DVD Burner
Intel Stock CPU Cooler
Windows 7 Home Premium
Monitor
Keyboard
Power
Case
Acer G226HQLBbd Black 21.5"
Razer Lycosa
SeaSonic S12II S12II 380B 380W
COUGAR Spike Black Steel / Plastic MicroATX Min...
View all
hide details
CPU
Motherboard
Graphics
RAM
Intel Pentium G2020 Ivy Bridge 2.9GHz
ASRock H61M-DGS
Integrated Intel HD Graphics (Don't Laugh!)
G.SKILL Ripjaws Series 4GB (2 x 2GB)
Hard Drive
Optical Drive
Cooling
OS
Samsung P3 500GB 7200RPM
LITE-ON DVD Burner
Intel Stock CPU Cooler
Windows 7 Home Premium
Monitor
Keyboard
Power
Case
Acer G226HQLBbd Black 21.5"
Razer Lycosa
SeaSonic S12II S12II 380B 380W
COUGAR Spike Black Steel / Plastic MicroATX Min...
View all
hide details